Art Galleries / Collections
Performance & visual artist John Kelly and myself at the book signing event on World AIDS DAY on December 1, 2011 @ Barnes & Noble Books on 82nd & Broadway, Manhattan (image courtesy © Bertol Dragani) by Frank H. Jump The Fading AIDS Gallery is a not-for-profit virtual gallery & AIDS information services organization which explores our changing urban landscape and is committed to providing direct services for HIV/AIDS education in the NYC community through the arts.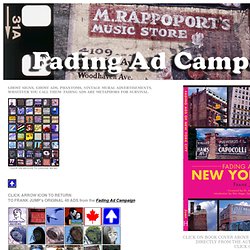 Fading AIDS Gallery
The Idea Barn Featuring: "Sukiyaki": The Sweetest Song Ever? Also: Their crackpot ideas, and mineMagical Mediocrity: Harry Potter and the Secret of Hogwarts | Compound Ineptitude: Incompetence as a Strategic Asset | The evil nice | I live in a fog | Iraq, Korea and the Democratic wimps | Why life is better now | I hate sports | The Dick Van Dyke Show: Gentiles in Paradise | Frank Capra: It's a pretty grim life, actually | Leave It To Beaver lies | Jack Chick, tractmaster | The miracle pepper!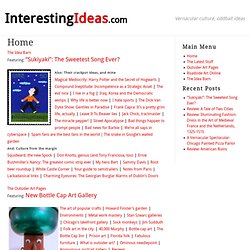 INTERESTING IDEAS: Outsider art, roadside art & signs, eccentric culture
汐留で交通アクセスが良くて心地よい空間を演出しているホテル! 汐留へ今度一泊することになったんですが、まだ一度も行ったことがない場所なのでどんなホテルがあるのかなと思って探してみました。もちろん都内にはたくさんのホテルがたくさんありますが、汐留で特によさそうなホテルがあったので紹介しようと思います。それがヴィラフォンテーヌ汐留です。汐留ホテルのランキングがわかります。ここは交通アクセスがとにかく理想的なホテルとなっています。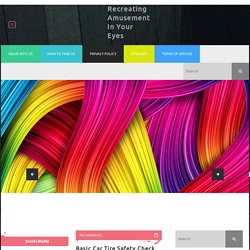 Van Gogh & Gauguin
goflash
Charles Eames (1907–78) and Ray Eames (1912–88) gave shape to America's twentieth century. Their lives and work represented the nation's defining social movements: the West Coast's coming-of-age, the economy's shift from making goods to producing information, and the global expansion of American culture. The Eameses embraced the era's visionary concept of modern design as an agent of social change, elevating it to a national agenda.
The Work of Charles and Ray Eames (Library of Congress Exhibition)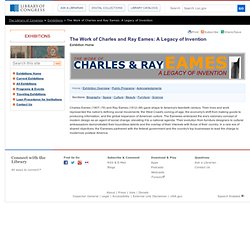 index
acg :: concepts
main
All images are digitized | All jpegs/tiffs display outside Library of Congress | View All The Work Projects Administration (WPA) Poster Collection consists of 907 posters produced from 1936 to 1943 by various branches of the WPA. Of the 2,000 WPA posters known to exist, the Library of Congress's collection of more than 900 is the largest. The posters were designed to publicize exhibits, community activities, theatrical productions, and health and educational programs in seventeen states and the District of Columbia, with the strongest representation from California, Illinois, New York, Ohio, and Pennsylvania. The results of one of the first U.S.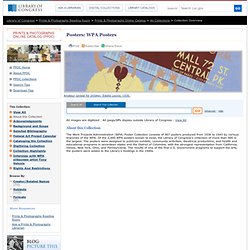 ESSENTIAL VERMEER TIME is an open door onto the spinning wheels, grinding cogs, ideas, inspirations, doubts and dreams that make the Essential Vermeer website run full steam ahead. You'll find opinions, the latest Vermeer news (practically real time) and information about what's currently under development and way down the pipeline. latest post: Vermeer Thefts CLICK HERE to access the latest Vermeer Newsletter The Girl with a Pearl Earring in America: Unraveling the Masterpiece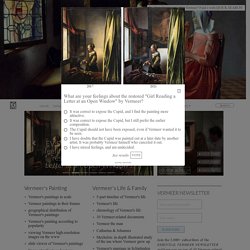 Portrait of the Art World: A Century of ARTnews Photographs
grocerylists.org | The Grocery List Collection (funny lists, weird books, downloadable PDFs & more) ☠
VSO Home
DESIGNMUSEO - DESIGN MUSEUM - DESIGN MUSEET