Art Galleries / Collections
Fading AIDS Gallery. INTERESTING IDEAS: Outsider art, roadside art & signs, eccentric culture. Van Gogh & Gauguin. Goflash. Ad*Access. The Work of Charles and Ray Eames (Library of Congress Exhibition) Charles Eames (1907–78) and Ray Eames (1912–88) gave shape to America's twentieth century.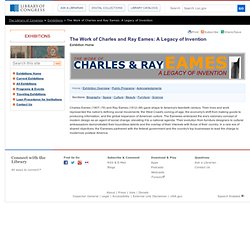 Their lives and work represented the nation's defining social movements: the West Coast's coming-of-age, the economy's shift from making goods to producing information, and the global expansion of American culture. The Eameses embraced the era's visionary concept of modern design as an agent of social change, elevating it to a national agenda. Index. Acg :: concepts. Main. Plan59 :: 1950s Design :: Classic Car Art.
Posters from the WPA: Federal Art Project Calendar Index. All images are digitized | All jpegs/tiffs display outside Library of Congress | View All The Work Projects Administration (WPA) Poster Collection consists of 907 posters produced from 1936 to 1943 by various branches of the WPA.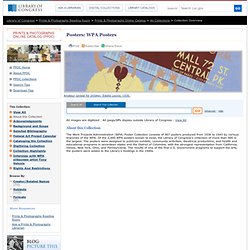 Of the 2,000 WPA posters known to exist, the Library of Congress's collection of more than 900 is the largest. The posters were designed to publicize exhibits, community activities, theatrical productions, and health and educational programs in seventeen states and the District of Columbia, with the strongest representation from California, Illinois, New York, Ohio, and Pennsylvania. The results of one of the first U.S. Essential Vermeer. Van Gogh's Letters - Unabridged. The Vincent van Gogh Gallery. Portrait of the Art World: A Century of ARTnews Photographs. Grocerylists.org | The Grocery List Collection (funny lists, weird books, downloadable PDFs & more) ☠ VSO Home. DESIGNMUSEO - DESIGN MUSEUM - DESIGN MUSEET.
---