Tools
Konstruct: Augmented Reality iPhone App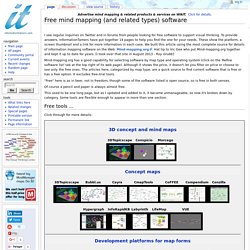 There are regular inquiries on Twitter and in forums about free mind mapping software, so to provide answers, InformationTamers have put together this list. So here is a quick list of current software that is free or has a free option. Apps that are free for a trial-period only are excluded. If you're looking for detailed reviews though, you can pick up at no cost this eBook about free mind mapping and similar software with its very thorough analysis and examples showing the capabilities of each package. Grab your copy now!
Conseils utiles pour écrire pour le web
Une toute nouvelle astuce pour « forcer » vos lecteurs à parler de vous sur Twitter et Facebook (ça va faire fureur)
J'écris cet article à la terrasse d'un café, à Bangkok (Thaïlande), le 23 février. Beaucoup de blogs vous proposent un document, un logiciel ou un outil en échange de votre inscription à une newsletter. Vous le voyez sur la droite de cet article : je le fais aussi. Des marketeurs américains ont détourné cette technique traditionnelle. Au lieu d'échanger une ressource gratuite contre votre inscription, ils l'échangent contre… un Tweet ou un statut Facebook.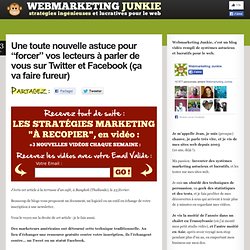 Creaza is a suite of multimedia creativity tools that includes: Mindomo – a brainstorming and mindmapping tool Cartoonist – an easy-to-use cartoon creation tool MovieEditor – an online video editing tool AudioEditor – an online audio editor for recording and editing audio The technology (or what are my powers?) When you register for a Creaza account you gain access to: My Homepage: a page where you can share your media projects with the world My Media Files: your personal library of media files which you can upload to the site and which remain private Tools: your portal to Creaza's creativity tools Mindomo Mindomo is a versatile mindmapping tool which can be used for instruction as well as brainstorming.
Creaza?s Creativity Tools
(Toutes les possibilités offertes par les QR codes...)