Social media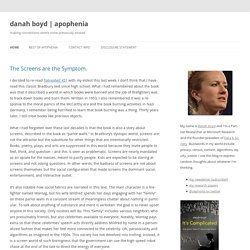 Like many other civil liberties advocates, I've been annoyed by how the media has spilled more ink talking about Edward Snowden than the issues that he's trying to raise. I've grumbled at the "Where in the World is Carmen Sandiego?" reality show and the way in which TV news glosses over the complexities that investigative journalists have tried to publish as the story unfolded. But then a friend of mine – computer scientist Nadia Heninger – flipped my thinking upside down with a simple argument: Snowden is offering the public a template for how to whistleblow; leaking information is going to be the civil disobedience of our age. In recent years, increasing numbers of concerned citizens have been coming forward as whistleblowers, pointing out questionable acts by the American government agencies and corporations. The current administration has responded to this practice by prosecuting more whistleblowers under the Espionage Act than all previous presidents combined.
Cédric Deniaud nous livre son analyse sur la volonté de Facebook, après avoir su adresser une audience considérable, de se rendre indispensable pour n'importe quel site Internet.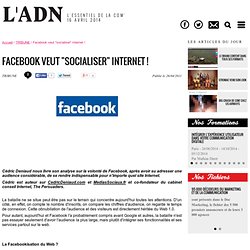 Innovations web - Facebook veut "socialiser" Internet !
Shazam + Instagram = Soundtracking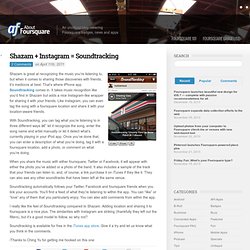 Shazam is great at recognizing the music you're listening to, but when it comes to sharing those discoveries with friends, it's mediocre at best. That's where iPhone app Soundtracking comes in. It takes music recognition like you'd find in Shazam but adds a nice Instagram-like wrapper for sharing it with your friends.
Les réseaux sociaux numériques d'entreprises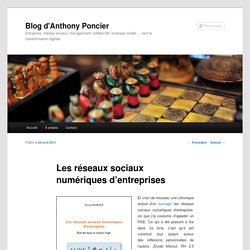 Et voici de nouveau une chronique autour d'un ouvrage , , ce que j'ai coutume d'appeler un RSE. Ce qui a été plaisant à lire dans ce livre, c'est qu'il est construit tout autant autour des réflexions personnelles de l'auteur, Ziryeb Marouf, RH 2.0 chez France Télécom Orange, que de son retour d'expérience du déploiement du réseau d'Orange à l'ensemble des collaborateurs du groupe. Je dois avouer que sur le moment j'ai été un peu désarçonné, car il n'est pas construit comme les différents livres que j'ai lu et chroniqué ces derniers temps, à savoir : la boite à outils avec de nombreux témoignages/retours d'expérience.
Publié le 25 mars 2011 Comment rendre les réseaux sociaux plus puissants qu'ils ne le sont déjà? Peut être en faisant en sorte qu'ils soient plus à l'écoute des autres.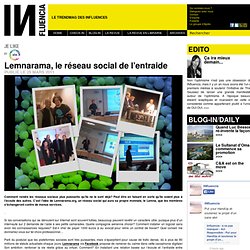 Check-IN je like - Lemnarama, le réseau social de l'entraide
Nouvelles Pages Facebook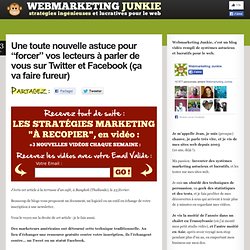 J'écris cet article à la terrasse d'un café, à Bangkok (Thaïlande), le 23 février. Beaucoup de blogs vous proposent un document, un logiciel ou un outil en échange de votre inscription à une newsletter. Vous le voyez sur la droite de cet article : je le fais aussi.
Une toute nouvelle astuce pour « forcer » vos lecteurs à parler de vous sur Twitter et Facebook (ça va faire fureur)
Sur Twitter, le succès d'un hashtag n'est pas uniquement lié à son sujet
La diffusion d'un mot ou groupe de mots de référence sur le site de micro-blogging répond à deux principes, qui ne sont pas seulement celui de l'intérêt du sujet : la persistance et l'adhérence. Quels sont les principes pouvant expliquer les mécanismes de diffusion des hashtags - ces mots ou groupes de mots précédés d'un # et qui évoquent un sujet, un événement, ou encore une humeur ? Selon l'université de Cornell et celle de Carnegie Mellon, deux concepts peuvent expliquer ce qui va faire ou nom le succès de ces mots : celui de l'adhérence, et celui de la persistance. D'un côté, l'adhérence représente la probabilité qu'une personne aura d'utiliser un hashtag après avoir vu qu'un certain nombre de ses amis a fait de même.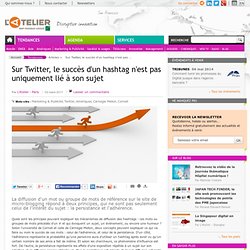 Macala Wright Lee is the publisher of FashionablyMarketing.Me. Wright Lee is a retail consultant whose firm, Fashionably Digital, specializes in marketing consulting for fashion, luxury and beauty brands. You can follower her on Twitter at @FashMarketing. One of the most popular trends in the fashion industry this year has been brand generated content.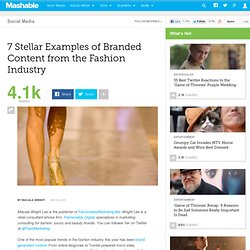 7 Stellar Examples of Branded Content from the Fashion Industry
Macala Wright Lee is the publisher of FashionablyMarketing.Me. Wright Lee is a retail consultant who's firm, Fashionably Digital, specializes marketing consulting for fashion, luxury and beauty brands. You can follower her on twitter at @FashMarketing. The fashion industry's use of branded content gained momentum in 2010. In 2011, retailers will have three big shifts to consider as part of their branded content strategy.
Why the Fashion Industry Is Betting Big on Branded Online Content