Concepts
In physics, power (symbol: P) is defined as the amount of energy consumed per unit time.
Power (physics)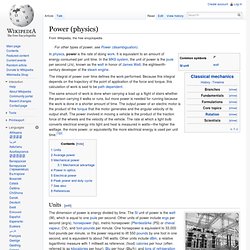 In physics, a force is said to do work when it acts on a body, and there is a displacement of the point of application in the direction of the force.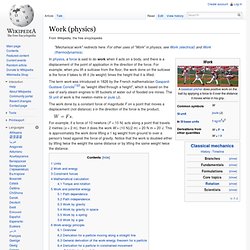 Work (physics)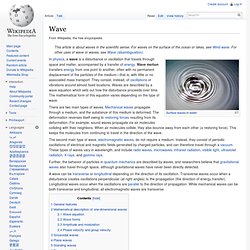 In physics, a wave is a disturbance or oscillation that travels through space and matter, accompanied by a transfer of energy.
In classical mechanics, a harmonic oscillator is a system that, when displaced from its equilibrium position, experiences a restoring force, F, proportional to the displacement, x: where k is a positive constant. If F is the only force acting on the system, the system is called a simple harmonic oscillator, and it undergoes simple harmonic motion: sinusoidal oscillations about the equilibrium point, with a constant amplitude and a constant frequency (which does not depend on the amplitude).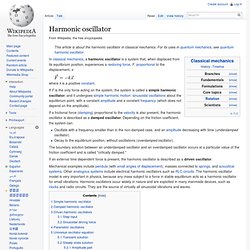 Harmonic oscillator
In physics, a conservation law states that a particular measurable property of an isolated physical system does not change as the system evolves. One particularly important physical result concerning conservation laws is Noether's theorem, which states that there is a one-to-one correspondence between conservation laws and differentiable symmetries of physical systems.
Conservation law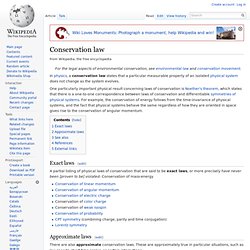 Torque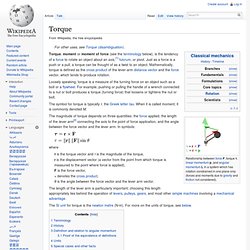 Torque, moment or moment of force (see the terminology below), is the tendency of a force to rotate an object about an axis,[1] fulcrum, or pivot.
This gyroscope remains upright while spinning due to its angular momentum.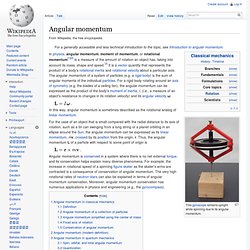 Angular momentum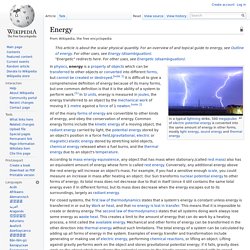 Potential energy is energy stored by virtue of the position of an object in a force field, such as a gravitational, electric or magnetic field. For example, lifting an object against gravity performs work on the object and stores gravitational potential energy; if it falls, gravity does work on the object which transforms the potential energy to kinetic energy associated with its speed. Some specific forms of energy include elastic energy due to the stretching or deformation of solid objects, chemical energy such as is released when a fuel burns, and thermal energy, the microscopic kinetic and potential energies of the disordered motions of the particles making up matter.
Force
The original form of Newton's second law states that the net force acting upon an object is equal to the rate at which its momentum changes with time. If the mass of the object is constant, this law implies that the acceleration of an object is directly proportional to the net force acting on the object, is in the direction of the net force, and is inversely proportional to the mass of the object. As a formula, this is expressed as: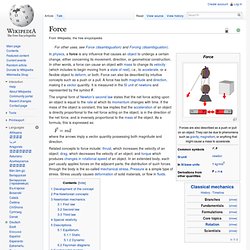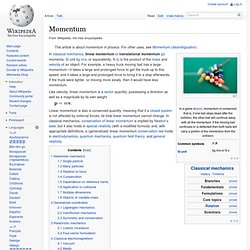 Like velocity, linear momentum is a vector quantity, possessing a direction as well as a magnitude:
Momentum
In physics, mass (from Greek μᾶζα "barley cake, lump [of dough]") is a property of a physical body which determines the body's resistance to being accelerated by a force and the strength of its mutual gravitational attraction with other bodies. The SI unit of mass is the kilogram (kg).
Mass
Acceleration
For example, an object such as a car that starts from standstill, then travels in a straight line at increasing speed, is accelerating in the direction of travel.
If there is a change in speed, direction, or both, then the object has a changing velocity and is said to be undergoing an acceleration.
Velocity
Length
In geometric measurements, length is the longest dimension of an object.[1] In other contexts "length" is the measured dimension of an object. For example it is possible to cut a length of a wire which is shorter than wire thickness. Length may be distinguished from height, which is vertical extent, and width or breadth, which are the distance from side to side, measuring across the object at right angles to the length.
Motion (physics)
In physics, motion is a change in position of an object with respect to time and its reference point. Motion is typically described in terms of displacement, direction, velocity, acceleration, and time.[1] Motion is observed by attaching a frame of reference to a body and measuring its change in position relative to that frame.
Newton's law of universal gravitation
Density