PBL
The Common Core is the "what." PBL is the "how." Can you hear me now?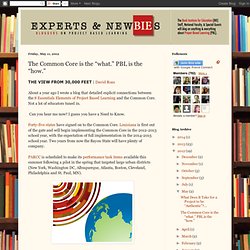 I guess you have a Need to Know. Forty-five states have signed on to the Common Core. A Step-by-Step Guide to the Best Projects. Discover a project-based learning model that motivates students to pursue knowledge and drives academic achievement.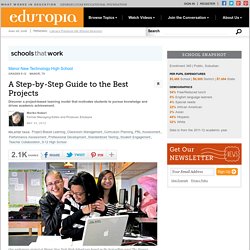 One sophomore project at Manor New Tech High School was based on the best-selling novel The Hunger Games. Examples of how they incorporated English and world history standards into the project are below. Credit: Zachary Fink Manor New Technology High School in Manor, Texas, is a 100 percent project-based learning school. They are part of the New Tech Network of schools and their approach has yielded remarkable results, including a 98 percent graduation rate, with all of their graduates accepted to college. Project-Based Learning: Success Start to Finish. For this installment of Schools That Work, we chose Manor New Technology High School, a public high school that is part of the New Tech Network of schools.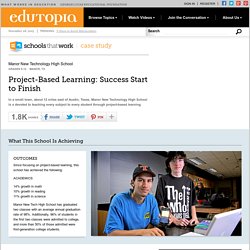 Located just outside of Austin in Manor, Texas, it is an entirely project-based learning school that has consistently achieved outstanding results since opening. We followed a project there for three weeks to find out what makes their model so effective. By Mariko Nobori. PBL: Project, Passion, Play Based Learning. Effective and progressive educators understand and attempt to implement PBL strategies and practices within their learning settings.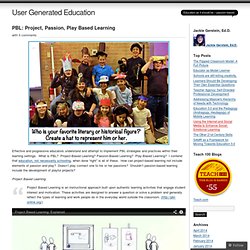 What is PBL? Project-Based Learning? Passion-Based Learning? Play-Based Learning? Project-based learning. Project Based learning. In the eye of the new world. Personalized Learning 1. Project-Based Learning at High-Tech High. Designing Schools for 21st Century Learning. Seeing the Classroom as a Hub of Technology-enabled Social Change. Antero Garcia, who teaches English at a high school in South Central Los Angeles, is a PhD candidate, focusing on critical literacies and civic identity through the use of mobile media and game play.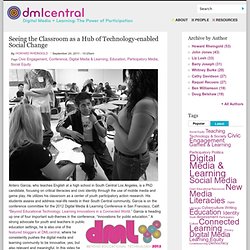 He utilizes his classroom as a center of youth participatory action research. His students assess and address real-life needs in their South Central community. Garcia is on the conference committee for the 2012 Digital Media & Learning Conference in San Francisco, Calif: "Beyond Educational Technology: Learning Innovations in a Connected World." Garcia is heading up one of four important sub-themes in the conference, "innovations for public education." A strong advocate for youth and teachers in public education settings, he is also one of the featured bloggers at DMLcentral, where he consistently pushes the digital media and learning community to be innovative, yes, but also relevant and meaningful. Recommended Resources: Mobile Learning, Digital Activism, Multitasking. Professor of urban planning, Amy Hillier, recently spoke at TEDxPhilly to talk about how data visualization technology can map a city's emotions and memories.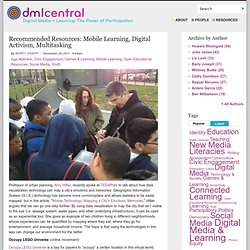 Geographic Information System (G.I.S.) technology has become more commonplace and allows statistics to be easily mapped, but in this article, "Mobile Technology: Mapping a City's Emotions, Memories," Hillier argues that we can go one step further. By using data visualization to map the city that isn't visible to the eye (i.e. sewage system, water pipes, and other underlying infrastructure), it can be used as an experiential tool. She gives an example of two children living in different neighborhoods whose experiences can be quantified by mapping where they eat, where they go for entertainment, and average household income. Ownership of Learning. Ownership of Learning. PLE & PLN. Constructive & Project-based Learning. Project-Based Learning.
Project Based Learning | BIE. Projects. As of July 1, 2013 ThinkQuest has been discontinued.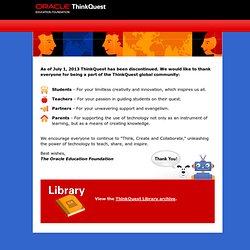 We would like to thank everyone for being a part of the ThinkQuest global community: Students - For your limitless creativity and innovation, which inspires us all. Teachers - For your passion in guiding students on their quest. Project Based Learning: Explained. Project Based Learning & iPad Integration.
---