Claycasey2
Resturant Reviews. Food-blog. Food blog. Livefyre - Home. eYeka Europe & USA - video contests, animation contests, design contests for filmmakers, animators, graphic designers, and creators. The co-creation community. Sharing Stream, Real-time Sharing, Trending Shares - ShareThis Stream. Trending Content API Provides access to real-time socially trending content across the ShareThis Publisher Network of 2M+ websites.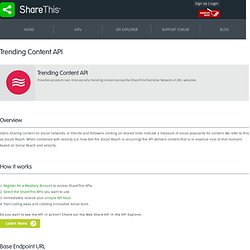 Overview Users sharing content on social networks, or friends and followers clicking on shared links indicate a measure of social popularity for content. We refer to this as Social Reach. When combined with velocity (i.e. how fast the Social Reach is occurring) the API delivers content that is in essence viral at that moment based on Social Reach and velocity.
Claycasey3
Bit.ly | Basic | a simple URL shortener. SwiftRiver | Verifying and Filtering News (FOSS) IntenseDebate comments enhance and encourage conversation on you. Keep Readers on your Site – Apture.com. Zingerman's Delicatessen | www.zingermansdeli.com | You Really C. A Freelancer Marketplace | Pick.im. Kapost | Crowdsource your Content. Jobs for Bloggers - ProBlogger Job Board.
How to Create a Web Content Strategy For Your Company. These days, it's no longer enough to have an inviting storefront and amazing products on your shelves, whether physical or digital.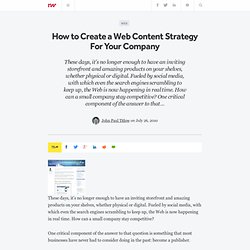 Fueled by social media, with which even the search engines scrambling to keep up, the Web is now happening in real time. How can a small company stay competitive? One critical component of the answer to that question is something that most businesses have never had to consider doing in the past: become a publisher. Your Site Needs a Blog Having somebody design and build your website is only half the battle. The Enterprise Social Network. Timeline Maker Software | Create Professional Timeline Charts - By Social Entrepreneurs, For Social Entrepreneurs? ? Social Edge.
Welcome to SkollWorldForum.org former Social Edge users!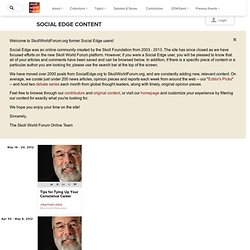 Social Edge was an online community created by the Skoll Foundation from 2003 - 2013. The site has since closed as we have focused efforts on the new Skoll World Forum platform. However, if you were a Social Edge user, you will be pleased to know that all of your articles and comments have been saved and can be browsed below. Oursignal.
Dig Up Political Influence | Poligraft. MicroStrategy. The most comprehensive business intelligence platform in the industry.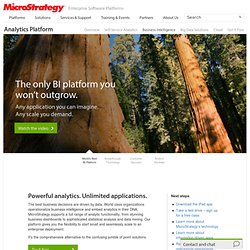 MicroStrategy is the world's most comprehensive and trusted BI platform, designed from the ground up and proven to support the most demanding analytics applications. Our unified, organically developed, architecture is built on the core of a single foundational metadata—ensuring trust across any style of analytics and easy scalability as your business grows. Watch the webcast Industrial-strength. Technology | Cerebra. Technology Semantic Technologies are increasingly playing an integral role in the overall infrastructure for both consumer and enterprise applications.
As one of the first commercial semantic technology companies, Cerebra has deployed products across a broad set of use cases. Over the last 9 years we have leveraged our platform for; Provisioning of complex network configurations for telecom. Buzzd Aggregates Check-Ins From Foursquare, Gowalla And Others I. We've written about the social city and nightlife mobile app, buzzd, which pulls its data from Twitter and other buzzd users, for a bigger picture of the places that are hot in a given location.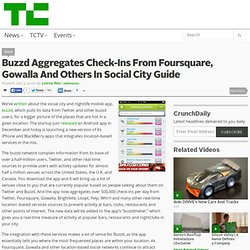 The startup just released an Android app in December and today is launching a new version of its iPhone and BlackBerry apps that integrates location-based services in the mix. The buzzd network compiles information from its base of over a half-million users, Twitter, and other real-time sources to provide users with activity updates for almost half a million venues across the United States, the U.K. and Canada. You download the app and it will bring up a list of venues close to you that are currently popular based on people talking about them on Twitter and Buzzd.
Yubby.com - find, collect and publish your favorite online video. Grow VC > About. About What is Grow VC?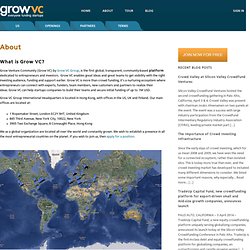 Grow Venture Community (Grow VC) by Grow VC Group, is the first global, transparent, community-based platform dedicated to entrepreneurs and investors. AnyChart. Real-time Discovery Engine - YourVersion: Discover Your Version. Chartle.net. TV | Interview: Alex Karp, Founder and CEO of Palantir. My Starbucks Idea. Buzzd Aggregates Check-Ins From Foursquare, Gowalla And Others I. Omgili Forum Search - Find out what people are saying. iCurrent - A Personalized News Aggregator | iCurrent.
Make stories - storify.com. Wufoo: Online Form Builder - Create Web Forms & Surveys. Welcome to PostUp. Can social media make your company smarter? | Analysis & Opinion | You've started a fan page for your company on Facebook.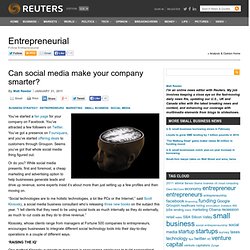 You've attracted a few followers on Twitter. You've got a presence on Foursquare, and you've started offering deals to customers through Groupon. Seems you've got that whole social media thing figured out. Or do you? While social media presents, first and foremost, a cheap marketing and advertising option to help businesses generate leads and drive up revenue, some experts insist it's about more than just setting up a few profiles and then moving on. Mining, Mapping and Visualizing the Blogosphere. Written Articles, Link Building, and Content Management with The Content Authority. AmCharts.
Yoowalk - Walk around the web - Browser-based virtual world, fre. Trunk.ly | Home. Humans vs machines: Aggregation vs curation. Curation is becoming an increasingly important term and for good reason: the online world is increasingly messy, muddled and full of blind alleys.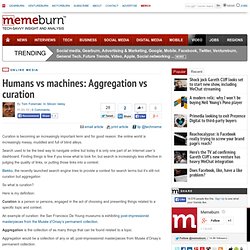 Search used to be the best way to navigate online but today it is only one part of an Internet user's dashboard. Finding things is fine if you know what to look for, but search is increasingly less effective in judging the quality of links, or putting those links into a context. How Social Media Drives New Business: Six Case Studies.
Businesses both big and small are flocking to social media platforms such as Twitter, Facebook, YouTube and Foursquare.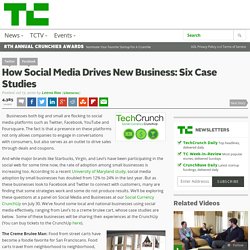 The fact is that a presence on these platforms not only allows companies to engage in conversations with consumers, but also serves as an outlet to drive sales through deals and coupons. And while major brands like Starbucks, Virgin, and Levi's have been participating in the social web for some time now, the rate of adoption among small businesses is increasing too. According to a recent University of Maryland study, social media adoption by small businesses has doubled from 12% to 24% in the last year. But as these businesses look to Facebook and Twitter to connect with customers, many are finding that some strategies work and some do not produce results. We'll be exploring these questions at a panel on Social Media and Businesses at our Social Currency CrunchUp on July 30. Content curation : cr?er facilement son magazine en ligne avec Montage.
Pour partager une passion ou une expertise sur le web, il y a eu les pages personnelles, les forums, puis les blogs, puis les micro-blogs puis les réseaux sociaux. Et maintenant il y a la curation, ou content curation, soit l'assemblage « intelligent » ou éditorialisé (ah merde, ce mot n'existe pas non plus dans mon dico Pour partager une passion ou une expertise sur le web, il y a eu les pages personnelles, les forums, puis les blogs, puis les micro-blogs puis les réseaux sociaux. Et maintenant il y a la curation, ou content curation, soit l'assemblage « intelligent » ou éditorialisé (ah merde, ce mot n'existe pas non plus dans mon dico Firefox) de contenus. J'en ai déjà parlé à l'occasion de mon récent compte-rendu sur le Web'10. La curation de contenus pourrait être pour un individu « le blog pour les feignants » ou en tout cas pour ceux qui souhaitent avoir leur espace de connaissance sur la toile sans avoir le temps ni l'envie de bloguer. Mapping the Future of Cities & Education.
The following is a guest post from Mark Belinsky of Digital Democracy. What does real-time mapping with New York City public school kids look like? Recently, Digital Democracy was invited to work with 120 young people from all 5 boroughs as part of the Department of Education's "Future Now" program. Having gone through the NY Public School system myself, I jumped at the opportunity to help them innovate.
My task was to engage the kids in a conversation about what they'd like to see in the year 2020. Future Now is creating NYC's Digital Storybook – a citywide youth project about school, community, and dreams. Beyond Social: Read/Write in The Era of Internet of Things. This blog was founded in 2003 on the philosophy of a read/write Web - a Web in which people can create content as easily as they consume it. This trend eventually came to be known as Web 2.0 - although others preferred Social Web - and was popularized by activities like blogging and social networking.
It would be easy to say that the 'social' element is still the primary part of today's Web, since the popular products of this era enable you to say what's on your mind (Facebook), what's happening (Twitter), or where you are (Foursquare). All of these are mostly social activities. DoodleBuzz: Typographic News Explorer.
Ollie Acheson's Public Library. Socialnomics – Social Media Blog. Datasift - Tuning Your Tweets. UberVU - Track conversations wherever they go on the Web and rep. OneRiot.com - Realtime Search for the Realtime Web. DataArt on BBC Backstage - Flared Music. Dipity. Aggregation and curation: two concepts that explain a lot about digital change. Aggregation and curation: two concepts that explain a lot about digital change Every time I read a story about why newspapers are failing that doesn't mention the role of aggregation and curation in their troubles, it reminds me that something very fundamental is being missed, even by very sophisticated observers.
Aggregation is one of the core concepts of content presentation and commercialization. Any analysis of what happened to the record business, what is happening to newspapers, or the future of books and bookstores and magazines and TV that does not feature this concept prominently is almost certainly flawed. Aggregation, of course, simply means pulling together things which are not necessarily connected.
Curation is a term that has always referred to the careful selection and pruning of aggregates, such as for a museum or an art exhibition. Beyond the Handset. TED Blog. Aggregators, curators, and indexers: There's a difference, and it matters. Aggregation. Curation. Indexing. PostPost. Netvibes Developers Network. ShareThis. AddThis - The #1 Bookmarking & Sharing Service.
Grassroots Heritage » Blog Archive » From Curator to Socially-Distributed Curation (aka Crowdsourcing Curation) DISQUS Comments | Powering Discussion on the Web. Free Web Toolbar.
---