Project-Based Learning
If you're contemplating using Project-Based Learning or are already trying out the latest craze to hit the modern classroom, you should know about this checklist. It details if you're actually doing it correctly. For example, does your project focus on significant content, develop 21st century skills, and engage students in in-depth inquirty (just to name a few)? If not, you might want to reconsider your PBL approach. See Also: What Is Project-Based Learning?
One of my goals for this upcoming year is to create a project-based learning (PBL) unit for my World History class. In order to wrap my head around this concept I have been lurking in different Twitter chats and reading articles about PBL. Still, the concept seemed foreign to me.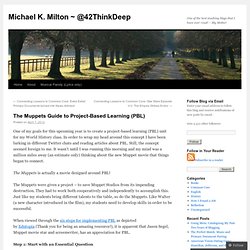 The Muppets Guide to Project-Based Learning (PBL) | Michael K. Milton ~ @42ThinkDeep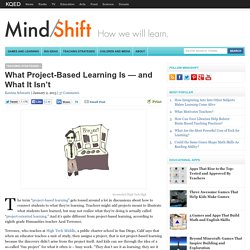 Teaching Strategies Screenshot/High Tech High The term "project-based learning" gets tossed around a lot in discussions about how to connect students to what they're learning. Teachers might add projects meant to illustrate what students have learned, but may not realize what they're doing is actually called "project-oriented learning." And it's quite different from project-based learning, according to eighth grade Humanities teacher Azul Terronez.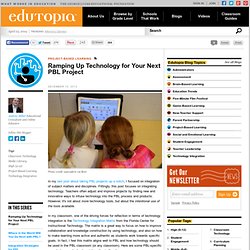 In my last post about taking PBL projects up a notch, I focused on integration of subject matters and disciplines. Fittingly, this post focuses on integrating technology. Teachers often adjust and improve projects by finding new and innovative ways to infuse technology into the PBL process and products. However, it's not about more technology tools, but about the intentional use of the tools available. In my classroom, one of the driving forces for reflection in terms of technology integration is the Technology Integration Matrix from the Florida Center for Instructional Technology. The matrix is a great way to focus on how to improve collaboration and knowledge construction by using technology, and also on how to make learning more active and authentic as students work towards specific goals.
Ramping Up Technology for Your Next PBL Project
The prevailing problem with American high schools is boredom. Actually, that's just a symptom of alienation, irrelevance, and infantilization. A disconnected string of classes—some too hard, some too easy—appears to most teens to have little to do with life. And, they are right.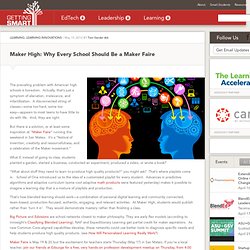 Maker High: Why Every School Should Be a Maker Faire
Assignments - ECMP 455
On April 22, a billion people around the world are expected to take part in Earth Day 2012 celebrations. Among the anticipated "billion acts of green" will be scores of events for students and schools, from gardening lessons to eco-fairs to solar cooking demonstrations. It could be an ideal set-up for young people to dive deeply into problem solving and creative thinking -- but only if we trust students to figure out which problems they want to tackle. That's advice from educator and entrepreneur Ewan McIntosh, who knows a thing or two about engaging students in project-based learning.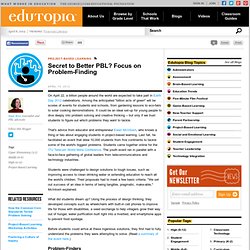 Secret to Better PBL? Focus on Problem-Finding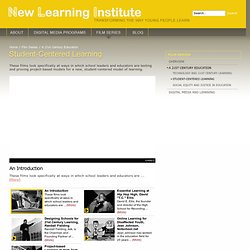 Student-Centered Learning | New Learning Institute
Designing Schools for 21st Century Learning, Randall Fielding Randall Fielding, AIA, is the Chairman and Founding Partner of Fielding Nair International, LLC (FNI), an award-winning school planning and design firm with offices in Minneapolis, Tampa, Madison and Melbourne, Australia. The firm has consultations in 23 states around the U.S. and 26 countries. Randy oversees FNI's primary mission to improve learning by serving as a world leader in the creation of new and renovated educational campuses that are in consonance with best practice and research. Fielding's achievements have earned him more than a dozen design awards from the American Institute of Architects, The Council of Educational Facility Planners International (CEFPI), the American Association of School Administrators, and School Planning and Management Magazine.
Sydney school embraces new teaching model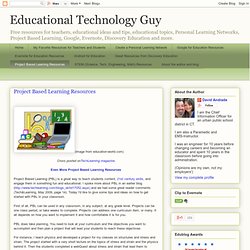 (image from education-world.com) Project Based Learning (PBL) is a great way to teach students content, 21st century skills, and engage them in something fun and educational. I spoke more about PBL in an earlier blog (http://www.techlearning.com/blogs_ektid17052.aspx) and we had some great reader comments (Tech&Learning, May 2009, page 14). Today I'd like to give some tips and ideas on how to get started with PBL in your classroom. First of all, PBL can be used in any classroom, in any subject, at any grade level. Projects can be one class period, or take weeks to complete.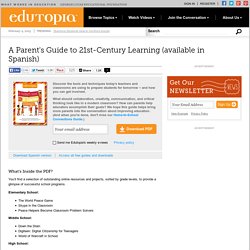 Discover the tools and techniques today's teachers and classrooms are using to prepare students for tomorrow -- and how you can get involved. What should collaboration, creativity, communication, and critical thinking look like in a modern classroom? How can parents help educators accomplish their goals? We hope this guide helps bring more parents into the conversation about improving education.
REINVT-excerpt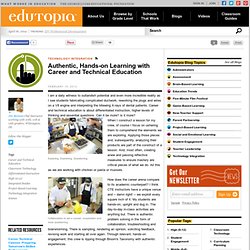 I am a daily witness to outlandish potential and even more incredible reality as I see students fabricating complicated ductwork, reworking the plugs and wires on a V8 engine and interpreting the bitewing X-rays of dental patients. Career and technical education is about differentiated instruction, higher levels of thinking and essential questions. Can it be more? Is it more? Exploring.
Authentic, Hands-on Learning with Career and Technical Education
"Project-based learning is great but it is too hard for teachers to do well." I have heard this belief stated more times than I can count. Is PBL really so difficult that only a select number of masterful teachers, innovative schools, and dynamic school leaders can pull off high quality projects? I don't think so.
Project-Based Learning Made Easy
Yahoo! Finance - Breaking News: Adblade Responds to Lawsuit about its Competitor, Broadspring's, Reported Links to Malware, Spyware and Deceptive Advertising Adblade Gives SMBs Access to Big Media
Helping Parents Understand PBL
For an upcoming Edutopia guide for parents, we're looking for suggestions about how to help parents understand the value of PBL. I'm eager to hear from teachers who have strategies to share. Do you use tools like Edmodo to provide a parent window into projects? Do you invite parents to volunteer as content experts or reviewers? What puzzles parents about PBL? (Anyone get parent pushback about teams?)
Wright'sRoom
I love project-based learning. Why? Because my students do. Some of my favourite projects are the Biology 30 projects due at semester's end. These aren't the only projects we create throughout the semester; we also create a number of digital products too. However, these tend to be the most intricate and hands on.
tlc-proposal-10-18-11.docx
TLC Middle School (opening August 2013)
Life in a Inquiry Driven, Technology-Embedded, Connected Classroom: Science
George Demo
Seven Ways to Build Your Own Educational Games
Langwitches - Get Globally Connected
QR Codes in Education
Critical & Creative Education