Useful links
LinkedIn: The Beginner's Guide. Update: This post was updated October 2013 to reflect current statistics and tools.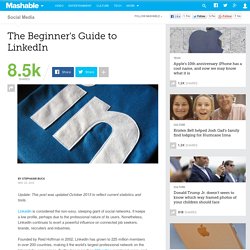 LinkedIn is considered the non-sexy, sleeping giant of social networks. It keeps a low profile, perhaps due to the professional nature of its users. Élèves en difficulté numérique et ortographe.
Student Forum Maastrich Uni Brussels
dCDC Guy Birenbaum & Abiker. Law Map links. iPad app for power point. AP European History Center. FreecScientific review from Reading. Summer internship law furm. Les chiffres des reseaux sociaux en 2013. Free. Video -- Cloud Computing in Education. Book for rent. Sorties Jeunes. Bon plan: théatre pour étudiants fauchés. Hiking. Babelio - Vos livres en ligne - Connectez vos bibliothèques. Brain Training, Brain Exercise, Brain Fitness by Brain Training 101. Legal source. Greatest Hits of TED Videos.
SM to promot music festival
Jurisprudence Cour de Cass. Follower Wonk: Twitter analytics, follower segmentation, social graph tracking, & more. Les PPT de la semaine… Computer related. Videos/privacy related. French TV programs to watch. WIKI for Call for Papers. BBC iPlayer - Bigscreen :: CBeebies Christmas Panto. 22 Free Hitchcock Movies Online. Alfred Hitchcock, the master of suspense, directed more than 50 feature films during his long career.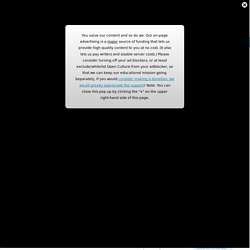 Today, his work is admired worldwide, and he's considered one of our finest directors. Although many of his landmark films remain copyrighted, some of his important works, particularly his early ones, have slipped into the public domain. And so we have catalogued 21 Alfred Hitchcock films that you can watch online – completely for free. All Hitchcock films appear in our big meta collection of 635 Free Movies Online. You might also particularly enjoy our collection of Free Noir Films. Be Amazed With These Unbelievable Optical Illusional Photos. Personally, I appreciate photos so much especially when they have illusion effects.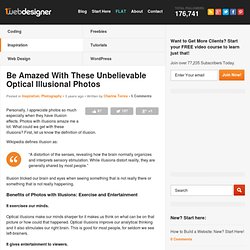 Photos with illusions amaze me a lot. What could we get with these illusions? First, let us know the definition of illusion.
Creative Commons: a user guide
20 Must-Read Blogs For Freelance Writers. Spotify Classical Playlists: Naïve Vivaldi Edition + Open Vivaldi Playlist. "The Vivaldi Edition, a recording venture conceived by the Italian musicologist Alberto Basso and the independent label Naïve, is one of the most ambitious recording projects of the twentyfirst century.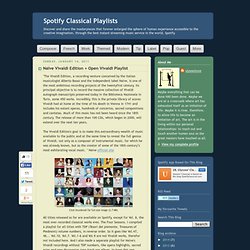 Its principal objective is to record the massive collection of Vivaldi autograph manuscripts preserved today in the Biblioteca Nazionale in Turin, some 450 works. Incredibly, this is the private library of scores Vivaldi had at home at the time of his death in Vienna in 1741 and includes his extant operas, hundreds of concertos, sacred compositions and cantatas. Read Featured Books: Michio Kaku: Physics of the Future: How Science Will Shape Human Destiny and Our Daily Lives by the Year 2100.
Philosophy of Law and the Internet Encyclopedia of Philosophy.
How to backup SM online
Cyberlex - L'association du droit et des nouvelles technologies. Writing a First Class Law Dissertation | WardblawG. 12inShare "Protection of the Right to a Fair Trial and Civil Jurisdiction: Permitting Delay, Restricting Access and Recognising Incompatible Judgments".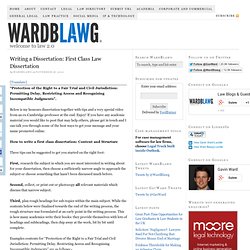 Below is my honours dissertation together with tips and a very special video from an ex-Cambridge professor at the end. Enjoy! CEO e-mail addresses - CEO email address - chief executive officer - managing director - exec director UK GB MD england.
Curated By Curators
YouTube on MP3. Zephoria. Travel/food. Homepage. Global Voices Advocacy » HADOPI, ACTA, Digital Economy Bill: Fro. There is increasing debate and discussion about regulatory moves in the internet sphere that have direct implications for the kind of society we want to live in and the rights we can expect to have: freedom of speech balanced against rights to privacy; centralized data gathering and storage by governments versus rights to control over personal information; rights to protection of intellectual property balanced against rights of fair use; rights to freely communicate versus protecting, for example, minors from abuses such as child pornography; and the emerging recognition of the need to break down the digital divide with a right of access to the world wide web through universal broadband access.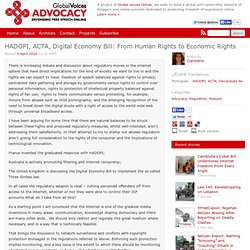 I have been arguing for some time that there are natural balances to be struck between these rights and proposed regulatory measures, whilst well-intended, aren't addressing them satisfactorily.
Notes by zephoria - Open Access Journals. Droit de l?information. Le droit de l'information existe-t-il ?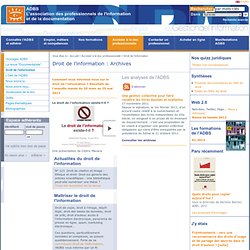 Une présentation de Cédric Manara Actualités du droit de l'information. Opensource downlads. Planned Obsolescence. Good blogs.
---