Pictures before/after
18 Delicious Cake Pictures. Google Earth aerial photos show extent of quake damage. Aerial photos taken over Japan reveal just how bad the devastation is across the affected regions hit by the quake and tsunami.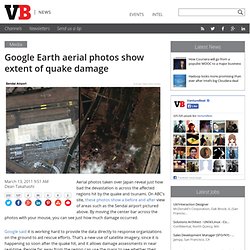 On ABC's site, these photos show a before and after view of areas such as the Sendai airport pictured above. By moving the center bar across the photos with your mouse, you can see just how much damage occurred. Mat - Avant et après. Il manque un truc a #Fukushima ! - TwitVid. ABC News - Japan Earthquake: before and after.
Development: Andrew KesperSource: Google Aerial photos taken over Japan have revealed the scale of devastation across dozens of suburbs and tens of thousands of homes and businesses.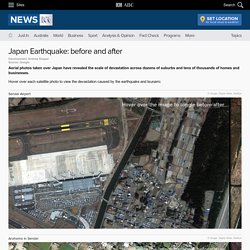 Hover over each satellite photo to view the devastation caused by the earthquake and tsunami.
---