IQ root care on cellphones
Lawmakers seek hearing on Carrier IQ privacy issues. News January 12, 2012 03:31 PM ET Computerworld - The Carrier IQ privacy controversy shows little signs of letting up, as three lawmakers today called for a Congressional hearing on the implications raised by the use of the company's software by wireless carriers.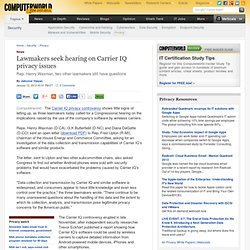 Reps. Henry Waxman (D-CA), G.K Butterfield (D-NC) and Diana DeGette (D-CO) sent an open letter (download PDF) to Rep.
No warrant needed for GPS monitoring
Don't Spy on Me. Researcher Trevor Eckhart just discovered a hidden application that records everything millions of people write, view and search for on their cellphones.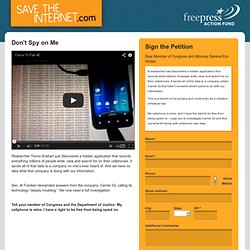 It sends all of that data to a company no one's ever heard of. And we have no idea what that company is doing with our information. Sen. EFF takes the fight to Carrier IQ, requests reinforcements. If we didn't love the EFF already, we'd be proposing marriage now that it's managed to reverse-engineer Carrier IQ's pernicious monitoring software.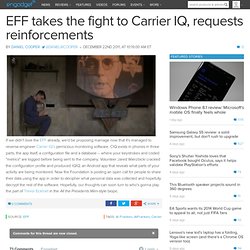 CIQ exists in phones in three parts, the app itself, a configuration file and a database -- where your keystrokes and coded "metrics" are logged before being sent to the company. Volunteer Jared Wierzbicki cracked the configuration profile and produced IQIQ, an Android app that reveals what parts of your activity are being monitored.
Carrier IQ defense
Carrier IQ admits to collecting text messages | Security Threats. Carrier IQ, the mobile intelligence provider at the centre of a US privacy storm, has said it inadvertently collected some SMS messages as the result of a software bug.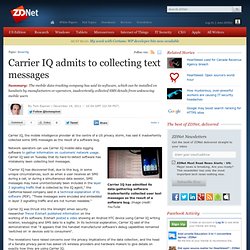 Carrier IQ has admitted its data-gathering software inadvertently collected user text messages as the result of a software bug. Image credit: YouTube Network operators can use Carrier IQ mobile-data logging software to gather information on customers' network usage. Carrier IQ said on Tuesday that its hard-to-detect software has mistakenly been collecting text messages.
FBI tracking mobile data
Google says does not work with, support Carrier IQ. THE HAGUE Thu Dec 8, 2011 7:14pm GMT THE HAGUE (Reuters) - Google does not work with nor does it support Carrier IQ, the software maker which has been accused of violating millions of mobile phone users' privacy rights, Executive Chairman Eric Schmidt said on Thursday.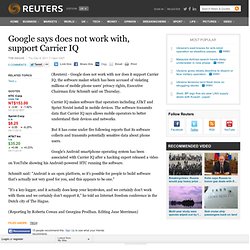 Carrier IQ makes software that operators including AT&T and Sprint Nextel install in mobile devices. The software transmits data that Carrier IQ says allows mobile operators to better understand their devices and networks. But it has come under fire following reports that its software collects and transmits potentially sensitive data about phone users. Google's Android smartphone operating system has been associated with Carrier IQ after a hacking expert released a video on YouTube showing his Android-powered HTC running the software. Carrier IQ Drops Empty Legal Threat, Apologizes to Security Researcher. Today mobile software company Carrier IQ withdrew (pdf) a bogus legal threat to a security researcher who published an analysis of the company's software, as well as training materials on which he based his research.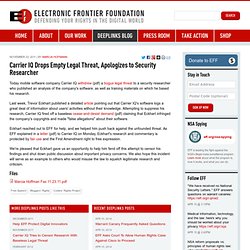 Last week, Trevor Eckhart published a detailed article pointing out that Carrier IQ's software logs a great deal of information about users' activities without their knowledge. Attempting to suppress his research, Carrier IQ fired off a baseless cease-and-desist demand (pdf) claiming that Eckhart infringed the company's copyrights and made "false allegations" about their software. Eckhart reached out to EFF for help, and we helped him push back against the unfounded threat. As EFF explained in a letter (pdf) to Carrier IQ on Monday, Eckhart's research and commentary is protected by fair use and the First Amendment right to free expression.
12/7 - What's Wrong with SOPA? RSVP for this free event today.6:00pm Reception - Neukom Faculty Lounge - Neukom Building 7:00pm Panel - Room 290 - Law School Building Live streaming through UStream will be available and a final video recording will be available on our YouTube channel.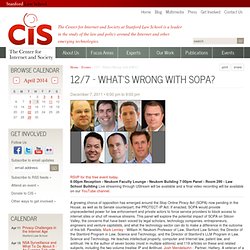 A growing chorus of opposition has emerged around the Stop Online Piracy Act (SOPA) now pending in the House, as well as its Senate counterpart, the PROTECT-IP Act. If enacted, SOPA would provide unprecedented power for law enforcement and private actors to force service providers to block access to internet sites or shut off revenue streams. This panel will explore the potential impact of SOPA on Silicon Valley, the concerns that have been voiced by legal scholars, technology companies, entrepreneurs, engineers and venture capitalists, and what the technology sector can do to make a difference in the outcome of this bill.
Is Carrier IQ spying on you? Hidden software in your smartphone might be spying on you.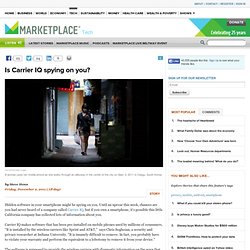 Until an uproar this week, chances are you had never heard of a company called Carrier IQ, but if you own a smartphone, it's possible this little California company has collected lots of information about you. Carrier IQ makes software that has been pre-installed on mobile phones used by millions of consumers. "It is installed by the wireless carriers like Sprint and AT&T," says Chris Soghoian, a security and privacy researcher at Indiana University. "It is insanely difficult to remove. Carrier IQ and Facebook pose the least of your privacy threats | Internet privacy. There's plenty of rightful indignation over the revelation that AT&T and Sprint have installed monitoring apps (purportedly to detect network and performance issues) on the millions of cellphones and smartphones they sell, using software from a company called Carrier IQ.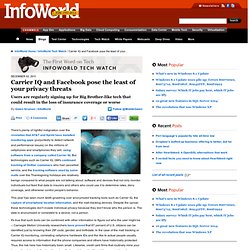 But technologies such as Carrier IQ, GM's continued tracking of OnStar customers who had cancelled service, and the tracking software used by some malls over the Thanksgiving holidays are relatively benign compared to what people are not talking about: software and devices that not only monitor individuals but feed that data to insurers and others who could use it to determine rates, deny coverage, and otherwise control people's behavior. This year has seen much teeth-gnashing over anonymized tracking tools such as Carrier IQ, the capture of smartphone location information, and the mall-tracking devices.
Despite the uproar, these technologies don't invade individual privacy because they don't know who the person is.
CarrierIQ technically legit?
Carrier IQ downplays 2010 patent request. News December 6, 2011 06:11 AM ET Computerworld - A Carrier IQ executive Monday downplayed the significance of the company's effort to patent a technology it said can help wireless carriers undertake "advertising audience segmentation analysis and content copyright analytics.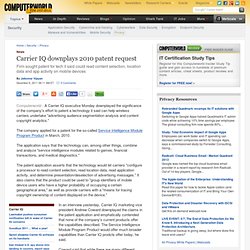 " Carrier IQ Speaks: 5 Key Takeaways. As the Carrier IQ scandal continues to heat up — now with even more lawsuits — the company has chosen to break its silence by speaking with the press. Dieter Bohn and Sean Hollister from The Verge managed to score a big interview with Carrier IQ VP Andrew Coward. Coward reaffirms Carrier IQ's earlier statements, maintaining that the company isn't violating any wiretapping laws or doing anything untoward but he also manages to open up a bit more about exactly what Carrier IQ does do and why. The entire interview is well worth the read — and our kudos to Bohn and Hollister for securing such a win — but we were struck by a few aspects of the conversation. 1. The Carrier Is the Customer, Not End Users. Carrier IQ interview: inside the brave new world of carrier phone tracking. 25inShare Jump To Close By Sean Hollister and Dieter Bohn You may have heard of the "internet of things," a vision of the future where cheap sensors are everywhere, and they allow machines to automatically track everything at all times.
Over the last few days, we got an eye-opening look into that future thanks to a company called Carrier IQ.
CarrierIQ dropped legal threat
Carrier IQ: It's totally rational to worry that our phones are tracking everything we do. Jupiterimages/Thinkstock. If you've set up a new mobile phone recently, you were likely prompted with an innocent-sounding request for your "usage information." The phone probably assured you that it would collect your data "anonymously," and that it would send the information back to the carrier or phone manufacturer to "improve your service."
In theory, this sounds reasonable. Carrier IQ hit with privacy lawsuits as more security researchers weigh in. Carrier IQ, the new poster child for (alleged) smartphone privacy violations, has been hit with two class-action lawsuits from users worried about how the company's software tracks their smartphone activity. Carrier IQ, of course, professes its innocence. But the company has also received some public support from security researchers who say Carrier IQ's software is only tracking diagnostic information and likely is not violating user privacy. It all began recently with a developer named Trevor Eckhart showing how Carrier IQ software seems to record button presses, search queries and the contents of text messages on an HTC Evo Android phone, with no way for the user to shut the tracking activity off.
Carrier IQ initially tried to silence Eckhart with a cease-and-desist letter, but ultimately backed down on the threat in the face of opposition from the Electronic Frontier Foundation. Privacy under threat: Software on cellphones that helps surveillance. San Fransisco: Technology bloggers are asking if our cellphones are spying on us after a security researcher said a piece of software hidden on millions of phones was recording virtually everything people do with them. Amid a broad outcry, Sen Al Franken is calling for an investigation. A class-action lawsuit has been filed against the software's maker, Carrier IQ Inc of Mountain View, California The software, which Carrier IQ says is used on some 150 million mobile devices, appears relatively innocuous. It does watch what owners of Sprint Nextel Corp and AT&T Inc smartphones do with them, including what people type and the numbers they dial. Carrier IQ Speaks: Our Software Ignores Your Personal Info - John Paczkowski - Mobile.
I Know My Phone's "Spying" on Me, But How Bad Is It? Carrier IQ, Mobile Services Grilled over Spyware Charges. Programmer Raises Concerns About Phone-Monitoring Software. Sen. Franken Wants Answers from Companies Who Install Carrier IQ Software on Smartphones | Al Franken | Senator for Minnesota. Carrier IQ, HTC, Samsung sued for alleged wiretapping. US senator calls for answers on phone 'snooping' Translation From Corporate Jargon Doublespeak to English of Carrier IQ's 'Media Alert' So, there's a rootkit hidden in millions of cellphones.
---