Google online anonymity
BBC employee Twitter account
Google Plus Has A Problem. Fear Not: I Have A Solution. Google Plus is terrific.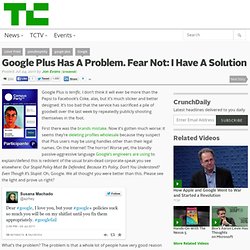 I don't think it will ever be more than the Pepsi to Facebook's Coke, alas, but it's much slicker and better designed. It's too bad that the service has sacrificed a pile of goodwill over the last week by repeatedly publicly shooting themselves in the foot. Google+ and pseudonymity: An open letter to @Google | @GrrlScientist | Science. As you may know, along with thousands of people around the world, my access to all of my Google services was suddenly revoked, without warning and without reason.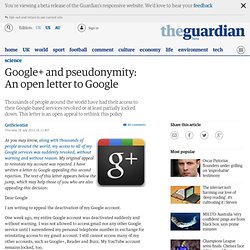 My original appeal to reinstate my account was rejected. I have written a letter to Google appealing this second rejection. Why Google cares if you use your real name. Over the weekend there was a bit of hoo-hah about accounts swept off Google-Plus, because they didn't have the users' real name.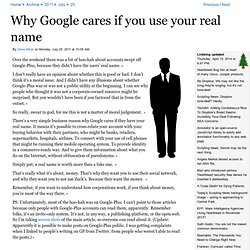 I don't really have an opinion about whether this is good or bad. I don't think it's a moral issue. And I didn't have any illusions about whether Google-Plus was or was not a public utility at the beginning. I can see why people who thought it was not a corporate-owned resource might be surprised. Google+ Identity Crisis: What's at Stake With Real Names and Privacy | Epicenter  After a steady stream of angry blog posts and heated debate among its own users over the value of pseudonymity on the web, Google announced Monday that it was revising its "real name" policy, at least for display, on Google+.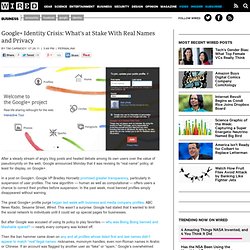 In a post on Google+, Google VP Bradley Horowitz promised greater transparency, particularly in suspension of user profiles. The new algorithm — human as well as computational — offers users a chance to correct their profiles before suspension. In the past week, most banned profiles simply disappeared without warning. Google+ and the loss of online anonymity.
---