Computer related
NCLC - National Consumer Law Center
Tuesday 12th March, 2013
The Ultimate Guide to Internet Law: 100 Guides and Resources for Future Lawyers
How To Get Google Books On Any E-Reader
Logo gratuit: 4 outils pour créer un logo gratuitement | Le Top des Applications Web et Logiciels Gratuits
December 12th, 2011 | Number of views :20990 Unlocking the goldmine: new legal proposals to open up Europe's public sector 3.0 5 54
Unlocking the goldmine: new legal proposals to open up Europe's public sector « Digital Agenda Commissioner – Neelie Kroes
JailbreakMe: Apple issues emergency iPhone/iPad security patch | Graham Cluley's blog
Over 170,000 people are part of the Sophos community on Facebook. Why not join us on Facebook to find out about the latest security threats. Hi fellow Twitter user!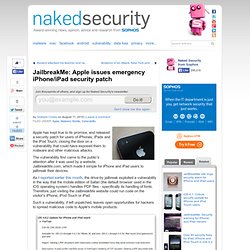 Gadget Cycle Reuse Website
Electronic Markets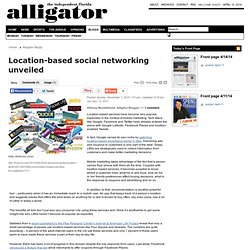 Location-based services have become very popular, especially in the context of mobile marketing. Tech titans like Google, Facebook and Twitter have already entered the arena with Google Latitude, Facebook Places and location-enabled Tweets. In fact, Google carved its own niche by patenting location-based advertising earlier in May .
Location-based social networking unveiled - The Independent Florida Alligator: Social Networking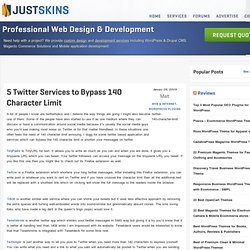 A lot of people I know are twitterholics and I believe the way things are going I might also become one of them. Some of the people have also started to use it as one medium where they can discuss or have a communication around social media because it's usually the social media guys who you'd see making most noise on Twitter or for that matter friendfeed. In these situations one often feels the need of 140 character limit annoying. I dugg for some twitter based application and services which can bypass the 140 character limit or shorten your messages on twitter. TinyPaste is TinyURL for text. It allows you to write as much as you can and when you are done, it gives you a tinypaste URL which you can tweet.
5 Twitter Services and Applications to Bypass 140 Character Limit (Firefox extensions included)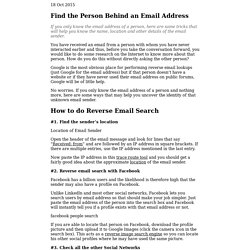 Know the email address of someone but nothing more? Learn techniques to help you uncover the location and other details of the email sender. You get an email from a person with whom you have never interacted before and therefore, before you reply to that message, you would like to know something more about him or her. How do you do this without directly asking the other person? Web search engines are obviously the most popular place for performing reverse email lookups but if the person you're trying to research doesn't have a website or has never interacted with his email address on public forums before, Google will probably be of little help. No worries, here are few tips and online services that may still help you uncover the identity of that unknown email sender.
Having the ability to connect to the internet anywhere we go is undoubtedly awesome, but it isn't the only gift Wi-Fi technology has given us. Here are our 10 favorite uses for Wi-Fi that go beyond accessing the web. 10. Turn Your Smartphone into a Remote Control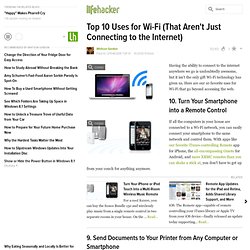 RaopX Streams Any Audio (Not Just iTunes) from Your Mac to Your AirPort Express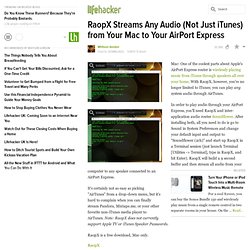 Mac: One of the coolest parts about Apple's AirPort Express router is wirelessly playing music from iTunes through speakers all over your home . With RaopX, however, you're no longer limited to iTunes; you can play any system audio through AirTunes. In order to play audio through your AirPort Express, you'll need RaopX and inter-application audio router Soundflower . After installing both, all you need to do is go to Sound in System Preferences and change your default input and output to "Soundflower (2ch)" and start up RaopX in a Terminal session (just launch Terminal [Utilities -> Terminal], type in RaopX, and hit Enter).