Small things to make and sell
LJ Rawhide | Photos. Printables. Strawberry Treat Box Printable by Mini-eco I'm in a summery mood!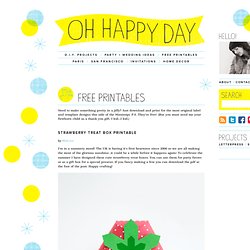 The UK is having it's first heatwave since 2006 so we are all making the most of the glorious sunshine…it could be a while before it happens again! Jewellery Making Ideas - Techniques, Tips & Adivce. Hanging Wine Bottle Candles. Put it in a Jar | DIY Crafts &Food Preservation. How to cut glass. I posted a picture about 1 week ago on Instagram, Facebook and Twitter of me cutting glass using just string.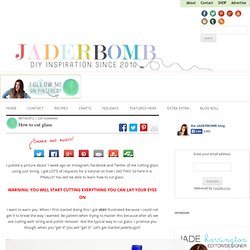 I got LOT'S of requests for a tutorial on how I DID THIS! So here it is. FINALLY! You will be able to learn how to cut glass. I want to warn you. Tutorial Archives . Craft Apparent with Vickie Howell . PBS Parents. There may be nothing new about recycling crayons (after all, my mom was doing it in the 50's), but there's something about molding something old into a new version of itself that's so uniquely...now.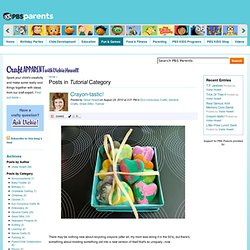 This project is a usable, versatile craft for all ages. The finished product makes great teacher gifts, favors for birthday parties, or back-to-school treats for the kids. Have fun experimenting with different color combos and tray shapes--I personally, have my eye on on a robot ice tray for our next batch--and use this opportunity to chat with your children about everything from the basic chemistry of wax properties changing, to where colors fall on a color wheel.
Have fun! MaterialsUnwanted Wax Crayons (wrappers removed)Silicon Ice Cube Trays ORCandy Molds. Gift Ideas for poor creative souls (6) You know how it goes, a friend calls you and invites you to dinner at the last minute.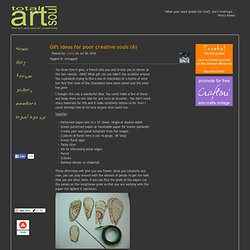 OMG! What gift can you take?! You scrabble around the cupboards trying to find a box of chocolates or a bottle of wine but find that most of the chocolates have been eaten and the wine has gone. I thought this was a wonderful idea. You could make a few of these and keep them to one side for just such an occasion. DIY COCONUT + ROSE BODY SCRUB.
Few things smell better than coconut and rose so let's combine them, shall we?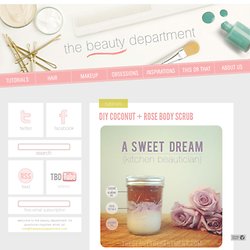 In this Kitchen Beautician DIY, we're making a "Spring Time Scrub" to help you exfoliate and get your skin super soft for the coming summer months. Bathing suit season is just around the corner and nobody wants to be the ashy girl! 20 brilliant things to make in a jar. Via: mycakies.blogspot.com Start saving your old jam jars!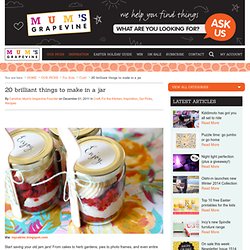 From cakes to herb gardens, pies to photo frames, and even entire meals … here are 20 fantastic things you never knew you could make with a jar. (Above: red velvet cupcakes in a jar. Get the recipe here). Hanging String Balls. On the Cheap: Scrapbook Paper iPhone Covers. I found this clever trick on Pinterest the other week from Oops I Craft My Pants and had to try it for myself: iPhone covers using scrapbook paper!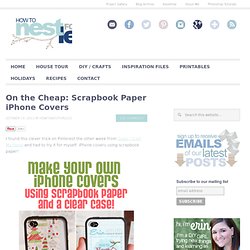 Now when I had my first cell phone in high school (the old Nokia), I probably had about 15 different cell phone covers that I would switch out to match my clothes everyday! I figure this scrapbook paper iPhone phone cover is an easy way to update my phone without spending all the cash! First thing I did was purchase a couple sheets of scrapbook paper from Michael's. I also purchased a clear iPhone 4 cover from Best Buy.
Wednes-diy | Free People Clothing Boutique Blog. UPDATE: This post originally ran on March 23 2011, but with summer winding down we wanted to bring it back up for some late summer inspiration!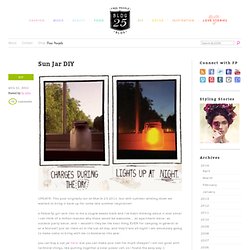 A fellow fp girl sent this to me a couple weeks back and i've been thinking about it ever since! I can think of a million reasons why these would be awesome… as apartment décor, as outdoor party décor, and – wouldn't they be the best thing EVER for camping in general or at a festival? Just let them sit in the sun all day, and they'll last all night! I am absolutely going to make some to bring with me to bonnaroo this year. you can buy a sun jar here, but you can make your own for much cheaper! How to Make Leaf Skeletons.
I wanted to share with you a project from one of my readers who shares with us how to make leaf skeletons.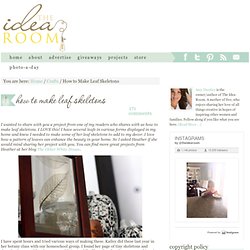 I LOVE this! I have several leafs in various forms displayed in my home and knew I needed to make some of her leaf skeletons to add to my decor. I love how a pattern of leaves can enhance the beauty in your home. Holder for Charging Cell Phone (made from lotion bottle) My husband and I both have cell phones.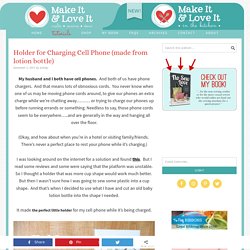 And both of us have phone chargers. And that means lots of obnoxious cords. You never know when one of us may be moving phone cords around, to give our phones an extra charge while we're chatting away……… or trying to charge our phones up before running errands or something.
---