Social Media Opinion
SEOmoz Story Introduction Duration: 1' 15'' Full English Text Transcription Rand Fishkin : This is the first time that I am giving this specific presentation.
The Story of SEOmoz | SEOmoz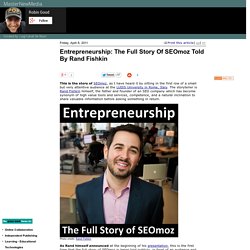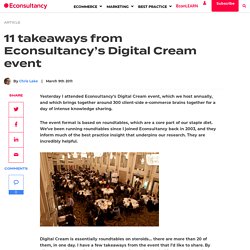 in Share 0 in Share The event format is based on roundtables, which are a core part of our staple diet. We've been running roundtables since I joined Econsultancy back in 2003, and they inform much of the best practice insight that underpins our research. They are incredibly helpful.
11 takeaways from Econsultancy's Digital Cream event
The Future of Social Search
The Future of Search Series is supported by SES New York Conference & Expo, the search and social marketing conference helping brands, agencies, and professionals connect, share and learn what's next for the interactive industry. A "social search" is one that ties a searcher's social graph to his search queries. With social search, each searcher sees unique results that are shaped by the interests of his social network friends. Google, not the company to often fudge with the appearance or function of its search results, turned on its version of social search more than a year ago.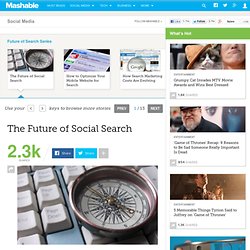 Can social media really overtake search?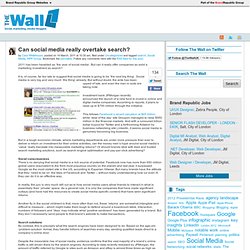 2011 has been heralded as 'the year of social media'. But can it really offer companies as solid a marketing investment as search? It is, of course, far too late to suggest that social media is going to be 'the next big thing'. Social media is very big and very much 'the thing' already. But without doubt, the ante has been upped of late, and even the men in suits are taking note.
Leeds Digital Festival 2011
Understand your online social capital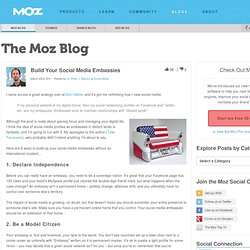 I came across a great analogy over at Zen Habits, and it's got me rethinking how I view social media: If my personal website is my digital home, then my social networking profiles on Facebook and Twitter, etc. are my embassies.
Build Your Social Media Embassies
Facebook is testing a new program capable of serving up ads as fast as members can post a status update.
Facebook floats chat-to-ad test - m.NYPOST.com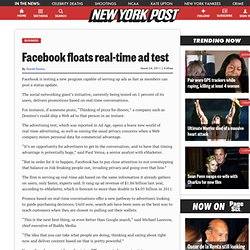 The Dales on ITV1 The Dales on ITV1 was a smash hit as it explored the intricacies of Dales life. The Dales gave viewers a taste of some of Yorkshire's most treasured attractions.
Dales Tourist Information - Explore & Discover the Dales
As Social Media Monitoring travels through the technology hype cycle it's clear that many early adopters are experiencing disappointing results. Having heard the stories of start-up businesses like Threadless or GiffGaff harnessing social insight to create real, tangible value (see my post on GiffGaff – a case study of customers in control), many large organizations are often disappointed at the results they are getting from SMM. If you find yourself in the "trough of disillusionment, below are some of the common pitfalls along with some suggestions to improve results and drive value from your investment. A common complaint about SMM is accuracy. Many SMM tools do not have access to the full Twitter fire hose and so only get a fraction of the full Twitter feed.
Improving social media monitoring…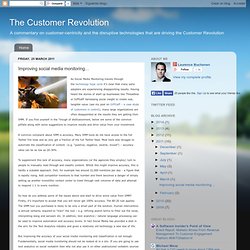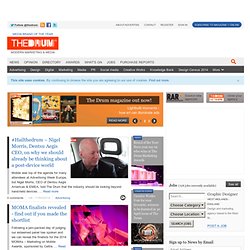 Leeds Digital Festival to crowdsource 2011 identity
Greg Martin, illustrator of iconic games such as Sonic the Hedgehog, dies - The Drum looks back at his work
in Share 0 in Share This has included experiments with Foursquare, Flickr, YouTube, Facebook and Twitter , as well as a couple of iPhone apps. I've been talking to Kristal about using social media tools to promote tourism, and crowdsourcing great content for the website.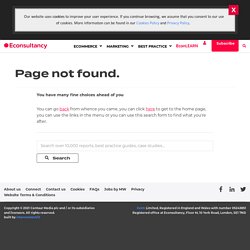 Q&A: Kristal Ireland on promoting Yorkshire with social media
inShare1,645 A study published in 2010 surfaced a startling statistic, "75 percent of employers say their business has no formal policy instructing employees on the appropriate use of social networking sites on the job." The report, "Employer Perspectives on Social Networking," compiled data from 34,000 businesses in 35 countries. Does your organization have a formal policy regarding employee use of social media? Perhaps better asked, does your organization offer training, guidelines, and insights to help employees excel in new media on behalf of your business?
Google has launched a new social button, similar to Facebook's "like", for users to recommend its search results to their friends.
Google launches rival to Facebook Like
inShare97 Google's Panda / Farmer algorithm modification did more to shake up the established world of SERPs than any other update since the Big G was a junior-sized ankle biter cowering in the shadow of AltaVista. That may be no news to any SEO specialist, but its possibly unforeseen impact on email marketing could change that medium as profoundly as the publishing platforms have been hit. Most of the primary article publishers got slammed hard
How Google's Panda / Farmer Algorithm Could Affect Email Marketing
Bienvenue sur Facebook | Facebook
It's no easy task being in the shoes of Last.fm right now. The service has been around as a relatively free source for curated music for quite some time, and recently shifted to a paywall format for its mobile radio product.While the move has caused some to wonder exactly what Last.fm is up to, a recent interview that I had with the VP of Product for the service cleared up a lot of questions. I'm spending some time this week with the updated Android and iOS players for Last.fm, and that's going to formulate much of what I talk about in the interview piece this weekend.
Last.fm: Deeper recommendation features, and now a pause button! - TNW Apps
Claire Hunter-Smith at Social Media World Forum
15 signs it's time to quit Facebook
samfurness
Twitter Automation Should you do it?
'Regionalism' row sparked by public land sale
A Critical Analysis Of The Literal Web Crowd: The Tools You Need To Survive In A Humorous World
Google Social Search Update - Web Analytics World Blog
Stars: Spotlight on Brian Solis
Gowalla founder Josh Williams talks to Jemima Kiss | Technology
Now for the more social side of social media… « samfurness
How is Facebook advertising performing against search?
Newsnight - Will social media tech bubble lead to a dot com crash?
Google launches Plus One to rival Facebook's Like button | Media