Asia
Get flash to fully experience Pearltrees
Mesopotamian religion refers to the religious beliefs and practices followed by the Sumerian and Akkadian ( Assyrian / Babylonian ) peoples living in Mesopotamia (around the area of modern Iraq ) that dominated the region for a period of 4200 years from the fourth millennium BC to proximately the 3rd century AD. [ 1 ] Polytheism was the only religion in ancient mesopotamia for thousands of years before entering a period of gradual decline; which continued for approximately three centuries, until much of the original religious traditions of the area died out. As with most dead religions, many aspects of the common practices and intricacies of the doctrine have been lost and forgotten over time.
Canaanite religion is the name for the group of Ancient Semitic religions practiced by the Canaanites living in the ancient Levant from at least the early Bronze Age through the first centuries of the Common Era . Canaanite religion was polytheistic , and in some cases monolatristic . [ edit ] Beliefs
Chinese mythology refers to those myths found in the historical geographic area of China : these include myths in Chinese and other languages, as transmitted by Han Chinese as well as other ethnic groups (of which fifty-six are officially recognized by the current administration of China). [ 1 ] Chinese mythology includes creation myths and legends, such as myths concerning the founding of Chinese culture and the Chinese state. As in many cultures' mythologies, Chinese mythology has in the past been believed to be, at least in part, a factual recording of history. Thus, in the study of historical Chinese culture, many of the stories that have been told regarding characters and events which have been written or told of the distant past have a double tradition: one which presents a more historicized and one which presents a more mythological version. [ 2 ]
Japanese mythology embraces Shinto and Buddhist traditions as well as agriculturally based folk religion . The Shinto pantheon comprises innumerable kami ( Japanese for " gods " or " spirits "). This article will discuss only the typical elements present in Asian mythology , such as cosmogony , important deities, and the best known Japanese stories. Japanese myths, as generally recognized in the mainstream today, are based on the Kojiki , the Nihon Shoki , and some complementary books. The Kojiki , or "Record of Ancient Matters", is the oldest surviving account of Japan's myths, legends and history.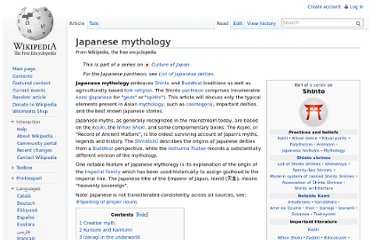 Sumerian religion is the mythology , pantheon , rites , and cosmology of the Sumerian civilization. Mesopotamian mythology as a whole, surviving in the mythologies and religions of the Hurrians , Akkadians , Babylonians , Assyrians , and other culture groups. [ edit ] Worship [ edit ] Written cuneiform Sumerian myths were passed down through the oral tradition until the invention of writing. Early Sumerian cuneiform was used primarily as a record-keeping tool; it was not until the late early dynastic period that religious writings first became prevalent as temple praise hymns [ 1 ] and as a form of "incantation" called the nam-šub (prefix + "to cast"). [ 2 ]