Outils en ligne pour créer ou mixer de la musique
Audio Sauna - Online Audio Workstation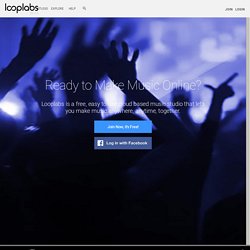 Looplabs
We're building something epic. Want to be one of the first to join the beta? We're building
player4you
Claques ton Mix
<div id="noscript">Please enable JavaScript in order to use Audiotool.</div> make music in your browser Watch VideoLearn more
Burnstudios Audiotool
BallDroppings
JamStudio
Nudge
In Bb 2.0 is a collaborative music and spoken word project conceived by Darren Solomon (website / twitter) and developed with contributions from users. The videos can be played simultaneously -- the soundtracks will work together, and the mix can be adjusted with the individual volume sliders. Learn more in the FAQ. in Bb 2.0
KenBrashear.com
Auditorium
TWOYOUTUBEVIDEOSANDAMOTHERFUCKINGCROSSFADER.COM
Turntubelist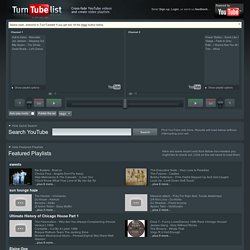 <p>TurnTubelist: Webmaster cuts faster. Cross-fade YouTube videos and create video playists.</p><p>Sorry, Flash must be present and JavaScript must be enabled for TurnTubelist to work...</p> Hang tight a sec. Turntubelist is loading...
Professional Music Studio Soundation Studio has all the functionality of a professional desktop DAW including real time effects, virtual instruments, automation, recording and much more! And best of all - It's online, accessible through your browser. Incredible Sounds The studio has over 700 great sounding free loops and samples.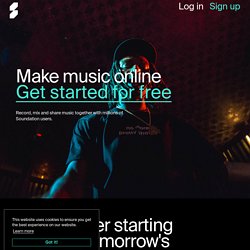 Soundation
Aviary