Vegies
Get flash to fully experience Pearltrees
Ingredients 3 small zucchini (about 1/2 pound each), cut lengthwise into 1/4-inch-thick slices 1 tablespoon olive oil 1/8 teaspoon salt, plus more to taste 1/16 teaspoon of freshly ground black pepper, plus more to taste 1 1/2 ounces fresh goat cheese 1 tablespoon chopped fresh parsley 1/2 teaspoon fresh lemon juice 2 ounces bagged baby spinach (2 cups lightly packed) 1/3 cup basil leaves
My sisters are insane and beautiful and hilarious and absolutely delightful to be around when they aren't being bitchy. They are equipped with an innate ability to have fun wherever life might take them, they march to the beat of their own drummers, and they don't mind telling you to buzz off if you don't agree.
Guest author Garrett and I made these mashed potatoes the other day.
The debate usually begins like this.
Photo: Craig Cutler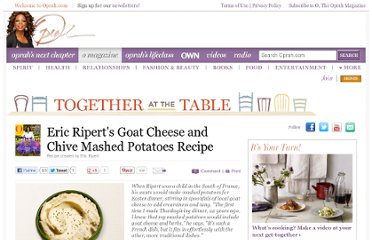 If you're new here, subscribe to the RSS feed for regular updates direct to your Feedreader. Thanks for visiting!
I'm never going to make garlic potato fries any other way.
Difficulty: Easy | Total Time: | Active Time: | Makes: 4 servings
Hey Guys! So…it's still really hot out…wtf! I'm totally ready for fall…forget this, "I just don't want summer to end" BS…I'm OVER IT!
There's nothing like a french fried potato. The taste, the texture, the dip-ability; it's probably one of my favorite go-to comfort foods. However, I don't need the fat of an actual deep fried potato, and I certainly do not favor processed french fries that come from the frozen food section of the grocery store.
Outback Steakhouse Steamed Green Beans are almost as good as the steaks at the Outback Steakhouse.