Travel
10 hidden gems of Europe
There's no place like Paris, Barcelona or Rome - but Europe has untouched corners that match the big hitters on beauty and charm, and with far fewer tourists. Take the road less travelled with these ten hidden gems of Europe. 1. Burg Satzvey, Germany Whisper it: this fairytale castle is a short ride from touristed Bonn and Cologne but remains off most travellers' radar. Its medieval castle walls, moat and quaint setting will delight even the most jaded visitor.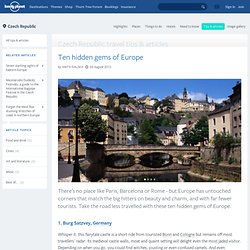 Time Out Worldwide - Your Guide to the Best Things to do in the World's Greatest Cities including London and New York
8 Most Complicated Countries to Visit | Travel Deals, Travel Tips, Vacation Ideas | Budget Travel
Some tourist visa applications are easy—an Australian visa, for example, can be acquired in a few minutes via the internet. Others, however, can take weeks, if not months to procure. The following eight countries, including China, India, and Brazil, are especially tricky to visit if you're a U.S. citizen.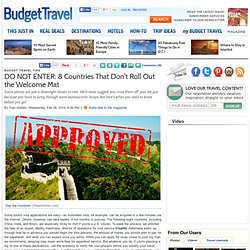 Cookies must be enabled. Please modify your browser settings so we can remember you when you visit TripIt. After cookies are enabled, please refresh the page. Show me how.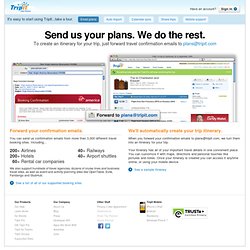 Create a Travel Itinerary from Your Travel Emails - TripIt
8 travel tortures and how to mitigate them
20+ awesome travel jobs and how to get them
Tour guide: The right job for you?
43 Places
Volunteer Programs | International Volunteer HQ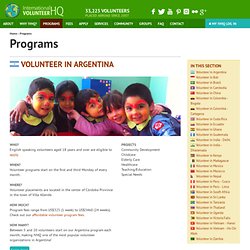 Volunteer in Argentina Projects Community DevelopmentChildcareElderly CareHealthcareTeaching/EducationSpecial Needs
NOTVENTURES
Travel Advice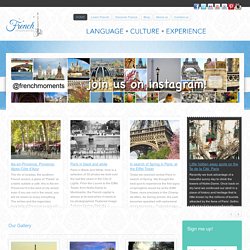 Top 10 France's tallest cathedrals and churches Here is the Top 10 of France's tallest cathedrals and churches. Nine out of ten sanctuaries are found in the North of France, except for one in Bordeaux. All churches and cathedrals reach a height of more than 100 metres. The list is followed by more than 30 other buildings. In the top 45, only [...] It's time to learn French!
Marqueyssac
Sign in or | No account yet? Sign up
Select the destination for your trip - Plnnr.com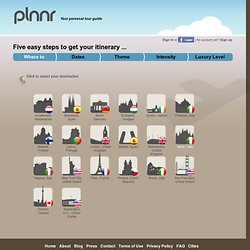 Treasures of Turkey
Palio di Siena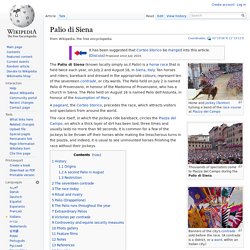 The Palio di Siena (known locally simply as Il Palio) is a horse race that is held twice each year, on July 2 and August 16, in Siena, Italy. Ten horses and riders, bareback and dressed in the appropriate colours, represent ten of the seventeen contrade, or city wards. The Palio held on July 2 is named Palio di Provenzano, in honour of the Madonna of Provenzano, who has a church in Siena. The Palio held on August 16 is named Palio dell'Assunta, in honour of the Assumption of Mary. A pageant, the Corteo Storico, precedes the race, which attracts visitors and spectators from around the world.
66 Beautiful Small Cities & Towns In Europe
Dr. Seuss Quote About Love | seen on dudelol.com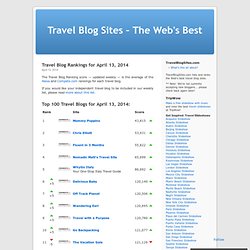 Travel Blog Sites – The Web's Best
Travel Blog Rankings for April 13, 2014 April 13, 2014 The Travel Blog Ranking score — updated weekly — is the average of the Alexa and Compete.com rankings for each travel blog. If you would like your independent travel blog to be included in our weekly list, please read more about this list. Top 100 Travel Blogs for April 13, 2014:
How I Can Afford My Life Of Constant Travel
I'm confused. I'm simply confused as to how it's possible that I have so far failed to properly explain how I've managed to travel/live/work abroad nonstop for 12 years straight (and counting). The questions are still pouring in every single day: How do you do it? How is it possible to travel for so long? Where does the money come from? And while I thoroughly enjoy communicating with readers (I'm being completely serious and encourage you all to continue sending your emails to me as often as you wish), the fact that these very questions are on the minds of so many of you out there has led me to believe that I need to do a better job at providing the answers.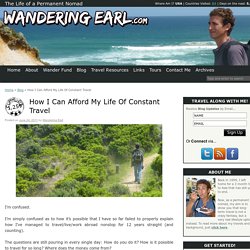 Originally, a landmark literally meant a geographic feature used by explorers and others to find their way back or through an area. Now, a landmark includes anything that is easily recognizable, such as a monument or a building, or any other spot to designate places that might be of interest to tourists. A few examples are the Statue of Liberty, Uluru, the Taj Mahal, Mount Everest, and the Eiffel Tower. When we see one of those, everyone knows in which part of the world they are located. Here are 50 landmarks for you to recognize.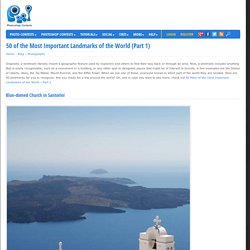 50 of the Most Important Landmarks of the World (Part 1)
The world's ten creepiest abandoned cities
Some cities die. The people leave, the streets go quiet, and the isolation takes on the macabre shape of a forlorn ghost-town - crumbling with haunting neglect and urban decay. From Taiwan to the foothills of the Sierra Nevada mountains, these abandoned cities lurk in the shadows of civilization.
Is it a dream or is it for real? These places will make you wonder whether you step into the land of magic and fantasy or still firmly stand on the ground. With unearthly nature, unreal landscapes or fairy tale architecture, these destinations will take you far away from your humdrum reality. Picturesque Colmar in France, considered the most beautiful city in Europe, looks like it came straight out of a fairy tale. This tiny town in Alsace is famous not only for its magically colourful old town. Colmar, situated along the Alsatian Wine Route, is called the "Capital of Alsatian Wine" - it boasts a sunny microclimate and is the second driest city in France, making it ideal for wine growing.
Fairytale Destinations
aChickWithBaggage.com | Home - A Chick with Baggage
Buisness Model and Site Structure for Niche Travel Site
What Does It Cost To Travel The World? | So Many Places Travel Blog
What Does It Cost To Travel The World? It is weird to talk about money. Especially my money. Especially when I know that someday my friends and family will be reading this blog. The reason I've decided to share our finances with the world is because I hope it will help others who are planning an RTW. In the course of my research on the cost of year-long around the world travel, I've found that other RTW travel bloggers that have shared their budget and finances have been an indispensable resource to me.
Unbrave Girl
A razor blade used to cut into your pocket by pickpockets - you won't feel a thing Someone tried to pickpocket me last week. It's always been a top concern of mine. Crime is everywhere in the world today. As are opportunists that will prey on the weak, gullible, and the blatant. One of the weakest, and largest targets for travelers, tourists and indeed people in their own countries, is their wallet or purse.
How to avoid pickpockets when traveling
National Parks of the West - Six National Parks in 14 days :: Vacations By Rail ::
Stuck In Customs HDR Photography
See the REAL Morocco with Intrepid Travel
24 Best Travel Sites to Save You Money