eBooks
Free-ebooks.net. Project Gutenberg - free ebooks. 1001Books. Free eBooks at Planet eBook - Classic Novels and Literature You're Free to Share. Google Books. Free eBooks. This page lists places where you can find free eBooks.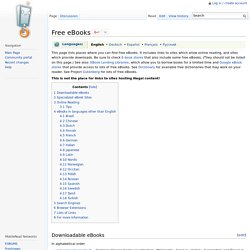 It includes links to sites which allow online reading, and sites which provide downloads. Be sure to check E-book stores that also include some free eBooks. (They should not be listed on this page.) See also: EBook Lending Libraries, which allow you to borrow books for a limited time and Google eBook stores that provide access to lots of free eBooks. Get Your Free Ebooks Online - EbookOnline.net. Free Ebooks : Free eBooks Online : Free Books : Self-Publishing : PDF ...
Free PDF Ebooks Downloads. Bartleby.com: Great Books Online -- Quotes, Poems, Novels, Classics and hundreds more. Bibliomania - Free Online Literature and Study Guides.
---