Firefox
Sécurité et vie privée :: Modules pour Firefox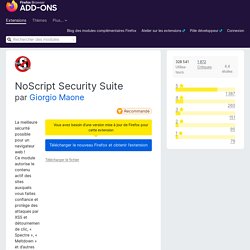 Since this is not a support forum, you won't receive any help here, while your question will likely disappear. If you need support, please1) read the FAQ: http://noscript.net/faq 2) visit this forum: http://noscript.net/forum 3) contact me directly: http://maone.net You're welcome! INSTALLATION ISSUES ARE COVERED BY FAQ 2.1, http://noscript.net/faq#qa2_1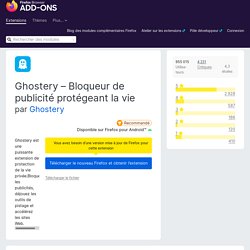 Ghostery :: Modules pour Firefox
DÉTECTERGhostery voit ce qui ne se voit pas sur le Web. Il détecte les mouchards, les bogues Web, les pixels et les balises placés sur les pages Web par Facebook, Google et plus de 500 autres réseaux publicitaires, fournisseurs de données sur le comportement et éditeurs Web, toutes ces sociétés étant intéressées par votre activité. APPRENDREAprès vous avoir montré qui se trouve en coulisses, Ghostery vous permet aussi d'en savoir plus sur chaque société qu'elle identifie, vous offrant même des liens vers leur politique de confidentialité et des options de désabonnement. CONTRÔLERGhostery vous permet de bloquer des scripts, des images, des objets et des documents encadrés provenant de sociétés auxquelles vous ne faites pas confiance. COLLABORERGhostery comprend également une fonction facultative, appelée GhostRank, qui envoie aux serveurs Ghostery des informations anonymes sur les mouchards que vous rencontrez et sur le lieu où ils se trouvent.
Please tell PHP developers and hosting companies about my company, ServerPilot. Hi, I'm Justin, the developer of RequestPolicy. I recently left grad school to start a software company. I'm building a modern, secure Linux server management service and hosting control panel for PHP developers. It's difficult to reach potential customers when we don't have money for advertising.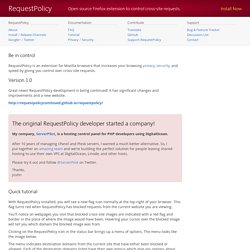 Firefox addon - RequestPolicy
Q: I notice that when I go to the Flash Player settings manager site I still get a list of visited pages. A: In default configuration BetterPrivacy does *not* delete the Flash-Player-default cookie. Some users consider the default cookie as important since it keeps Flash-Player update settings as well as some camera or microphone settings. The default cookie also keeps a complete list of all visited LSO pages.
BetterPrivacy :: Modules pour Firefox