Firefox
Sécurité et vie privée :: Modules pour Firefox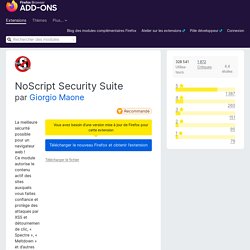 Since this is not a support forum, you won't receive any help here, while your question will likely disappear. If you need support, please1) read the FAQ: http://noscript.net/faq 2) visit this forum: http://noscript.net/forum 3) contact me directly: http://maone.net You're welcome! INSTALLATION ISSUES ARE COVERED BY FAQ 2.1, http://noscript.net/faq#qa2_1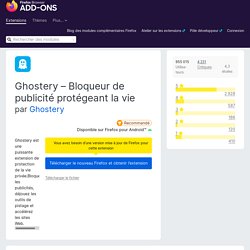 Ghostery :: Modules pour Firefox
Déclaration de confidentialité Ghostery®Date de dernière modification et d'entrée en vigueur : 12 décembre 2013 La présente déclaration de confidentialité décrit nos pratiques relatives aux informations pour l'extension de navigateur Ghostery. Ghostery est une extension de navigateur téléchargeable gratuitement qui vous permet de savoir quelles entreprises vous surveillent (via des « mouchards ») sur un site donné. Elle appartient à Evidon, Inc. (« Evidon ») et peut être téléchargée sur votre ordinateur, sous réserve du respect du Contrat de licence de l'utilisateur final (« CLUF »). Grâce aux informations fournies par Ghostery, vous pouvez en savoir plus sur ces mouchards et exercer un contrôle personnel sur cette activité.
Please tell PHP developers and hosting companies about my company, ServerPilot. Hi, I'm Justin, the developer of RequestPolicy. I recently left grad school to start a software company. I'm building a modern, secure Linux server management service and hosting control panel for PHP developers. It's difficult to reach potential customers when we don't have money for advertising.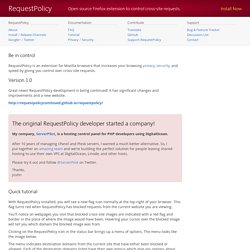 Firefox addon - RequestPolicy
Q: I notice that when I go to the Flash Player settings manager site I still get a list of visited pages. A: In default configuration BetterPrivacy does *not* delete the Flash-Player-default cookie. Some users consider the default cookie as important since it keeps Flash-Player update settings as well as some camera or microphone settings. The default cookie also keeps a complete list of all visited LSO pages.
BetterPrivacy :: Modules pour Firefox