Arduino
Criando Componentes no Fritzing. Contadores Baseados em Megafunções Detalhes Categoria: Rascunhos Publicado em Segunda, 28 Novembro 2011 08:57 Escrito por Carolina Westphal.
Petter's Robot dreams » DIY Segway. Embedded by Embedded Video YouTube Direkt Why build a DIY Segway?
The main reason that I wanted to build a DIY Segway was simply because I wanted to see if it was possible. I also liked the idea of building something that strongly interacts with humans. I will now describe how I built it. Hardware. DIY Segway for $400. The Segway may not have set city trails ablaze, they have sparked plenty of DIY versions.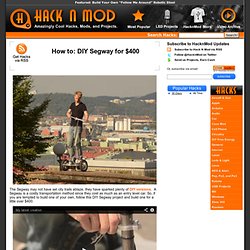 A Segway is a costly transportation method since they cost as much as an entry level car. So, if you are tempted to build one of your own, follow this DIY Segway project and build one for a little over $400. The motors, wheels, chain, gears and batteries were sourced from cheap electronic scooters. The electronics behind the DIY Segway are all custom. DIY Football Hero Using the Arduino. We've seen plenty of guitar hero projects and even a laser harp hero, but now we have a football hero (Soccer for us Americans). Made for the music industry, the director pulled together a team of DIYers and football players to make the game a reality. Using some piezo sensors to detect impact vibrations using the Arduino, he projected the game on a warehouse wall to play.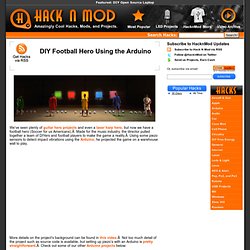 More details on the project's background can be found in this video. Not too much detail of the project such as source code is available, but setting up piezo's with an Arduino is pretty straightforward. Check out some of our other Arduino projects below: Drawdio! Drawdio kit - Soldering the kit. Slide the battery holder into the PCB (but do not solder it in).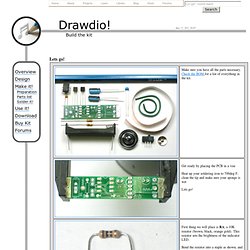 Make sure that the battery is aligned correctly. Putting in the battery backwards shouldn't damage the circuit but its still not a good idea so try to get it right the first time. The back of the PCB has a silkscreen to help determine which way the battery goes in. Tutorials. An Arduino Compatible Wearable Electronics Platform For the last few years Ladyada has been thinking about everything she wanted in a wearable electronics platform for Adafruit's community of makers, hackers, crafters, artists, designers and engineers.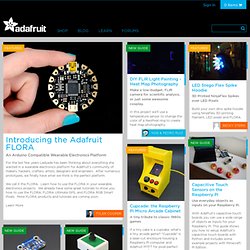 After numerous prototypes, we finally have what we think is the perfect platform.We call it the FLORA. Adafruit Industries, Unique & fun DIY electronics and kits. S-lab » Drawdio. Drawdio is an Interaction Design project by Jay Silver, which augments a conventional graphite pencil, and in turn creates a musical instrument which is controlled through the stroke and gesture of the performers hands.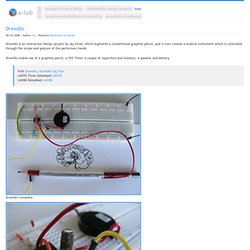 Drawdio makes use of a graphite pencil, a 555 Timer, a couple of capacitors and resistors, a speaker and battery. Visit Drawdio, Drawdio'ing Tips LM555 Timer Datasheet LM555 LM386 Datasheet LM386 Drawdio Complete Drawdio Circuit. Março 2010. Comunicação entre Arduinos por IV. Os normais receptores de IV responde a uma determinada frequência.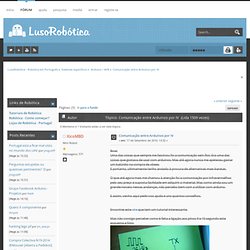 Nesse caso 38khz. Ou seja existe sinal com 38khz = 1, não existe, corresponde a 0. Isto é uma forma simples de modular a frequência (FM). No caso do emissor que apresentas, é na realidade um gerador de 38khz controlado pelo arduino.Eu construiria da seguinte forma:Gerador de 38khz (feito com uma porta CMOS NAND 4093 por exemplo ou com o Arduino em software) ligado ao pino positivo dos led's e o outro pino à massa. Robotics | Sensore prossimità LED IR - Arduino & Processing | Output, Serial, Myport, Ricevitore, Positivo.
Ciao a tutti ragazzi.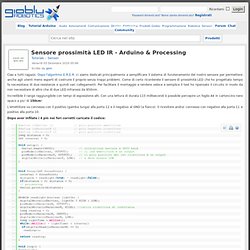 Dopo l'algoritmo E.R.E.R. ci siamo dedicati principalmente a semplificare il sistema di funzionamento del nostro sensore per permettere anche agli utenti meno esperti di costruire il proprio senza troppi problemi. Come di certo ricorderete il sensore di prossimità LED che ho progettato tempo fa necessitava di due resistenze e quindi vari collegamenti. Per facilitare il montaggio e rendere veloce e semplice il test ho ripensato il circuito in modo da non necessitare di altro che di due LED infrarossi da 850nm. Incredibile il range raggiungibile con tempi di esposizione alti. Con una lettura di durata 115 millisecondi è possibile percepire un foglio A4 in cartoncino nero opaco a piu' di 150cm! Tutorial Arduino Processing - Sensore IR LED. 3.5.8.4. Serial.flush() Upload Log in Sign up Browse Books Biography & MemoirBusiness & EconomicsCookingFantasyFiction & LiteratureHistoryHobbies, Crafts, & HomeMysteryRomanceSocial ScienceTravelYoung Adult & Children's.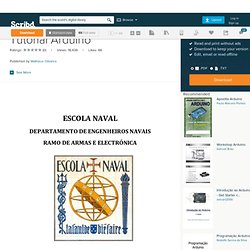 Make Bits - Tudo sobre Robótica e Arduino em Portugal. Ferpinheiro « Compartilhar é preciso. Olá pessoal. Hoje vou mostrar como criar uma rápida agenda em Python usando banco de dados MySQL. Ao final desse tutorial voce terá aprendido: One Hundred and Eight – Interactive Installation. Search videos for 'arduino' Golpe. Aqui usamos um elemento Piezo elétrico para detectar som, o que nos permite usá-lo como um sensor de golpes. Usamos a vantagem da capacidade do processadores para ler sinais analógicos através dos conversores analógico-digitais (ADC). Estes conversores fazem a leitura da voltagem e a transformam em um valor digitalmente codificado. Neste caso as placas Arduino transformam a voltagem para um valor entre 0 e 1024. 0 representa 0 volt enquanto que 1024 representam 5 volts na entrada de um dos 6 pinos analógicos. Future Frenching: Electronic Kiss Simulator. How about we just show each other our privates and call it a Skype?
Seen here reaching previously unknown levels of sadness, a user demos Kajimoto Laboratory's Kiss Transmission Device. The devices were designed to simulate the kiss of a lover (or webcam stripper!) Across the internet by connecting two people with a box of rotating electronics in their mouth. Mmmmmmmm. NOW CHOKE ME WITH YOUR TONGUE. I Want One!: A Secret Knock Door Lock. Holy shit, it's a PVC pipe bomb! No, not really. It's the Knock Lock, a homebrew door lock that will only release the deadbolt if you perform the secret knock. Cooooool -- I want one for my clubhouse! A microphone (okay, really a speaker) presses against the door and listens for knocks.
If it hears the right number of knocks in the right cadence it triggers the motor to turn the deadbolt and unlock the door. Touchstone Demonstration. Project – Virtual Color Mixer. Project – Blow Up Shield. Physical Computing: Student Work | Final Projects. Playground - HomePage. Download.
ARDUINO
Playground - Firmata.
---