crafts
Get flash to fully experience Pearltrees
My husband and I both have cell phones.
For Easter I made papier-mache polka dotted eggs. I created them using small water balloons and tissue paper then I filled them with candy and toys and sealed them shut.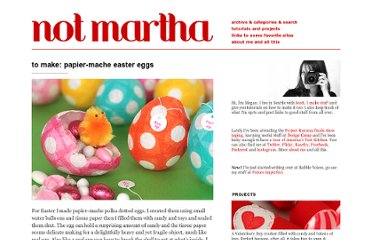 So, it's been a while since I've made anything Craftster-worthy, but my husband and I busted out the Dremel tool a few days ago and we made this: It's a pair of curtains made out of old Kodachrome slides! I'm really interested in photography, and will buy old cameras in antique and thrift stores in order to develop film that's inside of it. From time to time, I'll find collections of old slides and will buy those, too. Last fall, driving back from vacation, we stopped at an antique store outside of Kansas City and I found a box of a ton of old slides, mostly Kodachrome, from the 50s and 60s.
Step Three Now we are ready to bleach the shirt, but first it is important that we get the appropriate bleach to water ratio. If you do not have enough bleach your design will look muted, or you will have to spray the design multiple times.
Check out the 31 ways paint chips are used in all kinds of projects!!
Here is a simple yet stylish photo frame that can accomodate quite many photos at once. The idea is very simple. Fasten twines on the empty frame and hang photos using clothes pins on them.