Travel
Featured: Charter Your Own Private Yacht in BVI. Hotmail - christiegoudeau. Tahiti and French Polynesia on a budget. The crystal blue waters of the Society Islands in French Polynesia are inviting for budget-conscious travelers.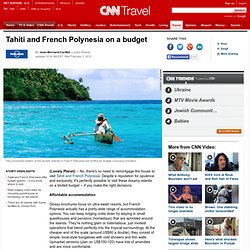 Tahiti and French Polynesia offer budget options -- if you know where to lookKeep lodging costs down by choosing guesthouses or homestays on the islands There are 30 islands with tourist facilities to choose from (Lonely Planet) -- No, there's no need to remortgage the house to visit Tahiti and French Polynesia. Suitcases and Sippycups. My Little Swans. Vacation rentals, private rooms, sublets by the night - Accommodations on Airbnb - StumbleUpon. 66 Beautiful Small Cities & Towns In Europe - StumbleUpon. Vacation Rentals. How to Travel Around the World for $418. | Nerd Fitness - StumbleUpon. "I have to tell you sir, this is easily the most ridiculous itinerary I've ever put together," said the American Airlines operator the other night as I finalized plans for a worldwide adventure that would make Marco Polo blush.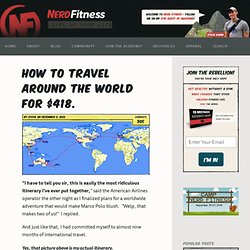 "Welp, that makes two of us!" I replied. And just like that, I had committed myself to almost nine months of international travel. Yes, that picture above is my actual itinerary. Beginning this January, I'll start an epic journey that will take me across four continents, through at least nine countries, and into more than fifteen cities. Get Paid to Travel the World - Travel Writing Tips | The Lost Girls - StumbleUpon.
Travel Writing — By Lost Girls on January 30, 2011 at 2:20 pm Be sure to check out our new Pitching 101 Series, including interviews with: BootsnAll editor, Katie HammelNew York Times' deputy travel editor, Monica DrakeThe Expeditioner's founder and editor-in-chief, Matt StabileGalavanting's managing editor, Joseph HernandezTravel Belles' publisher and editor, Margo MillureGo NOMAD's general edit Max HartshorneTravel Agent senior editor Joe PikeTravelingMom's editor Cindy RichardsRecommend's managing editor Paloma Villaverde de Rico Want to get paid to travel?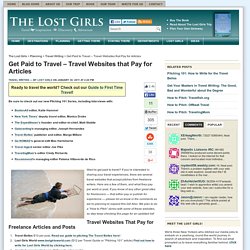 If you're interested in sharing your travel experiences, there are several travel websites that accept pitches from freelance writers. Here are a few of them, and what they pay per word or post. Select the destination for your trip - Plnnr.com - StumbleUpon. Sign in or | No account yet?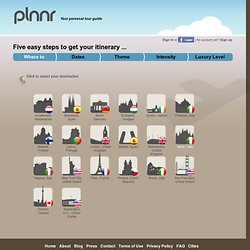 Sign up. Time Out Worldwide - Your Guide to the Best Things to do in the World's... 10 of the best budget hotels in New York. Posted on: September 21st in Cool Hotels, Travel by Graham Padmore.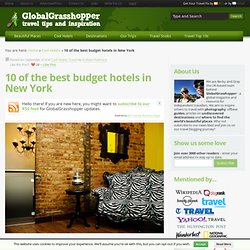 Like this Post? The Big Apple may be one of the ultimate city break destinations – shopping, art, sightseeing and so much more. It's also (like most major capital cities) unfortunately notoriously expensive.
---