Hip Hop
MJ Backstage
Don't believe the Hype
2pac.com | The Official Website
ThisIs50.com
Official Site
Regardez SENAMO • 5h CHRONO pour Give Me 5 Prod. • Artiste: Senamo (La Smala) https://www.facebook.com/senamolasmala• Prod: Killodream Prod. • Caméra et Montage: Capsule Entertainement https://www.facebook.com/capsuleent• Générique: Tembs.eu • Logo: Max Easydesign https://www.facebook.com/easydsign• www.Giveme5prod.com CHRONYX.be's insight: • 5h Chrono" est le dernier concept de Give me 5 Prod., dans le même esprit que les "Poignées de Punchlines". En effet Senamo a du choisir 20 mots donné par les internautes sur la page Facebook de DéparOne cette fois ci sans thème, il a eu 5h pour choisir les mots, écrire un texte comprenant ces 20 mots,enregistrer le son en studio et en faire une vidéo!
www.Chronyx.be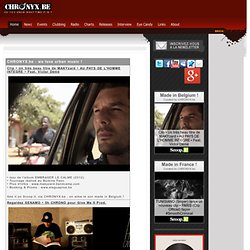 Radio KIF - The Street Radio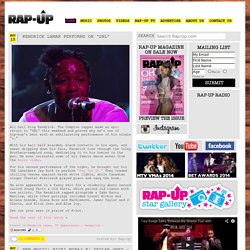 Jan25 Rap-Up TV: TDE's SZA and Isaiah Rashad Talk Music, Kendrick, & Grammys TDE's newest signees SZA and Isaiah Rashad have been thrust into the spotlight since signing to the hip-hop label last year. Rap-Up TV caught up with the rising stars at "REVOLT Live" in Hollywood, where they shared details about their upcoming projects.
Rap-Up.com
ThisisRnB.com - Hot New R&B Music, Videos, News & More - Beyonce, Alicia Keys, Ciara, Trey Songz, Usher, Chris Brown & More
New Music: Kevin McCall – A.D.H.D. [Bangerz] (Mixtape) Kevin McCall is back to bring the ratchet out! Releasing his first of two installments, the new father drops his A.D.H.D.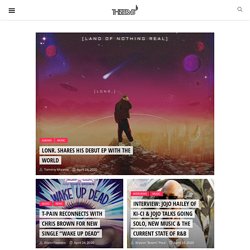 Kim Kardashian aurait brise le couple Amber/Kanye
Plixid.com | Bringing music to life - Download free music albums mp3 - Filesonic, Mediafire, Rapidshare, Megaupload and Torrent links
Mixtapewire.com | Only the BEST Mixtapes Here FIRST & Free!
J.Beale - This Is Forever (Official) By Dj Grady http://mixtapewire.com/2014/03/jbeale-official-dj-grady/Kirko Bangz - Progression 4 (Official) http://mixtapewire.com/2014/03/kirko-bangz-progression-4-official-mixtape/King Los - Zero Gravity 2 (Official) http://mixtapewire.com/2014/03/king-los-gravity-2-official/Kevin Gates - By Any Means (Official) http://mixtapewire.com/2014/03/kevin-gates-means/Chinx & French Montana - The Jack Move (Official) http://mixtapewire.com/2014/03/chinx-french-montana-jack-move-official/Papoose - Cigar Society (Official) http://mixtapewire.com/2014/03/papoose-cigar-society-official/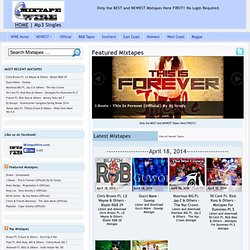 MyGhettoBlaster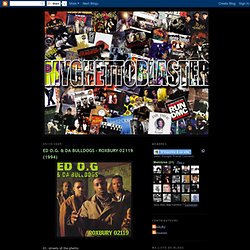 01. I.G Off and Hazardous - Street Serenade02. I.G Off and Hazardous - This Aint Livin03. I.G Off and Hazardous - Hip Hop Till I Die04. I.G. Off and Hazardous - The Nicest05.
Hip Hop News, Downloads, Music Videos, MP3s, Mixtapes and more. | RapGodFathers.info
Next MoovMent
Okayplayer
RAP 2K : Rap, Hip Hop, US, Français
12.04 Flynt, Le Gouffre et la balade des indépendants le 24 avril au Badaboum Si vous êtes inquiets pour le présent et l'avenir de la scène rap indépendante hexagonale, vous pouvez respirer un grand coup et arrêter les cachetons : elle se porte bien. Des projets – plus ou moins médiatisés - voient le jour avec un rythme de stakhanoviste. Les petites scènes ne manquent pas non plus. On a noté sur nos agendas le jeudi 24 avril où le Badaboum (Paris onzième) accueillera un plateau qui mêle judicieusement la vieille garde avec les jeunes pousses. Flynt sera de la partie avec les éternels DJ Blaz et Nasme, il sera accompagné par Le Gouffre (derrière le recommandable double album Marche Arrière), Scoop & J.Keuz et ce bon vieux Uncle T pour ambiancer le tout.
Rap français, rap US, chroniques, interviews, news | Abcdr du Son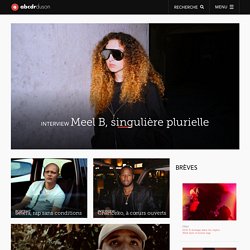 Rap francais sur booska-p le site numéro 1 du rap francais.
Mariage en France compromis pour Kanye & Kim ! Kanye West a prévu de passer la bague au doigt de Kim Kardashian le 24 mai à Paris. Mais le rappeur n'a visiblement pas pris connaissance d'un petit détail qui pourrait le voir obliger de changer ses plans.
Generations - Hip Hop Soul Radio (Rap US)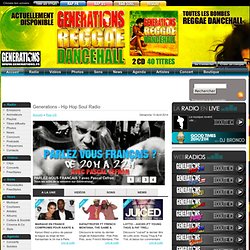 Rap2france - Le Portail du Rap Français
Rap-as.com
Les échos du Hip-Hop
LE BLOG NUMERO 1 DU RAP FRANCAIS
JUSLISEN.com, la maison de la Nu Soul
Dwele en concert le 24 avril 2013 au New Morning (Paris) En 2006, Dwele nous faisait découvrir My People en live au New Morning. Je garde un très bon souvenir [...]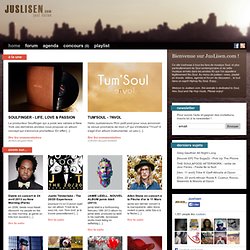 SOULISSIME - ACCUEIL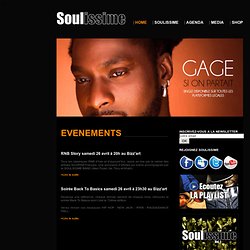 SOULISSIME est le premier label entièrement dédié à la musique Hip Hop-Soul en France. SOULISSIME a pour but de promouvoir cette scène en plein essor, par le biais de l'organisation de concerts, soirées ainsi que la production et la distribution de disques. + d'infos RNB Story samedi 26 avril à 20h au Bizz'art Tous les classiques RNB d'hier et d'aujourd'hui, repris en live par la crème des artistes Soul/RNB Français.
Rhymes | Online Magazine for Lifestyle & Entertainment