Review websites
Archinect | Connecting Architects Since 1997
Ultramodern | Design Idea & Image Galleries on Dornob
Disaster-Proof Architecture: 13 Super-Strong Structures
World Architecture Community...rss
Empowering Architecture: architects, buildings, interior design, materials, jobs, competitions, design schools
Dezeen architecture and design magazine
ArchDaily | Broadcasting Architecture Worldwide
Stylepark
ArchNow!
Architonic | architecture and design
visiondivision: 'umbrella' children's hospital project, rwanda
hospital in rwanda - phase 1 by visiondivision all images courtesy visiondivision visiondivision architects have sent us in images of their latest project which was part of the 'design for children' competition to design a hospital in rwanda. insufficient water is one of the most severe problems in rural africa, bearing this in mind the architects thought of using a from similar to an upside down umbrella for dew/rainwater collecting, where they went to the the sahara desert to experiment with the concept. the new hospital prototype is simple consisting of an upscaled upside down umbrella which serves as a roof to an already built rural hospital. the umbrella roof is gathering rainwater or dew depending on the location to supply the hospital with clean water. the big umbrella also serves as a light roof giving shadow to the hospital.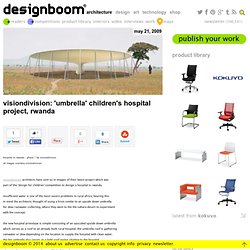 Archello
Architecture,World Architecture Community-Architects,World Architects,Building Database,Architecture Blogs
© Studio Daniel Libeskind
World Architecture News, Official Home Page, architecture news, architecture jobs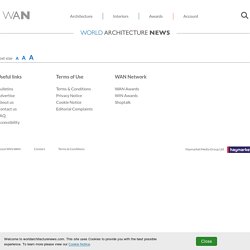 Architecture
MAGAZINE...Architectural Record (US)...rss
World Architecture News...rss
Plataforma Arquitectura
Muuuz - Webzine Architecture & Design
CONTEMPORIST
arthitectural.com
Fusher Design fun fashion art trends technology (page 50)
ARCHITECTURELOVER.COM
openfootage
OpenBuildings | Archiving the World's Built Environment