Review websites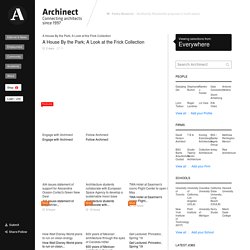 Screen/Print #11: OASE's "Building Atmosphere" 7 days 2 "Building Tomorrow" Exhibit
Archinect | Connecting Architects Since 1997
Ultramodern | Design Idea & Image Galleries on Dornob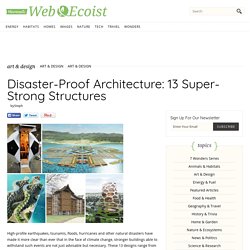 Disaster-Proof Architecture: 13 Super-Strong Structures
High-profile earthquakes, tsunamis, floods, hurricanes and other natural disasters have made it more clear than ever that in the face of climate change, stronger buildings able to withstand such events are not just advisable but necessary. These 13 designs range from fantastical concepts for entire floating cities to real homes that have already proven themselves disaster-proof, and from large-scale billion-dollar projects to low-cost housing solutions for the poor. Earthquake-Proof 'Coral Reef Island' for Haiti
World Architecture Community...rss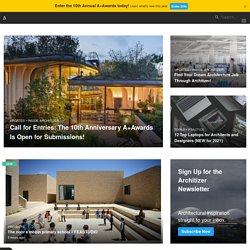 Empowering Architecture: architects, buildings, interior design, materials, jobs, competitions, design schools
East Hampton Beach House Renovation by Utopus Studio A full restoration and renovation of an existing summer vacation home in East Hampton, the main requirements called for the restoration of the existing shell throughout the façade. As well as new mezzanine railing, millwork, carpeting, lighting, hardware and finishes in the interior. The main concept aesthetically was to create an environment mixing large white/neutral painted walls with unfinished painted wood siding and blue-gray accent walls, niches or rooms.
Dezeen architecture and design magazine
ArchDaily | Broadcasting Architecture Worldwide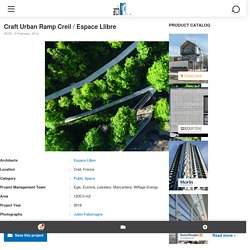 This article by Marc Kristal from Metropolis Magazine, originally titled "Digital Details," looks at the work of NRI, a New York company that is leading the way when it comes to 3D Printing (or rather, additive manufacturing) – finding that there is a craft in these machine-produced models after all. First things first: The term "3-D printing" is a misnomer according to Arthur Young-Spivey, the digital fabrication specialist at NRI—a 116-year-old, New York–headquartered supplier of reprographic services to architects and their tradespeople. "The correct term is 'additive manufacturing,'" he explains. "People call it 3-D printing because it enables you to wrap your head around it, but in some ways it's confusing." Young-Spivey has a point, as the process by which a digital file is converted into an object isn't "printing" in the commonly understood sense of applying pigment on a substrate. With 3-D printing, he says, "Instead of using paper, you're printing with powder or plastics.
Stylepark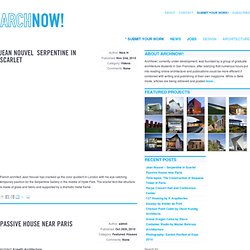 Architects: H Arquitectes / David Lorente, Josep Ricart, Xavier Ros, Roger Tudó Location: Granollers, Barcelona, Spain Colaboradores: Anna Bullich, architect, Ramon Anton, technical architect, Jordi Velazquez, structure (MVA, arquitectura y estructura), Otger Sala, geologist (Granollers 2002, estudis geològics, SL), NADICO, engineering, ESTRATS, archeologist Promotor: Promo E.S. March S.L. Project Year: 2006-2008 Project Area: 1,086.05 sqm Photographs: H Arquitectes The Urban Planning for 'Plaça de l'Església' in Granollers intends to regain the role of this square within the old part of town. Our plot is the key factor for the consolidation of this centrality, due to it occupies the space that gives continuity to Barcelona Street and connects with 'Plaça de la Porxada'. Read the rest of this entry »
ArchNow!
Architonic | architecture and design
Archello
Architecture,World Architecture Community-Architects,World Architects,Building Database,Architecture Blogs
Dongguan Leopards' new basketball stadium takes it cue from the sport, with net-like facade and orange hues throughout German design practice von Gerkan, Marg and Partners (gmp) have seen their design for a 14,730-seat basketball stadium in Dongguan, China come to life in recent months as the new home for the Dongguan Leopards finally reached completion. The 60,600 sq m stadium is located in the new district of Liaobu and is separated from the busy nearby thoroughfare by expansive landscaping. gmp worked with local practice CABR and structural engineers schlaich bergermann and partners to create a new home for the Dongguan Leopards that would also act as a recognisable structure for the city, providing an orientation point and attraction that local residents can be proud of.
World Architecture News, Official Home Page, architecture news, architecture jobs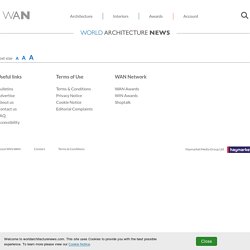 Architecture
MAGAZINE...Architectural Record (US)...rss
World Architecture News...rss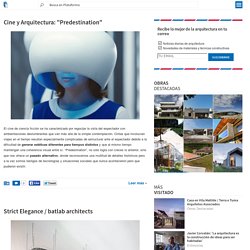 Henderson-Hopkins School / Rogers Partners © Albert Vecerka-Esto Arquitectos: Rogers Partners Ubicación: 2100 Ashland Avenue, Baltimore, MD 21205, USA Arquitectos A Cargo: Robert M. Rogers, FAIA, Partner, Líder D Proyecto: Vincent Lee, AIA, Associate Partner Director De Proyecto: Timothy Fryatt, Associate, Arquitecto De Proyecto: Kip Katich, AIA Área Proyecto: 11612 m2 Año Proyecto: 2014 Fotografías: Albert Vecerka-Esto (more…)
Plataforma Arquitectura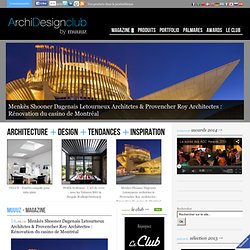 Etalé sur 4 ans, la rénovation et le réaménagement du Casino de Montréal a été confié aux agences Menkès Shooner Dagenais Letourneux Architctes & Provencher Roy Architectes. Le Casino, installé dans l'emblématique ancien pavillon de la France de l'Exposition universelle de 1967, manquait d'unité thématique et devait réorganiser de façon globale l'ensemble des circulations et de résoudre du même coup certains problèmes fonctionnels.
Muuuz - Webzine Architecture & Design
CONTEMPORIST
arthitectural.com
Set along the coast of Stanley Bay, davidclovers' Beach House takes the idea of adaptive re-use to new lengths. The project is both a gut renovation of four apartment units and a restoration of the exterior. Re-working the edges, top and... Read Full Story » A married couple in their 50's were the resident owners in this renovation of a 33-year old condominium unit. All of the south-facing windows were assigned to the living and dining area in accommodating the request for the most natural light...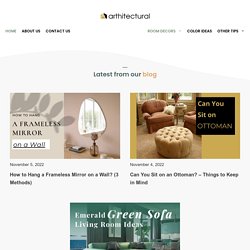 Fusher Design fun fashion art trends technology (page 50)
Rhino Shield Screen Protector An Interview With Designer Charles DeLisle MOCOVOTE: Sucabaruca Coffee Set by Luca Nichetto + Mjölk Garance by Mathilde Brunel Incredible Award-Winning Aquatic Designs Inspired By Nature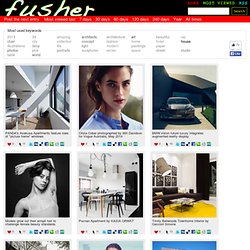 ARCHITECTURELOVER.COM
openfootage
OpenBuildings | Archiving the World's Built Environment