American Architects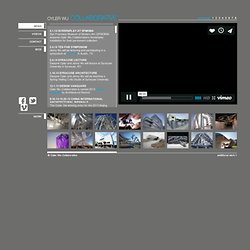 Oyler Wu Collaborative
9.16.13-10.20.13 CHINA INTERNATIONAL ARCHITECTURAL BIENNALE The Cube, the winning entry for the 2013 Beijing Biennale competition, will be exhibited with 10 other pavilions at the Beijing Olympic Park. 10.18.13 LECTURE AT CAL POLY SAN LUIS OBISPO Dwayne Oyler & Jenny Wu will lecture at Cal Poly San Luis Obispo as part of the Hearst Lecture Series. 9.28.13 AIACC MONTEREY DESIGN CONFERENCE Oyler Wu Collaborative was selected as one of the AIACC emerging talents to lecture at the Monterey Design Conference. 4.20.13 STORMCLOUD Stormcloud, a pavilion designed by Oyler Wu Collaborative, opens for the SCI-Arc 40th anniversary celebration afterparty. 4.20.13 TAIPEI SALES CENTER Taipei Sales Center, a new facade design & interior renovation of an existing 5 story commercial building opens in Taipei, Taiwan.
K_Residence : su11 architecture+design
REX – Architecture PC
STEVEN HOLL ARCHITECTS
SLADE ARCHITECTURE
Levitt Goodman Architects
Bernard Tschumi Architects
sean arrasmith | pointcloud
Associated Fabrication -- Clients
Architecture--
Associated Fabrication --Portfolio--
© 2012 admin. All rights reserved. Project : ADDITIVE Office Interior and Furniture Location: Los Angeles, California Client: ADDITIVE Advertisement Agency Within a very limited budget Judith K. Mussel designed the minimal office furniture of the ADDITIVE Advertisement Agency.
XP& Architecture | performance driven design & cultural ecologies