Web2.0 Links
Datavisualization.ch Selected Tools. ZoHo Online Database Software. Freesoft80. Automatically Take Screenshots Software description This software is an excellent solution for users who need to take screen captures at designed intervals.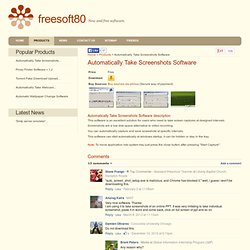 Screenshots are a low disk space alternative to video recording. You can automatically capture and save screeshots at specific intervals. This software can start automatically at windows startup, it can be hidden or stay in the tray. GoView: Screen Recordings Made Easy™ Foursquare. Instapaper.
Cloud. SlideShare. Hot Bookmarks. LibraryThing. Connotea bookmarks. Delicious Bookmarks. GetCITED Chris Armstrong. Chris Armstrong. Chrisinwales' Photostream. Chris Armstrong. LinkedIn.
---