Social reading and social writing
Monthly Donation Day | Monthly Donor Honor Roll CZ:Monthly Honor Roll of Users Editing the Wiki Featured Article about James Patrick Page, OBE (born 9 January 1944) is an English guitarist, composer and record producer. He began his career as a studio session guitarist in London and was subsequently a member of the Yardbirds from 1966 to 1968, when he founded the English rock band Led Zeppelin. Page has been described as 'unquestionably one of the all-time most influential, important, and versatile guitarists and songwriters in rock history'.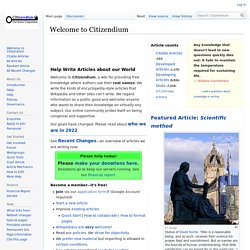 Booktrope.com | Freedom of the Book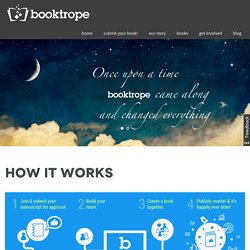 Booktrope is a team publishing platform and a social marketing engine for books of all kinds. We free the creative team (authors, editors, designers) and marketing partners to work on what they do best — create and market the best book possible. Team Publishing To create a great book pull together a small, dedicated team and free them up to do the best work possible. Our team publishing software platform allows the team members to follow a simple workflow to take the work from manuscript to finished product in record time.
Welcome to The Golden Notebook Project. Start reading the book online → Here are answers to some common questions:
Doris Lessing's The Golden Notebook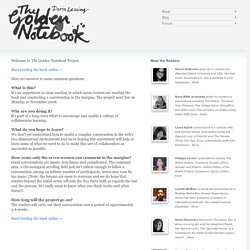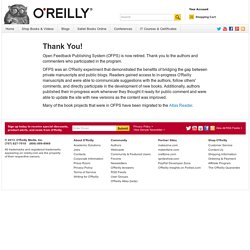 Open Feedback Publishing System (OFPS) is now retired. Thank you to the authors and commenters who participated in the program. OFPS was an O'Reilly experiment that demonstrated the benefits of bridging the gap between private manuscripts and public blogs.
¶ 1 CommentPress is an open source theme and plugin for the WordPress blogging engine that allows readers to comment paragraph-by-paragraph, line-by-line or block-by-block in the margins of a text. Annotate, gloss, workshop, debate: with CommentPress you can do all of these things on a finer-grained level, turning a document into a conversation. It can be applied to a fixed document (paper/essay/book etc.) or to a running blog. Use it in combination with multisite, BuddyPress and BuddyPress Groupblog to create communities around your documents.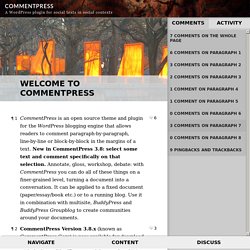 Together with the Institute for the Future of the Book, I created this website as a way to think to about games. Games, as in computer games, are the subject of my next book, GAM3R 7H30RY. I am interested in two questions. can we explore games as allegories for the world we live in?can there be a critical theory of games?
GAM3R 7H30RY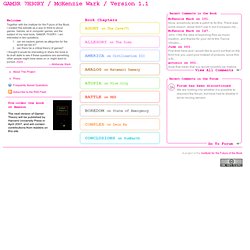 Retreat to My Study After a year of mostly daily blogging on this site, I am cutting back. As most of you know, I am writing a book on the history of disbelief for Carroll and Graf. The blog -- produced while working on the book -- was an experiment conceived by the Institute for the Future of the Book. It has been a success.
Without Gods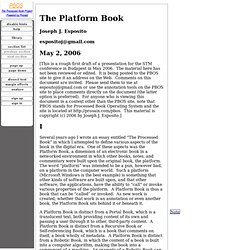 <div style="border: solid red 1px"><b>Note:</b> you need to enable JavaScript to use the advanced features of this site.</div> Joseph J.
The Platform Book
Codev2:Lawrence Lessig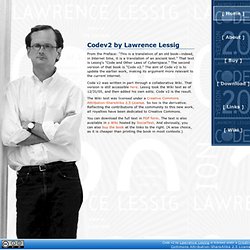 Codev2 by Lawrence Lessig From the Preface: "This is a translation of an old book—indeed, in Internet time, it is a translation of an ancient text." That text is Lessig's "Code and Other Laws of Cyberspace." The second version of that book is "Code v2." The aim of Code v2 is to update the earlier work, making its argument more relevant to the current internet. Code v2 was written in part through a collaborative Wiki. That version is still accessible here.
Social e-books
BookGlutton, one of the web's first social reading systems, has shut down. Try its new sister site, Readups.com, to "meet up" inside a book. From 2007 - 2013, BookGlutton delivered an innovative social reading experience. For many years, it was the only way people could discuss a book right from the page. Shared commenting was always a core part of the experience, including the ability to leave comments on paragraphs and chat inside chapters.