E-Book Suppliers
For best results, search by ISBN An ISBN is the 10 or 13 digit number, usually printed on the back of a book with a bar code, that serves as a unique identifier for the book. Searching by ISBN is the best way to search because it will get you the exact title and edition that you need. Many professors include the ISBN on their syllabi or in their course management system. If you don't have the ISBN, try a title or author search.
CengageBrain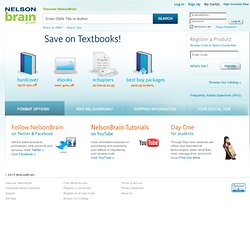 VitalSource
This site uses cookies to store information on your computer. Some cookies on this site are essential, and the site won't work as expected without them. These cookies are set when you submit a form, login or interact with the site by doing something that goes beyond clicking on simple links. We also use some non-essential cookies to anonymously track visitors or enhance your experience of the site. If you're not happy with this, we won't set these cookies but some nice features of the site may be unavailable.
SwetsWise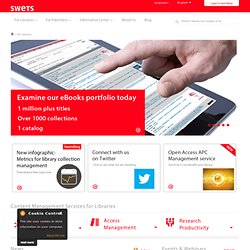 An eBook (electronic book) is a digital version of a printed book that you can download and read on your eBook reader, computer, laptop, PDA, or other handheld device. How to get our eBooks on to your eReader 1 PortableCarry and store an entire collection of books to read on the go. 2 Easy to UseLook up words in the dictionary, search for words and phrases, and bookmark your favorite pages. 3 ConvenienceeBooks can be downloaded instantly without the hassle, time and cost of shipping.
Simon & Schuster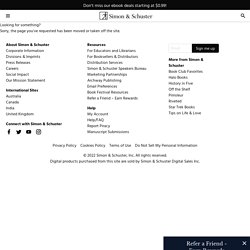 Books@Ovid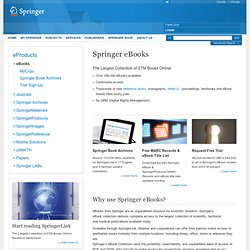 Springer
eBooks from Springer are an unparalleled resource for scientific research. Springer's eBook collection delivers complete access to the largest collection of scientific, technical and medical publications available today. Available through SpringerLink, libraries and corporations can offer their patrons online access to worthwhile books instantly from multiple locations, including library, office, home or wherever they are.Springer's eBook Collection uses the portability, searchability, and unparalleled ease of access of PDF and HTML data formats to make access for researchers, anytime, anywhere and on any device. Springer Book Archives Springer opens another door to scientific researchAs part of its ongoing commitment to the scientific community, Springer significantly expand its archival offering with the Springer Book Archives, dating back to the 1840s.
Emerald eBook Series
Emerald eBook Series Collections bring together over 1,300 volumes and more than 135 book series in two key fields. Commissioned from leading academics and authors, each collection offers a breadth of relevant, quality content combined with the ease and accessibility of electronic access. Featuring high impact and topical research, these titles offer a more in-depth and comprehensive analysis of a subject area, making them an essential resource for students, researchers and industry. Business, Management & Economics – a growing collection of more than 890 volumes from over 85 eBook Series titles. Featuring innovative, international and quality content, this collection reinforces Emerald's position as the world's leading publisher in business and management research. Social Sciences – this comprehensive collection gives you online access to more than 400 volumes from over 50 book series titles.
The ABC-CLIO eBook Collection, a CODiE award winner, makes it easy to give your patrons access to the information they need from anywhere, at anytime. They offer the same high-quality, authoritative, scholarly information librarians have come to expect from ABC-CLIO, with enhanced readability, advanced search and browse capabilities, and more. Our collection includes over 7,000 titles comprising of encyclopedias, dictionaries, handbooks, and guides from ABC-CLIO, Greenwood Press, Libraries Unlimited, and Praeger imprints.
ABC-Clio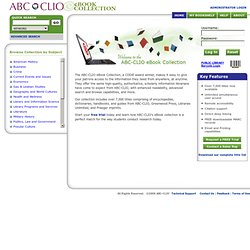 Palgrave Connect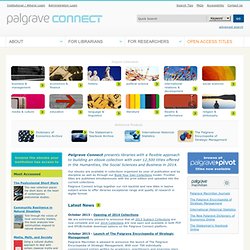 Our ebooks are available in collections organized by year of publication and by discipline as well as through our Build Your Own Collections model. Frontlist titles are published simultaneously with the print edition and uploaded into the current collections. Palgrave Connect brings together our rich backlist and new titles in twelve subject areas to offer libraries exceptional range and quality of research in digital format. Latest News October 2013 - Opening of 2014 Collections We are extremely pleased to announce that all 2013 Subject Collections are now complete and our 2014 Collections are now open and available in both PDF and EPUB/mobile download options on the Palgrave Connect platform.
Bloomsbury Public Library Online
Public Library Online offers access to a dynamic range of fiction and non-fiction titles, from a range of renowned publishers. Simply access the books using any internet enabled device in the library, whilst you're on the move, or from the comfort of your own home. For answers to some frequently asked questions and for information for Librarians, Publishers and the general public please click on our Get Started tab above.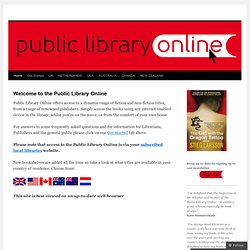 We've made some changes! If you're looking for information about our library, school and retail products, visit company.overdrive.com. Get the app "OverDrive is just, well, easier." – USA Today The OverDrive app allows you to read eBooks and listen to audiobooks on a wide variety of compatible tablets, phones and computers.
OverDrive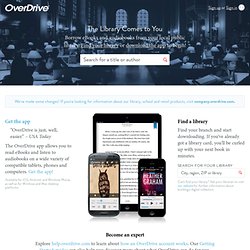 Askews Library Services - Home
MyiLibrary® is an industry-leading e-content aggregation platform for public, academic and professional libraries around the world. Our unique platform offers organizations the ability to acquire and access digital content on an individual title, publisher-specific or subject collection basis, based on their unique requirements and resources. With nearly 250,000 titles currently available, covering all major disciplines, and an additional 5,000 titles being added monthly, MyiLibrary is the fastest-growing and most comprehensive online e-content platform on the market today. We work with the world's leading commercial publishers including Encyclopaedia Britannica, Taylor & Francis, McGraw-Hill, Wiley, Oxford University Press, Cambridge University Press, Springer and Elsevier. We also provide exclusive access to intergovernmental publications from groups such as the International Atomic Energy Agency, the International Labour Organization and the World Health Organization.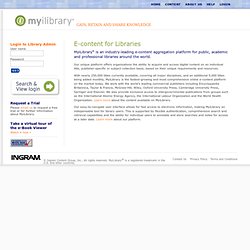 MyiLibrary
EBL provides ebooks to academic and research, government and corporate libraries EBL is a radically innovative ebook library service whose features set it apart from its peers. It has hundreds of library customers around the globe, including some of the world's most prestigious academic and research institutions. Key Features
Taylor & Francis eCollections We now offer 18 eCollections in key subject areas. These are available by annual subscription or outright purchase. The aim of the eCollection is to enhance the user-experience of any library and to complement the rest of our online publishing programme. We also offer mini collections within these subject areas to allow you to tailor your electronic offerings even further. Please contact us for more information.
Taylor & Francis
123Library
The largest UK-based distributor of academic eBooks 123library is a universal e-book platform that works with every recent computer system or mobile device. Our web-base e-book reader preserves the original formatting of the page as published in print, and gives you a clear and crisp image regardless of the complexity of the book. It is ideal for educational, academic and children titles. Rather than purchasing an expensive e-book reader that may rapidly become obsolete and will make you dependent on one e-book supplier, try our universal platform, and be sure that your computer or mobile device will always be suitable.
McGraw-Hill eBook Library
Oxford Scholarship Online: Home
You are trying to view the entry "[entry]" but you must first authenticate using one of the methods below. Your Answers Are Just A Few Clicks Away. Welcome to Credo Reference and Literati by Credo! You're here because you're looking for answers—and we're going to provide them. To make sure we get it right (we are a reference company, after all), simply tell us who you are: by identifying your library from our list (below)typing in the library's name orputting in your username and password.
Credo Reference Home
KnowUK
NetLibrary-EBSCO
the new eBook solution from Browns Books for Students