Classroom websites
Ranger Rick. Students K-4. Children's Books and Book Club.
Free interactive educational games, my abc's, alphabet, numbers, tell time. Online Math Programs | Math Practice & Learning. Homepage. Fun and Educational Games and Activities for Kids. FunBrain.com - The Internet's #1 Education Site for K-8 Kids and Teachers. BBC - Bitesize. PBS KIDS: Educational Games, Videos and Activities For Kids! Starfall's Learn to Read with phonics. BrainPOP - Animated Educational Site for Kids - Science, Social Studies, English, Math, Arts.
Welcome to Discovery Education. TUNE In to READING. Study Island - Leading Provider of K-12 Standards-Based Learning Solutions. Interactive ebooks for children. IXL. Icurio. : PBS LearningMedia. PBS KIDS Lab. April 1: National Poetry Month National Poetry Month April 1 April is National Poetry Month.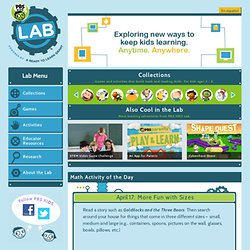 Kids love books written in rhyme, and there are lots that include math concepts. Read one with your child. Two good examples are: Mrs.
---