Twitter
Twitter Analytics by Foller.me. 10 Awesome Twitter Analytics and Visualization Tools. After researching over a thousand Twitter Tools for the Twitter Tools Book I came across many Twitter analytics and visualization tools.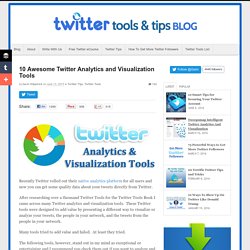 These Twitter tools were designed to add value by presenting a different way to visualize or analyze your tweets, the people in your network, and the tweets from the people in your network. Many tools tried to add value and failed. At least they tried. The following tools, however, stand out in my mind as exceptional or entertaining and I recommend you check them out if you want to analyze and visualize your activity on Twitter.
PrometheanPlanet. During the uprisings of the Arab Spring, the authorities were puzzled to see protesters holding up cardboard placards bearing single words beginning with # to the world's TV cameras.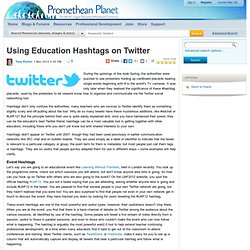 It was only later when they realised the significance of these #hashtag placards, used by the protesters to let viewers know how to organise and communicate via the Twitter social networking tool. Hashtags don't only confuse the authorities; many teachers who are novices to Twitter identify them as something slightly scary and off-putting about the tool. Why do so many tweets have these mysterious additions, like #edchat or #LWF12? But the principle behind their use is quite easily explained and, once you have harnessed their power, they can be the educator's best Twitter friend; hashtags can be a most valuable tool in getting together with other educators, including those who you don't yet know but with shared interests to your own.
---