Useful Things
Remember Everything | Evernote Corporation. Highlight web with Marker.to - best marker, highlighter, annotator! Etherpad Lite. RANDOM.ORG - True Random Number Service. Screenr | Instant screencasts: Just click record. 15 Web Alternatives to Popular Desktop Software. Web applications have come a long way.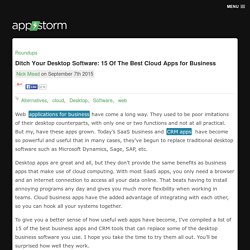 They used to be amateur imitations of their desktop counterparts, with only one or two functions and not at all practical. But my, have these web apps grown. Web apps these days have become so powerful and useful that in some cases, they've begun to replace desktop software. Desktop programs are great and all, but they don't provide the same benefits as web apps that make use of cloud computing. With most web apps, you only need a browser and an internet connection to access all your data online.
Online converter - convert video, images, audio and documents for free. SimilarSiteSearch.com - The Best Place To Find Similar Websites. Dual Maps: Google Maps, Street View and Virtual Earth in an embeddable control - www.mashedworld.com - www.mapchannels.com. Change IP on demand. Private proxies and more.
Free online speed reading software | Spreeder.com - StumbleUpon. Spreeder is a free service provided by 7-Speed-ReadingTM.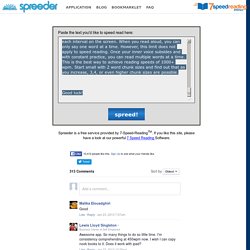 If you like this site, please have a look at our powerful 7 Speed Reading Software. Spreeder.com is a free online speed reading software designed to improve your reading speed and comprehension. Your Likes. Synonym Finder & Find synonyms, antonyms & definition for (almost)... Homework Help from Cramster | Math, Algebra, Physics, Chemistry, Science...
Qwiki. Your summary. File Destructor 2.0 - Hype Magazine. TuneTune - YouTube to MP3. Paste the text you want to speed read. Simply start by clicking on the Play button on the left.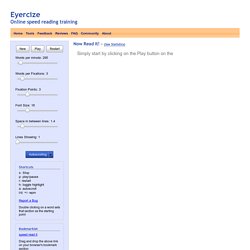 Reading is that one activity that we do every day but we don't really practice. Most people learn the basics of reading in kindergarten and never graduate to the next levels. You are probably using the same basic rudimental tools and techniques that you learned when you were 6. The average American person reads at an average speed of 180 to 240 words per minute and has done so since he was 16 years old. Web 2.0 scientific calculator. Top Sites | Find the Best Websites Rated by Topics. Perform Everyday Tasks for Free | CatchFree.
---