Research
Marzano%20Card1
Best of 2012: Visionaries, Organizations, and Innovations Changing the Way We Learn | Education on GOOD
In 2006, Sir Ken Robinson took the TED stage and delivered what is now the most viewed TED talk of all times . With wit and humor, and in less than 20 minutes, he dissected the modern educational structure, and asked a question few have dared to ask: Are schools killing our dreams? He argued that creativity needs to be instilled in education, and with that, sparked a movement. The talk sent ripples through out the world, inspired millions of people, and started a new conversation around what education ought to be. Four years later, he returned to the TED stage , this time with a new question around human potential.
Erin Scott By Jennie Rose In his new book To Sell is Human , author Daniel Pink reports that education is one of the fastest growing job categories in the country. And with this growth comes the opportunity to change the way educators envision their roles and their classrooms. Guided by findings in educational research and neuroscience, the emphasis on cognitive skills like computation and memorization is evolving to include less tangible, non-cognitive skills, like collaboration and improvisation. Jobs in education, Pink said in a recent interview, are all about moving other people, changing their behavior, like getting kids to pay attention in class; getting teens to understand they need to look at their future and to therefore study harder.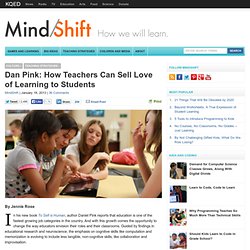 Taxonomies and Frameworks
New Media Consortium Names 10 Top 'Metatrends' Shaping Educational Technology - Wired Campus
A group of education leaders gathered last week to discuss the most important technology innovations of the last decade, and their findings suggest the classroom of the future will be open, mobile, and flexible enough to reach individual students—while free online tools will challenge the authority of traditional institutions. The retreat celebrated the 10 th anniversary of the New Media Consortium's Horizon Project, whose annual report provides a road map of the education-technology landscape. One hundred experts from higher education, K-12, and museum education identified 28 "metatrends" that will influence education in the future. The 10 most important, according to a New Media Consortium announcement about the retreat, include global adoption of mobile devices, the rise of cloud computing, and transparency movements that call into question traditional notions of content ownership concerning digital materials.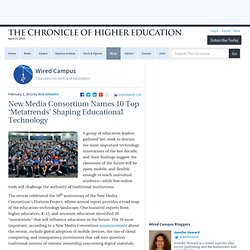 Projects, portfolios, and presentations rule a school founded on Howard Gardner's theory of multiple intelligences. VIDEO: The Key Learning Community: Cultivating Multiple Intelligences Running Time: 9 min. In his kindergarten year, Max's interest in the degree of heat on Venus led him to create a gigantic cardboard thermometer that compared the temperature of tap water, soup, chocolate chip cookies, his own body, the surface of Venus, and other items. Wearing full space suit regalia, he made a detailed presentation of the project to his classmates.
The Key to Learning: A Place for Meaningful Academic Exploration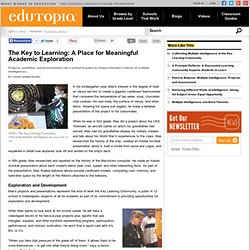 emerging_tech03
contents: introduction · howard gardner - a life · howard gardner on multiple intelligences · the appeal of multiple intelligences · are there additional intelligences?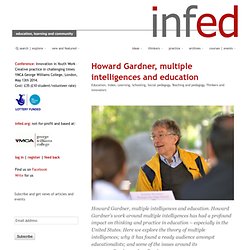 EJSS_28_2_05
In Guilford's Structure of Intellect (SI) theory, intelligence is viewed as comprising operations, contents, and products. There are 5 kinds of operations (cognition, memory, divergent production, convergent production, evaluation), 6 kinds of products (units, classes, relations, systems, transformations, and implications), and 5 kinds of contents (visual, auditory, symbolic, semantic, behavioral). Since each of these dimensions is independent, there are theoretically 150 different components of intelligence. Guilford researched and developed a wide variety of psychometric tests to measure the specific abilities predicted by SI theory. These tests provide an operational definition of the many abilities proposed by the theory.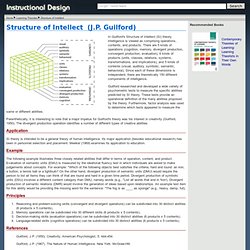 Structure of Intellect
WhitePaper
NeighbourhoodChallengeLearning
21st Century Learning and Teaching
stephen-harris_virtual-pedagogical-physical-space
Journal of Virtual Worlds Research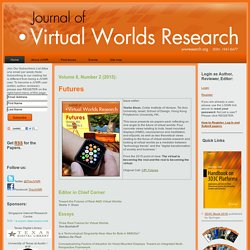 Volume 5, Number 3 (2012): Managing Editor Corner
From its humble beginnings with 400 students in 2001, Connections Academy offered a complete, full-time education online for kindergarten through 12th grade students who wanted or needed to learn in more of a home-school setting. The academy's students included athletes and actors whose demanding training or work schedules required that they be able to learn whenever and wherever they could fit it in. There were students with health issues unable to attend a traditional school, high achievers and struggling students, all of whom took their classes online, under the supervision of a parent or another adult "learning coach."
Harvard Education Letter
Its not chalk and talk anymoreŽ: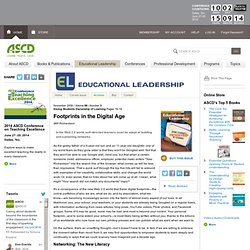 November 2008 | Volume 66 | Number 3 Giving Students Ownership of Learning Pages 16-19 As the geeky father of a 9-year-old son and an 11-year-old daughter, one of my worst fears as they grow older is that they won't be Googled well. Not that they won't be able to use Google well, mind you, but that when a certain someone (read: admissions officer, employer, potential mate) enters "Tess Richardson" into the search line of the browser, what comes up will be less than impressive. That a quick surf through the top five hits will fail to astound with examples of her creativity, collaborative skills, and change-the-world work. Or, even worse, that no links about her will come up at all. I mean, what might "Your search did not match any documents" imply?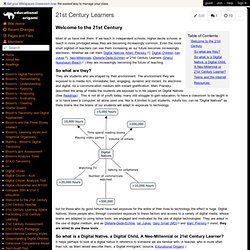 Most of us have met them. If we teach in independent schools, higher decile schools or teach in more privilaged areas they are becoming increasingly common. Even the more short sighted of teachers can see them increasing as our future becomes increasingly electronic. Whether we call them Digital Natives ( Marc Prensky ), Digital Children ( Ian Jukes ), Neo-Millennials ( Dieterle-Dede-Schrier ) or 21st Century Learners ( Sheryl Nussbaum-Beach ) they are increasingly becoming the future of teaching.
21st Century Learners
The Similarities Between Montessori And Digital Learning
The Similarities Between The Montessori And Digital Learning by Carri Schneider first appeared on gettingsmart.com "Before elaborating any system of education, we must therefore create a favorable environment that will encourage the flowering of a child's natural gifts. All that is needed is to remove the obstacles.
How a Multiage Model Made it Possible to Meet 21st Century Goals
Multiage classrooms are not new in the world of education; they have existed from way back into the one room schoolhouse days and open concept schools of the 1970's. Yet when we accepted the position of teaching a 3-4-5 multiage classroom last year, many questions quickly arose. How would three different grades be served?
Beyond Current Horizons | Technology, children, schools and families
NextGenv32
8ForcesforLeaders
Asynchronous_Interactions1
Synchronous_Interactions
Asynchronous_Interactions2
AV_Tools
Ed Tech Crew
Learning Technologies
ASDAN%20summary%20Report
Teacher leaders assume a wide range of roles to support school and student success. Whether these roles are assigned formally or shared informally, they build the entire school's capacity to improve. Because teachers can lead in a variety of ways, many teachers can serve as leaders among their peers. So what are some of the leadership options available to teachers? The following 10 roles are a sampling of the many ways teachers can contribute to their schools' success. 1.
Teachers as Leaders:Ten Roles for Teacher Leaders
Willing_to_Lead_Leading_Professional_Learning_web