Agriculture
Urban Agriculture Casablanca | foodurbanism.org. "The project analyses to what extent Urban Agriculture can make a relevant contribution to climate-optimised and sustainable urban development as an integrative factor in urban growth centres.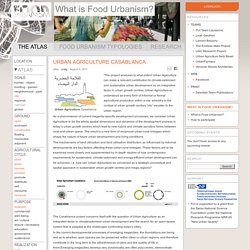 Urban Agriculture is understood as every form of informal or formal agricultural production within a city, whereby in the context of urban growth centres "city" equates to the urban region. As a phenomenon of current megacity-specific development processes, we consider Urban Agriculture to be the whole spatial dimensions and dynamics of the development process in today's urban growth centres which lead to new hybrid and climate-sensitive forms between rural and urban space. The result is a new form of reciprocal urban-rural linkages which shape the nature of future urban development and living conditions. TED: Biological Pest Control. WindowFarms. Britta Riley - Window farming. Viraj Puri - Gotham Greens owner, Urban Farming.
New York restaurants and grocers scramble to get their hands on fresh, local produce.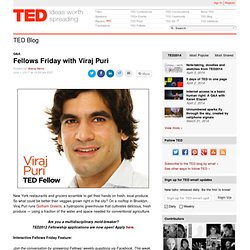 So what could be better than veggies grown right in the city? On a rooftop in Brooklyn, Viraj Puri runs Gotham Greens, a hydroponic greenhouse that cultivates delicious, fresh produce — using a fraction of the water and space needed for conventional agriculture. Are you a multidisciplinary mold-breaker?
---