Physics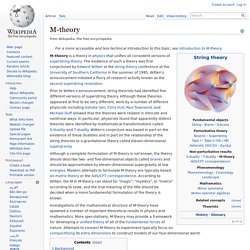 In theoretical physics , M-theory is an extension of string theory in which 11 dimensions are identified. Proponents believe that the 11-dimensional theory unites all five 10 dimensional string theories and supersedes them. Though a full description of the theory is not known, the low-entropy dynamics are known to be supergravity interacting with 2- and 5-dimensional membranes . This idea is the unique supersymmetric theory in eleven dimensions, with its low-entropy matter content and interactions fully determined, and can be obtained as the strong coupling limit of type IIA string theory because a new dimension of space emerges as the coupling constant increases.
chaostheory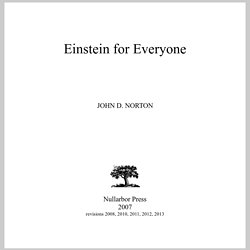 Einstein for Everyone Nullarbor Press 2007 revisions 2008, 2010, 2011, 2012, 2013 Copyright 2007, 2008, 2010, 2011, 2012 John D. Norton Published by Nullarbor Press, 500 Fifth Avenue, Pittsburgh, Pennsylvania 15260 with offices in Liberty Ave., Pittsburgh, Pennsylvania, 15222
Dimensional / Sacred Geometry
WAVE the theory of everything !