Fashion/beauty
Kapeluszniczka: Drugie życie zwykłej bokserki on we heart it / visual bookmark #27410486. Reporting an entry If this image belongs to you or is your intellectual property, please submit a copyright notification instead of reporting it.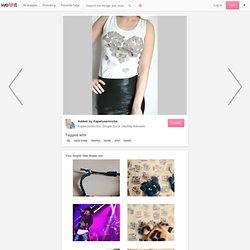 We encourage users to report abusive images and help us moderate the content on We Heart It. But please keep in mind that reporting images that are not abusive is against our terms of service and can get your account blocked. If you want to un-heart an image to remove it from your gallery, don't report it. Just click the heart icon over the image and it will disappear from your gallery. Food + words | recipes. stories. life, from scratch. » moisturizing orange face mask. Moisturizing orange face mask.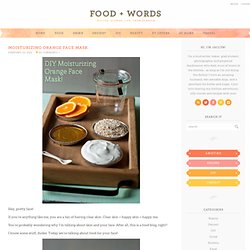 Hey, pretty face! If you're anything like me, you are a fan of having clear skin. *Valentine*: 1 foulard, 3 possibilités. Natural Cheek & Lip Stain. Love, Life, Family... and then some: Things I Love: Awesome Nail Designs part 2. Love Life Family...and then some Houston Texas Mom Blogger Never Miss a Single Post Not Found, Error 404 The page you are looking for no longer exists.
1980s Hair Tutorial. Hey Glitter Girls, it's Jessie from Sweet Thing bringing you a fun '80s inspired hairstyle.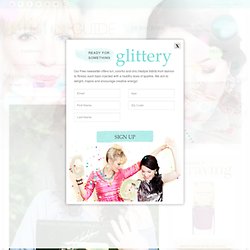 As a child of the '80s one of my favorite movies growing up was Flashdance. I longed for curly hair like Jennifer Beals. If only I had known that there was no perm necessary to get the very same look. 1. How to Make Your Own Beauty Products from Scratch - Lifestyle. Let's keep things simple this week.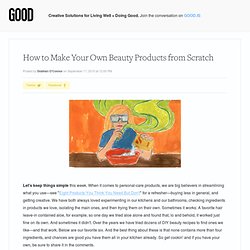 When it comes to personal-care products, we are big believers in streamlining what you use—see "Eight Products You Think You Need But Don't" for a refresher—buying less in general, and getting creative. We have both always loved experimenting in our kitchens and our bathrooms, checking ingredients in products we love, isolating the main ones, and then trying them on their own.
Sometimes it works: A favorite hair leave-in contained aloe, for example, so one day we tried aloe alone and found that, lo and behold, it worked just fine on its own. And sometimes it didn't. 1308839446234844.jpg (215×650) Homemade Hair Treatments - At Home DIY Hair Treatments.
Eggs, yogurt and honey are, at first glance, all components of a tasty breakfast—but they also happen to be hair treatment ingredients, and affordable, all-natural ones at that.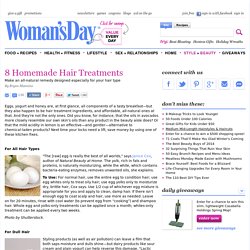 And they're not the only ones. Did you know, for instance, that the oils in avocados more closely resemble our own skin's oils than any product in the beauty aisle does? Or that the mild acidity in lemon is an effective—and gentler—alternative to chemical-laden products? Next time your locks need a lift, save money by using one of these kitchen fixes. For All Hair Types. Best Tan Recipe EVER! DIY Bracelet Tutorials.
Dorm Room Spa: 3 Easy DIY Beauty Recipes to Try. Photo Credit It's that taxing in-between time of the semester again – spring break is over, papers and projects are coming due, and finals are looming ahead.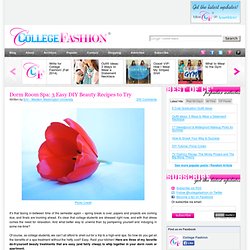 It's clear that college students are stressed right now, and with that stress comes the need for relaxation. And what better way to unwind than by pampering yourself and indulging in some me-time? Of course, as college students, we can't all afford to shell out for a trip to a high-end spa. So how do you get all the benefits of a spa treatment without the hefty cost? 10 Ways to Wake Up Gorgeous. Image: Getty Sometimes looking in the mirror first thing in the morning can be… challenging.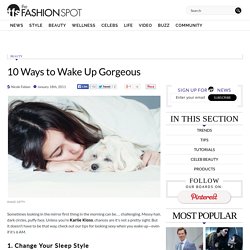 Messy hair, dark circles, puffy face. ...love Maegan : Fashion, DIY, Home, Lifestyle: Messy Rope Braids and Low Bun Hair Tutorial ~ Los Angeles. These little rope braids are a fun way to add a little style with your own hair, creating a sort-of headband of sorts.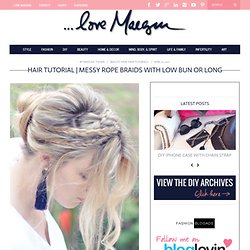 Your hair doesn't need to be extremely long, but you do need some length to cover the top of your head with. If you have layers, you could instead create a tiny French Braid where the hair is shorter and closer to your head, if that makes sense. But it's a fun and cute braided hair style that's just a little different. I originally wore this style last Summer with two slightly larger braids. Easy Cat Eyeliner Tutorial. Cat eyeliner has got to the most unpredictable thing in makeup.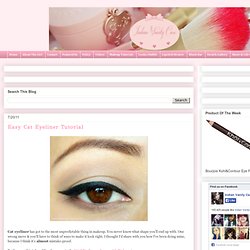 You never know what shape you'll end up with. One wrong move & you'll have to think of ways to make it look right. DIY Wrap Bracelet. You should all know by now that we are all about stacking bracelets on our wrists. The more, the better. In fact . . . the most, the best! With that being said, we'll show you how to master a version of the ever so popular wrap bracelet. It's so simple and addicting, you'll soon be churning out these wristlets with your eyes closed.
Clearly this arm party train isn't stopping and it's about time you get on board! Seven Surprising Uses for Baking Soda - Lifestyle. Let us be clear: Baking soda is not going to permanently cure your acne or turn back the cruel hand of time. But if you're looking to detoxify your body and your household, this multitasking ingredient will make your life easier (and more beautiful) without denting your coffers. Mom may have taught you that baking soda will make your bread rise and your fridge smell better, but did you know of its many cosmetic applications?
Even the ancient Egyptians—and what beauty post would be complete without them? —used a compound similar to baking soda as soap. The stuff is antiseptic, antifungal, and lightly exfoliating. Bottle it up. The best stuff in life is free. Like sunshine, blue skies and THE OCEAN…if you have access to it, that is. Which I don't. DIY Fashion-Forward Bracelets. When money is tight, but fabulous fashion is a necessity, try out your crafting skills to make something new and fantastic. These bracelets are sure to impress and look quite expensive, but all they require is some gold chain and friendship bracelet yarn, both of which you can find at a craft store like Michael's Art Supply. Make one signature piece or stack a bunch for a layered look!
BFrend Bracelets by Monika You can find the full blog post here to see more styles of these bracelets. In order to create them, check out these various friendship bracelet patterns. Its because I think too much: Galactic Manicure - StumbleUpon. I loved how my glittery gradient mani turned out so much that I decided to do a variation on it, using the night sky as my inspiration! Here's how I did it: 1. Make-up - StumbleUpon.
Make your own dry shampoo. How To Style Maiden Braids - A Beautiful Mess - StumbleUpon. Fun Friday - DIY Beach Hair - asuyeta [ah-soo-yeh-tah] clothes &accessories. handmade with love. - StumbleUpon. How To Use A Sock To Get Beautiful Curly Hair Without Heat | A Spotted Pony - StumbleUpon.
---