Food
Urban farming continues to ride the wave of sustainability with efforts sprouting up across the country that find very real and fruitful results. The rush of interest has maintained conversations of massive towers buried in the center of urban cores to produce local, sustainable crops for city dwellers. However, the conceptual mecca of farming in the city, vertical farms, still remains mired in the theoretical world due largely to the unwillingness of any funding sources to make the first cut on a bleeding edge development pattern. On their own, large vertical farms in the cityscape bring costs that may be insurmountable for a largely unproven model, but if the system was paired with high-end residential and positioned as an amenity then new crops could get the prime exposure they need to test their strength where it its needed most. The Planting of Blocks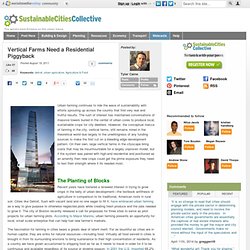 Vertical Farms Need a Residential Piggyback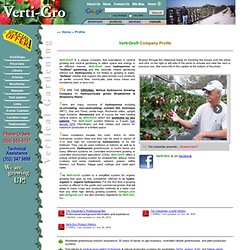 Verti-Gro® is a unique company that specializes in vertical growing and vertical gardening to utilize space and energy in an efficient manner. Verti-Gro® uses hydroponics or "soilless" gardening and this basically means gardening without soil. Hydroponics is not limited to growing in water. "Soilless" medias that support the plant include such products as perlite, coconut fiber, vermiculite, peat moss mixes and sometimes bark or lava rock. WE ARE THE ORIGINAL Vertical Hydroponic Growing Company for Hydroponically grown Strawberries & Strawberry Plants There are many versions of hydroponics including re-circulating, non-recirculating, nutrient film technique (NFT), Ebb and Flood, perlite bags, Rockwool slabs, upright bags systems, Aeroponics and of course the new rotating vertical towers by Verti-Gro® which are protected by two patents.
Verti-Gro Company Profile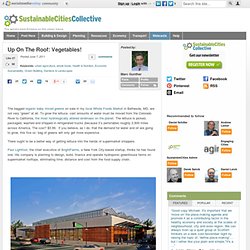 Up On The Roof: Vegetables!
The bagged organic baby mixed greens on sale in my local Whole Foods Market in Bethesda, MD, are not very "green" at all. To grow the lettuce, vast amounts of water must be moved from the Colorado River to California, the most hydrologically altered landmass on the planet. The lettuce is picked, packaged, washed and shipped in refrigerated trucks (because it's perishable) roughly 2,800 miles across America. The cost? $3.99. If you believe, as I do, that the demand for water and oil are going to grow, this five oz. bag of greens will only get more expensive.
Aquaponic Aquaculture Resource in Midtown Sacramento California
Plant an Edible Forest Garden
Related Content Plant Edible Ground Cover You can sneak a few attractive, low maintenance food plants onto your lawn, and your neighbors will ...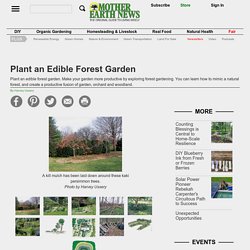 Posted by ReadyMade by Mimi Zeiger; Photos by Will Crocker When Hurricane Katrina swept through New Orleans in 2005, it devastated the city, including the Botanical Garden, flooding the grounds in 3 feet of water and knocking over trees. As the storm waters receded, nurseries from around the country helped rebuild the collection of some 2,000 lost plants. Today, the garden is thriving and its renewal is a source of pride and inspiration, even as strides toward recovery remain slow throughout the city. The Botanical Garden recently opened a new pavilion designed and built by the local company buildingstudio and The Tulane City Center, the Tulane School of Architecture's research and outreach program.
Grow a Living Wall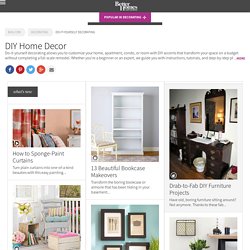 OBSESSIVES: URBAN FARMING - CHOW.com