Dinner
Soups. French onion soup is a very easy recipe.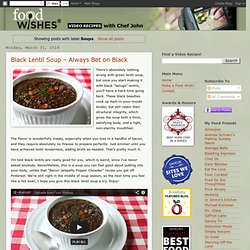 So, it's a little ironic that this American French onion soup is an attempt to make things even easier. Then again, taking ideas that don't need improving, and changing them anyway, is a time-honored American tradition. All-Day Meatballs Recipe. The Best Macaroni and Cheese I've Ever Made. We make a lot of mac and cheese at my house.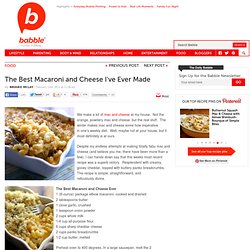 Not the orange, powdery mac and cheese, but the real stuff. The winter makes mac and cheese some how imperative in one's weekly diet. Shredded Chicken Enchiladas | a sweet pea chef. Facebook Pinterest BarraPunto BlinkList blogmarks connotea Current Delicious Digg Diigo DZone eKudos Fark FriendFeed Google GooglePlus Gwar HackerNews Haohao HealthRanker Hemidemi Hyves Kirtsy LaTafanera LinkArena LinkaGoGo LinkedIn Linkter Meneame MisterWong Mixx muti MyShare MySpace Netvibes NewsVine Netvouz NuJIJ Posterous PDF Print Ratimarks Reddit Scoopeo Segnalo Slashdot Sphinn StumbleUpon Technorati ThisNext Tumblr Twitter Upnews Vkontakte Wykop Xerpi Yigg Yahoo SheToldMe Diggita.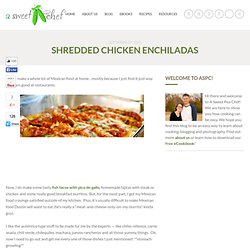 Spin-Art Pasta. I was 19 the first time I tried it.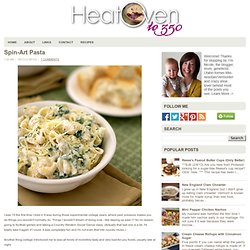 It was during those experimental college years, where peer pressure makes you do things you wouldn't normally do. Things I wouldn't dream of doing now - like staying up past 11 for no reason, going to football games and taking a Country Western Social Dance class. Crispy Chicken Fingers « Chicken. Chicken Fingers – the food of gods.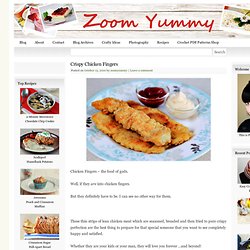 Well, if they are into chicken fingers. But they definitely have to be. T-Bone Steaks with Garlic Parsley Sauce Recipe : Paula Deen. Spaghetti with Garlic and Olive Oil | cheesecake for all. Most of us believe that the pasta is not cooked enough if it's not very tender, more transparent and not chew at all!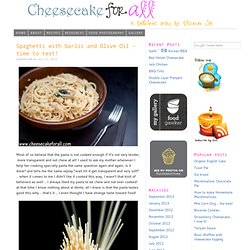 I used to ask my mother whenever I help her cooking specially pasta the same question again and again, is it done? And tells me the same replay "wait till it get transparent and very soft" .. when it comes to me I didn't like it cooked this way, I wasn't that kind of believers as well .. I always liked my pasta to be chew and not over cooked!
Penne Alfredo with Bacon and Broccoli. I still remember the first time I had Alfredo sauce.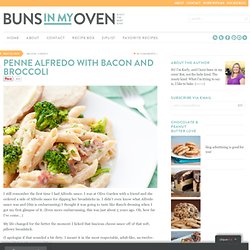 I was at Olive Garden with a friend and she ordered a side of Alfredo sauce for dipping her breadsticks in. I didn't even know what Alfredo sauce was and (this is embarrassing) I thought it was going to taste like Ranch dressing when I got my first glimpse of it. (Even more embarrassing, this was just about 5 years ago. Chicken Stroghanoff. We had some random cool day this summer that had me craving comfort food.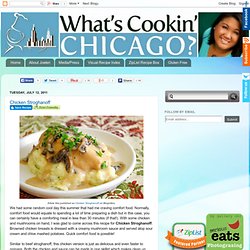 Normally, comfort food would equate to spending a lot of time preparing a dish but in this case, you can certainly have a comforting meal in less than 30 minutes (if that!). With some chicken and mushrooms on hand, I was glad to come across this recipe for Chicken Stroghanoff. Browned chicken breasts is dressed with a creamy mushroom sauce and served atop sour cream and chive mashed potatoes. Beef Empanadas | Handle the Heat. Baked Pasta with Spinach and Cheese « First Look, Then Cook.
Macaroni and Cheese is definitely a fan favorite in our house, although my kids prefer the kind made out of a box that sits on the shelf in the pantry.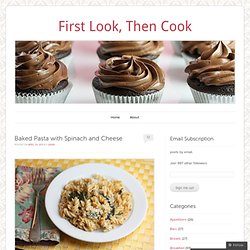 Ok, yes, I have to admit, in a pinch it is not bad – but definitely not something I would choose to eat. Mac-n-cheese is not just for kids though – you can definitely find it on the menu of trendy restaurants, but usually they have some fancy type of ingredient mixed in to make it "different" – like truffles – and yes, who wouldn't fall in love with truffled macaroni and cheese? Believe me, I have – and it is incredible. The crazy thing, my daughter was the one that ordered it, and she couldn't get enough – this was after she complained that she didn't want truffles in her macaroni and cheese – she just wanted it plain.
Chicken and Black Bean Green Enchilada Rice Bake. Simple dinners are a must during the busy weeknights, so I developed this speedy chicken and black bean green enchilada rice bake.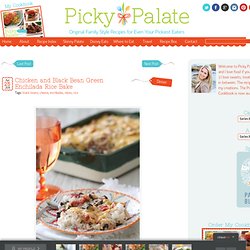 Try saying that 3 times fast! Lol. Shepherd's Pie | Cast Iron Foodie. Naked Turkey Burgers with Sauteed Spinach and Mushrooms. I don't usually crave hamburgers. (Unless I'm pregnant, then the cravings are severe. I have been known to get emotional about my burgers while pregnant too. Manicotti stuffed with spinach & ricotta « Teacher by Day – Chef by Night. I originally made these as stuffed shells but had some manicotti in the house and returned to this filling since it was so tasty! Stuffed Shells and Manicotti were not an Italian food that I grew up with (or had ever made before this year), probably because they are not as easy as most other pastas. With just a little bit of time (assemble the night before – the way you would lasagna) you can have the awesome flavors you want and crave with the beautiful presentation you deserve! So next time manicotti OR large shells are on sale, pick up a box and try this filling out for yourself, I promise you'll be happy you did!
Garlic Knots | Garlic Knots Recipe. Even since I saw the garlic knots on Just a Taste, I have been wanting to create those cutesy bread in my kitchen. When it comes to baking, I like recipes that are simple to make, and hopefully with store-bought ingredients. This garlic knots recipe is exactly what I am looking for, using a pre-made frozen pizza dough that you can get at practically any grocery stores… I have made these garlic knots three times and they were gone as soon as they were out of the oven. They are as addictive as my other favorite: Brazilian cheese bread. Another thing that I love about this garlic knots recipe is that it was actually fun making them, especially the tie-the-knot step. How forzo I've Come. I live one block away from my old high school. I also live within walking distance to many amenities so I frequently walk past my old school on the way to the grocery, gym and pharmacy. It is a large school that occupies an entire city block, so I am usually in front of the old buildings for quite some time on these walks.
Every now and then I can't help but feel a little nostalgic. I gaze at the brick structures and think what my life used to be like when I spent so much time within their walls. Spring Vegetable Soup. From the kitchen of One Perfect Bite...Then God said, "Let there be light," and there was light. Except in Oregon. Dense fog has swallowed the ridgeline that's normally seen from the kitchen windows and only patches of green are bright enough to poke through it. It's an eerie way to begin the day. I usually don't think of making soup at this time of year, but Spring here has been cold and wet and our days have been slow to warm. Chicken Enchiladas Verdes - Daring Cooks May Challenge.
Black Pepper Beef Recipe. Won Ton Soup. How to Cook Wonton Soup Video. Spinach and Mushroom Quesadillas. Chicken & Mushrooms Recipe - Almost Naked Breasts! - Foodwishes | Food Wishes - Wish Upon a Recipe. Framed Cooks: Tortellini with Basil Cream Sauce. Framed Cooks: Italian Wedding Soup. Eater's Digest Blog - Top 25 Freezer-Friendly Recipes - Food.com. Back to Basics: Chicken Noodle Soup.
Chicken Fried Rice. Lemon Pepper Shrimp Scampi Recipe. Easy Casserole Recipes – Quick and Easy Casseroles. Pasta in Lemon Cream Sauce with Chicken, Green Beans & Red Peppers Recipe. Baked Teriyaki Turkey Meatball Recipe.
---