Dinner
It's so trite to say that something is only as good as the ingredients that go into it. Everyone knows that, right? It's just common sense.
Soups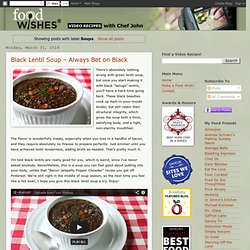 All-Day Meatballs Recipe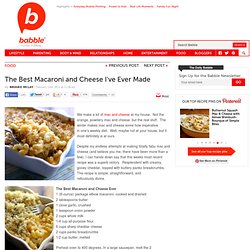 We make a lot of mac and cheese at my house. Not the orange, powdery mac and cheese, but the real stuff. The winter makes mac and cheese some how imperative in one's weekly diet.
The Best Macaroni and Cheese I've Ever Made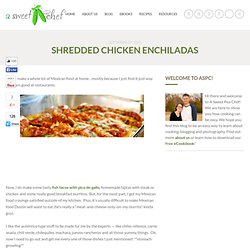 Shredded Chicken Enchiladas | a sweet pea chef
I don't make a whole lot of Mexican food at home…mostly because I just find it just way too darn good at restaurants.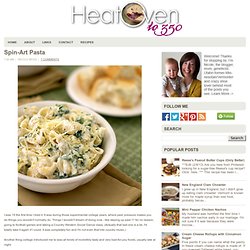 I was 19 the first time I tried it. It was during those experimental college years, where peer pressure makes you do things you wouldn't normally do. Things I wouldn't dream of doing now - like staying up past 11 for no reason, going to football games and taking a Country Western Social Dance class.
Spin-Art Pasta
Chicken Fingers – the food of gods. Well, if they are into chicken fingers. But they definitely have to be.
Crispy Chicken Fingers « Chicken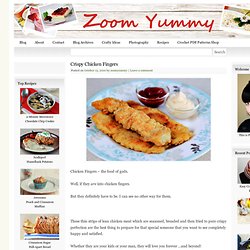 T-Bone Steaks with Garlic Parsley Sauce Recipe : Paula Deen
Ingredients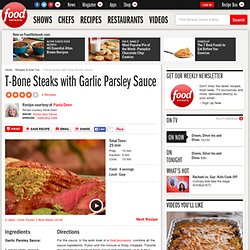 Spaghetti with Garlic and Olive Oil | cheesecake for all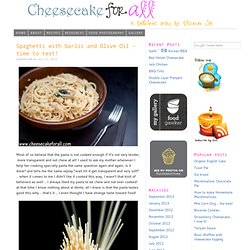 Most of us believe that the pasta is not cooked enough if it's not very tender, more transparent and not chew at all!
I still remember the first time I had Alfredo sauce.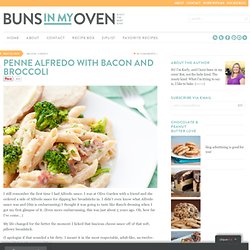 Penne Alfredo with Bacon and Broccoli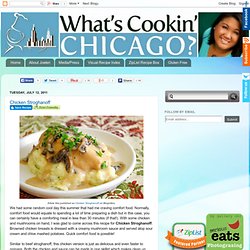 We had some random cool day this summer that had me craving comfort food.
Chicken Stroghanoff
Beef Empanadas | Handle the Heat
Macaroni and Cheese is definitely a fan favorite in our house, although my kids prefer the kind made out of a box that sits on the shelf in the pantry.
Baked Pasta with Spinach and Cheese « First Look, Then Cook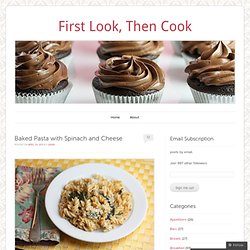 Simple dinners are a must during the busy weeknights, so I developed this speedy chicken and black bean green enchilada rice bake. Try saying that 3 times fast! Lol
Chicken and Black Bean Green Enchilada Rice Bake
Shepherd's Pie | Cast Iron Foodie
Naked Turkey Burgers with Sauteed Spinach and Mushrooms
I don't usually crave hamburgers. (Unless I'm pregnant, then the cravings are severe. I have been known to get emotional about my burgers while pregnant too.
I originally made these as stuffed shells but had some manicotti in the house and returned to this filling since it was so tasty!
Manicotti stuffed with spinach & ricotta « Teacher by Day – Chef by Night
Even since I saw the garlic knots on Just a Taste, I have been wanting to create those cutesy bread in my kitchen. When it comes to baking, I like recipes that are simple to make, and hopefully with store-bought ingredients.
Garlic Knots | Garlic Knots Recipe
I live one block away from my old high school.
How forzo I've Come
Spring Vegetable Soup
Chicken Enchiladas Verdes - Daring Cooks May Challenge
Black Pepper Beef Recipe
Won Ton Soup
How to Cook Wonton Soup Video
Spinach and Mushroom Quesadillas
Chicken & Mushrooms Recipe - Almost Naked Breasts! - Foodwishes | Food Wishes - Wish Upon a Recipe
Framed Cooks: Tortellini with Basil Cream Sauce
Framed Cooks: Italian Wedding Soup
Back to Basics: Chicken Noodle Soup
Chicken Fried Rice
Lemon Pepper Shrimp Scampi Recipe
Easy Casserole Recipes – Quick and Easy Casseroles
Pasta in Lemon Cream Sauce with Chicken, Green Beans & Red Peppers Recipe
Baked Teriyaki Turkey Meatball Recipe