Pinterest Tools
Pinpuff Launches as a Klout for Pinterest. Pinterest, a Tumblr like social network in which images are "pinned" onto categorically organized boards, is all the rage these days.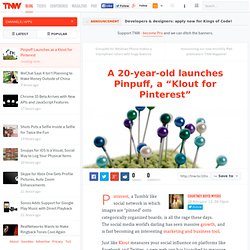 The social media world's darling has seen massive growth, and is fast becoming an interesting marketing and business tool. Just like Klout measures your social influence on platforms like Facebook and Twitter, a new web app has launched to measure your social influence on Pinterest: It's called Pinpuff, and if it works, it could have a meaningful impact for brands and power users. Pinpuff calculates your "Pinfluence", a measure of your popularity, influence and reach on Pinterest and it decides the monetary value of your pins and traffic your pins generate, a.k.a. your "Pin Worth". Pinpuff founder Ammrita Sharma is just 20 years old and he's a self-declared Pinterest addict. "I love Pinterest more than anything on Internet," says Sharma. Now You Can Pin Quotes to Pinterest. Pinterest is the new home to images from around the Web.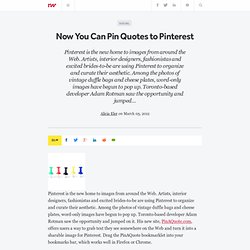 Artists, interior designers, fashionistas and excited brides-to-be are using Pinterest to organize and curate their aesthetic. Among the photos of vintage duffle bags and cheese plates, word-only images have begun to pop up. Toronto-based developer Adam Rotman saw the opportunity and jumped on it. His new site, PinAQuote.com, offers users a way to grab text they see somewhere on the Web and turn it into a sharable image for Pinterest. Drag the PinAQuote bookmarklet into your bookmarks bar, which works well in Firefox or Chrome. 20 Awesome Pinterest Tools. Pinterest already offers users some great tools to help them get their accounts get noticed, including a Follow Button and Pin It button which can easily be installed on any website.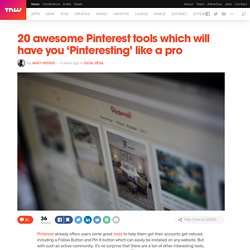 But with such an active community, it's no surprise that there are a ton of other interesting tools, apps, and sites which aim to enhance the Pinterest experience. WordPress plugins, Pinterest analytics, cool Pinterest layouts and hacks, and mobile access – Pinterest's vibrant community has pretty much left no stone unturned. We've put together a list of 20 of these tools, in no particular order.
---