Interesting articles
Quatre nouveaux outils pour financer les entreprises sociales. 2,4 millions, c'est le nombre de salariés qu'emploie actuellement le secteur de l'économie sociale et solidaire.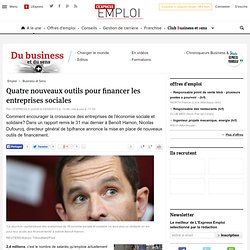 Coopératives, associations productrices de biens et services, mutuelles ou encore entrepreneurs sociaux, ces structures représentent à elles seules près de 10% du PIB français. Fort de ce succès, Nicolas Dufourcq, directeur général de bpifrance (Banque publique d'investissement) a remis le 31 mai dernier un rapport au ministre délégué à la Consommation, Benoît Hamon.
Objectif: encourager la croissance du secteur grâce notamment à la création de nouveaux outils de financement. Les managers enfilent des rangers. M le magazine du Monde | • Mis à jour le | Par Louise Couvelaire DISCERNER DANS LA COMPLEXITÉ.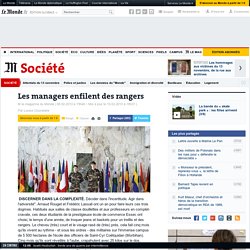 Décider dans l'incertitude. Agir dans l'adversité". Why Innovators Love Constraints - Whitney Johnson. By Whitney Johnson | 12:00 PM February 4, 2013 While dreaming and disrupting has unfettered me in many ways, it has shackled me in others.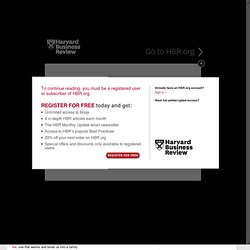 One of the most unexpected was losing a part of my identity. Once the rush of leaving a name-brand corporation wore off, it began to seep in that I could no longer call someone and say "Whitney Johnson, Merrill Lynch." It was just Whitney Johnson. Les différences psychologiques entre hommes et femmes ne seraient pas évidentes. GENRE - La science apporte enfin une preuve pour étayer ce que nous savions déjà: toute cette histoire selon laquelle "les hommes viennent de Mars, les femmes de Vénus" est fausse.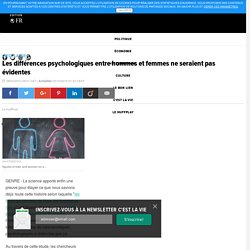 D'après une nouvelle étude de l'Université de Rochester, hommes et femmes ne possèderaient effectivement pas de caractéristiques psychologiques si distinctes que ça. Au travers de cette étude, les chercheurs Harry Reis, professeur de psychologie à l'Université de Rochester, et Bobbi Carothers, analyste de données au Center for Public Health System Science à l'Université de Washington, sont arrivés à la conclusion que les attributs que nous associons traditionnellement avec un genre ou l'autre existent en fait dans l'un comme l'autre. » Harry Reis explique (en anglais) sa théorie dans la vidéo ci-dessous: "Ce n'est pas l'idée d'une différence fondamentale entre les genres qui est remise en question mais plutôt le fait d'imaginer que le genre formate nécessairement et invariablement un individu", assurent-ils.
L'"empowerment", nouvel horizon de la politique de la ville. LE MONDE | • Mis à jour le | Par Sylvia Zappi C'est le nouveau mot à la mode dans les cercles de la politique de la ville.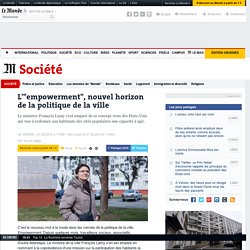 Empowerment. Depuis quelques mois, travailleurs sociaux, associatifs, professionnels de la politique de la ville, élus, ne jurent plus que par ce terme venu d'outre-Atlantique. Tim Lehmann: Rebels Without a Cause? Beyond Heroic Social Entrepreneurship in Davos. The grand narrative of social entrepreneurship is everywhere: heroic individuals build innovative solutions to transform the texture of the world's social fabric.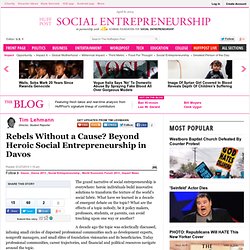 What have we learned in a decade of emergent debate on the topic? What are the effects of a topic nobody, be it policy makers, professors, students, or parents, can avoid touching upon one way or another? A decade ago the topic was eclectically discussed, infusing small circles of dispersed professional communities such as development experts, nonprofit managers, and small elites of foundation visionaries and its beneficiaries.
Today professional communities, career trajectories, and financial and political resources navigate around the topic. Chuck Cohn: Million Dollar Ideas Make Money and Create Jobs Too. My wife recently started an MBA program and at least half of her classmates are considering the entrepreneurship track over the mainstays of finance, accounting, and marketing.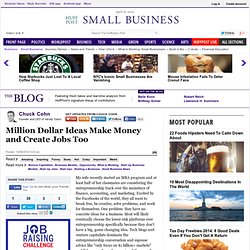 Excited by the Facebooks of the world, they all want to break free, be creative, solve problems, and work for themselves. One problem: they have no concrete ideas for a business. La "boîte à idées" sur la refondation de l'école attend sa déclinaison politique. LE MONDE | • Mis à jour le | Par Mattea Battaglia et Aurélie Collas Après trois mois de débats impliquant 800 personnalités, 300 heures d'ateliers et 120 réunions publiques, la concertation sur la "refondation de l'école" a accouché, vendredi 5 octobre, d'un rapport peu volumineux mais ambitieux.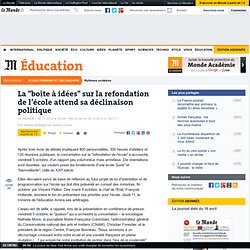 Dix orientations sont données, qui veulent poser les fondements d'une école "juste" et "bienveillante", celle du XXIe siècle. Elles devraient servir de base de réflexion au futur projet de loi d'orientation et de programmation sur l'école qui doit être présenté en conseil des ministres, fin octobre, par Vincent Peillon. What Kind of Misfit Are You? - Umair Haque. By Umair Haque | 9:43 AM August 4, 2011 Here's a confession that may surprise no one who regularly reads this blog: I'm a misfit. And I always have been. And having spent a few decades on this planet as a slightly octagonal peg facing an endless vista of square, machine-made holes, I've developed a hypothesis about achievement. It's this: great accomplishment usually takes the impertinence not to fit into the suffocating status quo. Moving Around Without Losing Your Roots - Gianpiero Petriglieri. Big questions always strike unexpectedly, when our guard is down.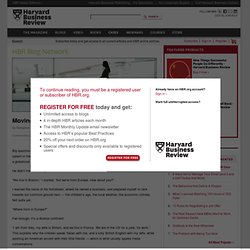 I was watching my toddlers splash in the pool last summer when a fellow dad plunged me into revisiting the meaning of home in a globalized world. He didn't mean to. Docs/publications-docs/NetImpact_WhatWorkersWant2012.pdf. Not Everyone Should Be a Social Entrepreneur - Lara Galinsky. "I want to be a social entrepreneur." I hear it nearly every day. Not just from those applying for Echoing Green's social entrepreneurship fellowship, but from high school students, college students, and young professionals. They excitedly tell me that they want to launch organizations to improve education in Africa, to better the livelihood of women in inner city Chicago, or solve any number of other big problems.
It's clear that this field has captured the imagination of the Millennial generation. Breaking Through Social Entrepreneurship's Star System - Erica Williams. By Erica Williams | 12:00 PM September 5, 2012 Social entrepreneurship has been always both a gift and curse for me, a Millennial in the social change sector. Echoing Green's Lara Galinsky was right in her HBR piece: "Not Everyone Should Be a Social Entrepreneur". In recent years, amazing programs like hers (Echoing Green provides seed funding and technical assistance to emerging social entrepreneurs) have made social entrepreneurs the entrepreneurship sector's new "it kids." And that elevation, while arguably warranted, is not without its dangers. Like Galinsky, I worry that many in my generation have taken to a trendy career option to the detriment of other roles that may not be as "sexy" or command as many magazine covers, but are critical for long-term social impact.
The Rise of Coworking Office Spaces - Anne Kreamer. By Anne Kreamer | 12:00 PM September 19, 2012 "Coworking" office spaces, leasable by the day or month (think RocketSpace in San Francisco or The Hive in Denver) are multiplying in cities all over the country. Demand is predicted to expand by as much as 40% in 2013. And for good reason. It's no secret that the efficiency-driven modern office is a joyless and at best neutral venue in most people's lives.
(Think: boxy cubicles that don't enable privacy or community, lack of natural light, incoherent design, etc.) Blavatnik School of Government opens for study. Policy 20 Sep 12 Some of the first group of students at the School (Toby Whiting) Morning Advantage: A Serious Attempt at "Pay What You Want" - Dana Rousmaniere. By Dana Rousmaniere | 7:07 AM September 11, 2012 North American restaurant chain Panera Bread is experimenting with a nonprofit variation, where the company donates a number of existing stores to its "Panera Cares" foundation. At these locations, any money made goes first to fund operations, and additional profits go to local charities. Niala Boodhoo at NPR reports that the main operational difference between the "Panera Cares" stores and the for-profit Panera stores is that there's a donation box where the cash registers would be, and customers are asked to pay what they can.
While Panera doesn't track the donations exactly, Ron Shaich, the president of the foundation, says that about 60% of Panera Cares customers donate the suggested amount; about 20% give more than what's suggested; and the rest pay less or nothing at all. How to Take a Social Venture to Scale - Paul Bloom. Européennes, diplômées et femmes au foyer. The Joy of Quiet. Freedom key to workplace of the future. Ben Bowler: The Next Revolution is Spiritual. 32 Innovations That Will Change Your Tomorrow - Interactive Feature.
David C. Hodgson: Social Entrepreneurship Soars as a Career Choice: Finding meaning in work and life. Et si la France était en avance sur la nouvelle économie durable ? Ces branchés qui débranchent. Sally Osberg: Social Entrepreneurs "Refreshingly Uncynical" -- But Not at All Delusional.
Are Women Better Leaders than Men? - Jack Zenger and Joseph Folkman. Thane Kreiner: The Next Wave of Successful Social Entrepreneurs. Cultivating Empathy. Sam Spade at Starbucks. 150 Women Who Shake the World.
---