Interesting articles
Quatre nouveaux outils pour financer les entreprises sociales
2,4 millions, c'est le nombre de salariés qu'emploie actuellement le secteur de l'économie sociale et solidaire.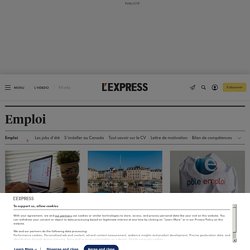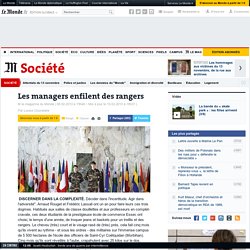 Les managers enfilent des rangers
M le magazine du Monde | • Mis à jour le | Par Louise Couvelaire
by Whitney Johnson | 12:00 PM February 4, 2013
Why Innovators Love Constraints - Whitney Johnson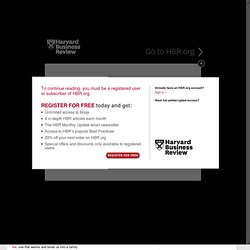 GENRE - La science apporte enfin une preuve pour étayer ce que nous savions déjà: toute cette histoire selon laquelle "les hommes viennent de Mars, les femmes de Vénus" est fausse. D'après une nouvelle étude de l'Université de Rochester, hommes et femmes ne possèderaient effectivement pas de caractéristiques psychologiques si distinctes que ça.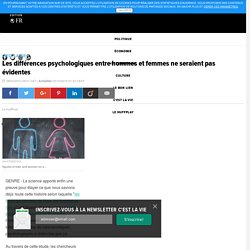 Les différences psychologiques entre hommes et femmes ne seraient pas évidentes
LE MONDE | • Mis à jour le | Par Sylvia Zappi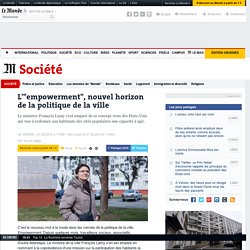 Tim Lehmann: Rebels Without a Cause? Beyond Heroic Social Entrepreneurship in Davos
The grand narrative of social entrepreneurship is everywhere: heroic individuals build innovative solutions to transform the texture of the world's social fabric.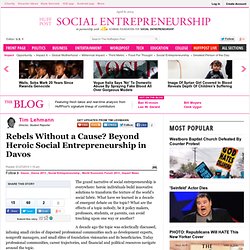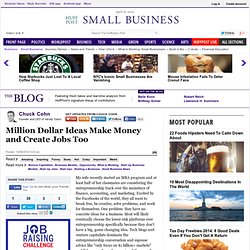 My wife recently started an MBA program and at least half of her classmates are considering the entrepreneurship track over the mainstays of finance, accounting, and marketing. Excited by the Facebooks of the world, they all want to break free, be creative, solve problems, and work for themselves. One problem: they have no concrete ideas for a business.
Chuck Cohn: Million Dollar Ideas Make Money and Create Jobs Too
La "boîte à idées" sur la refondation de l'école attend sa déclinaison politique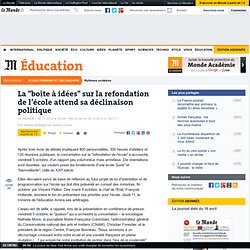 LE MONDE | • Mis à jour le | Par Mattea Battaglia et Aurélie Collas What Kind of Misfit Are You? - Umair Haque
by Umair Haque | 9:43 AM August 4, 2011
Big questions always strike unexpectedly, when our guard is down. I was watching my toddlers splash in the pool last summer when a fellow dad plunged me into revisiting the meaning of home in a globalized world. He didn't mean to.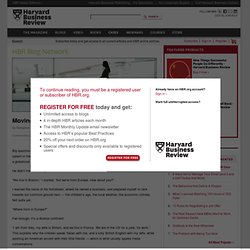 docs/publications-docs/NetImpact_WhatWorkersWant2012.pdf
"I want to be a social entrepreneur."
Not Everyone Should Be a Social Entrepreneur - Lara Galinsky
Breaking Through Social Entrepreneurship's Star System - Erica Williams
by Erica Williams | 12:00 PM September 5, 2012 Social entrepreneurship has been always both a gift and curse for me, a Millennial in the social change sector.
by Anne Kreamer | 12:00 PM September 19, 2012 "Coworking" office spaces, leasable by the day or month (think RocketSpace in San Francisco or The Hive in Denver) are multiplying in cities all over the country.
The Rise of Coworking Office Spaces - Anne Kreamer
Blavatnik School of Government opens for study
Policy 20 Sep 12 Some of the first group of students at the School (Toby Whiting)
Morning Advantage: A Serious Attempt at "Pay What You Want" - Dana Rousmaniere
by Dana Rousmaniere | 7:07 AM September 11, 2012
How to Take a Social Venture to Scale - Paul Bloom
Européennes, diplômées et femmes au foyer
The Joy of Quiet
Freedom key to workplace of the future
Ben Bowler: The Next Revolution is Spiritual
David C. Hodgson: Social Entrepreneurship Soars as a Career Choice: Finding meaning in work and life
Et si la France était en avance sur la nouvelle économie durable ?
Sally Osberg: Social Entrepreneurs "Refreshingly Uncynical" -- But Not at All Delusional
Are Women Better Leaders than Men? - Jack Zenger and Joseph Folkman
Thane Kreiner: The Next Wave of Successful Social Entrepreneurs
Cultivating Empathy
Sam Spade at Starbucks
150 Women Who Shake the World