Charliebrewster
Charlie Brewster
Trekkie since 1974
Below is an abridged timeline of events established in the group of television shows and feature films set in the Star Trek universe. Many dates are estimates as the various shows and films are not consistent in their use of dates. More exhaustive timelines are available in both Star Trek reference works and in various fan websites. [ edit ] Series and movie settings This table shows each TV series and movie, its year of release or broadcast, the year it was set in, according to the prevailing Okuda chronology (see below) and the stardate range for that year.
Timeline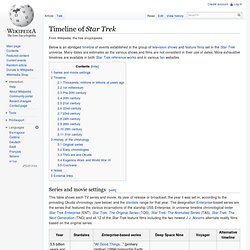 Star Trek is an American science fiction entertainment franchise created by Gene Roddenberry and currently under the ownership of CBS . [ Note 1 ] The franchise began in 1966 with the television series Star Trek later referred to as Star Trek: The Original Series . This series, its spin-off shows: Star Trek: The Animated Series , [ Note 2 ] Star Trek: The Next Generation , Star Trek: Deep Space Nine , Star Trek: Voyager and Star Trek: Enterprise , as well as the film series make up the core of the franchise's mythos. While the critical response to much of the franchise varies, many individual Star Trek episodes and films have won awards and honors including Emmy Awards , Hugo Awards and an Academy Award .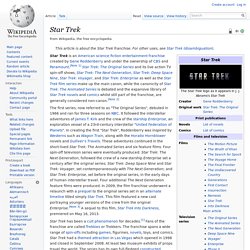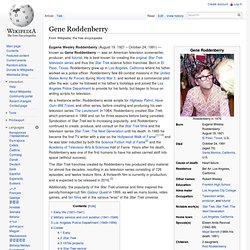 Eugene Wesley "Gene" Roddenberry (August 19, 1921 – October 24, 1991) was an American television screenwriter and producer. He is best known for creating the original Star Trek television series and thus the Star Trek science fiction franchise. Born in El Paso, Texas , Roddenberry grew up in Los Angeles, California where his father worked as a police officer.
Majel Barrett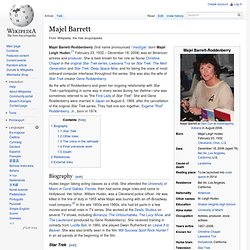 Majel Barrett-Roddenberry (born Majel Leigh Hudec - [ 1 ] February 23, 1932 – December 18, 2008) was an American actress and producer . She is best known for her role as Nurse Christine Chapel in the original Star Trek series , Lwaxana Troi on Star Trek: The Next Generation and Star Trek: Deep Space Nine , and for being the voice of most onboard computer interfaces throughout the series. She was also the wife of Star Trek creator Gene Roddenberry .