Happiness
100 Ways to Simplify Your Life (and Make Yourself Happier) I've been striving to simplify my life for many years now, and have recently (through my writing) been advising others how to do the same.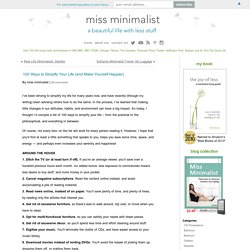 In the process, I've learned that making little changes in our attitudes, habits, and environment can have a big impact. So today, I thought I'd compile a list of 100 ways to simplify your life – from the practical to the philosophical, and everything in between. 50 Life Secrets and Tips. The Six Best Ways to Decrease Your Anxiety. We all know the uncomfortable feeling of anxiety.
Our hearts race, our fingers sweat, and our breathing gets shallow and labored. We experience racing thoughts about a perceived threat that we think is too much to handle. That's because our "fight or flight" response has kicked in, resulting in sympathetic arousal and a narrowing of attention and focus on avoiding the threat. We seem to be locked in that state, unable to focus on our daily chores or longer-term goals . As a Cognitive-Behavior Therapist with more than 15 years of experience, I have found a variety of techniques that I can teach my patients with anxiety disorders such as phobias, panic attacks, or chronic worry. 25 (more) clever ideas to make life easier. .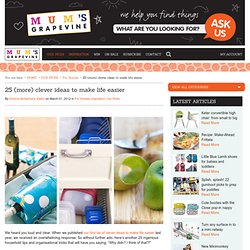 We heard you loud and clear. When we published our first list of clever ideas to make life easier last year, we received an overwhelming response. So without further ado, here's another 25 ingenious household tips and organisational tricks that will have you saying, "Why didn't I think of that?!" How to Make a Bug Out Bag. Editor's note: This is a guest post from Creek Stewart of Willow Haven Outdoor.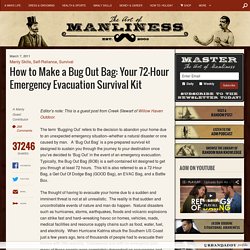 The term 'Bugging Out' refers to the decision to abandon your home due to an unexpected emergency situation–whether a natural disaster or one caused by man. A 'Bug Out Bag' is a pre-prepared survival kit designed to sustain you through the journey to your destination once you've decided to 'Bug Out' in the event of an emergency evacuation. Typically, the Bug Out Bag (BOB) is a self-contained kit designed to get you through at least 72 hours. Your Finals Week Survival Kit: 11 Essentials for Test Time. Well, it's that time of year again – final exams are coming up!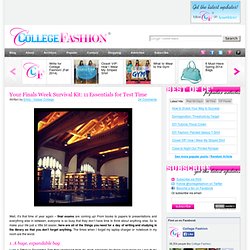 From books to papers to presentations and everything else in between, everyone is so busy that they don't have time to think about anything else. So to make your life just a little bit easier, here are all of the things you need for a day of writing and studying in the library so that you don't forget anything. The times when I forget my laptop charger or notebook in my room are the worst. Color Psychology. By David Johnson Like death and taxes, there is no escaping color.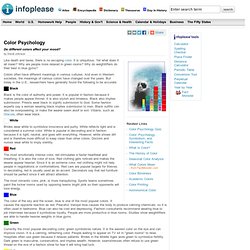 It is ubiquitous. Yet what does it all mean? Why are people more relaxed in green rooms? Why do weightlifters do their best in blue gyms? 10 Instant Emotional Fitness Tools. When things get out of control and you momentarily lose your emotional balance, there are any number of little things you can do to regain it.
Here are ten tools to help get you started. 1. Wash your hands and face and brush your teeth. It cools and cleans the parts of your body that you use most frequently, which is relaxing, and gives you that "fresh start" feeling. 2. Blog » Blog Archive » 23 Surprisingly Effective Treatments for Depression (One Year Later) For the live-updated, interactive version of this infographic, click here.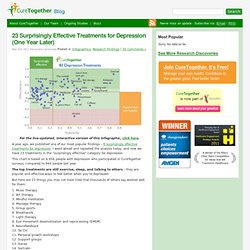 A year ago, we published one of our most popular findings – 6 surprisingly effective treatments for depression. I went ahead and repeated the analysis today, and now we have 23 treatments in the "surprisingly effective" category for depression. 60 Tips For A Stunningly Great Life!! I want to shift gears from leadership to a pure focus on crafting an exceptional life.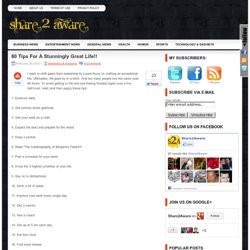 Ultimately, life goes by in a blink. And too many people live the same year 80 times. To avoid getting to the end and feeling flooded regret over a live half-lived, read (and then apply) these tips: 10 Life-Enhancing Things You Can Do in Ten Minutes or Less. By It usually takes us much longer to change our moods than we'd like it to take.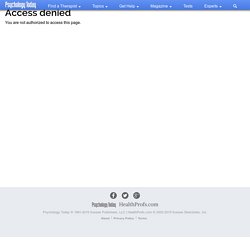 Here are ten things you can do in ten minutes or less that will have a positive emotional effect on you and those you love. 100 Tips About Life, People, and Happiness. 1. True wisdom and insight is always free. 2. Give your power over to no one. 3. How to Take a Detox Bath: 7 steps (with pictures)
Edit Article Edited by Terri Stovall, ND, Julia Maureen, Sondra C, Keyboard_Cat and 69 others Detoxification of your body through bathing is an ancient remedy that anyone can perform in the comfort of their own home. In detoxification circles, your skin is known as the third kidney, and toxins are excreted through sweating. A detox bath is thought to assist your body in eliminating toxins as well as absorbing the minerals and nutrients that are in the water.
13 Simple Steps To Get You Through A Rough Day. 30 Things to Stop Doing to Yourself. Post written by: Marc Chernoff Email When you stop chasing the wrong things you give the right things a chance to catch you. As Maria Robinson once said, "Nobody can go back and start a new beginning, but anyone can start today and make a new ending." Nothing could be closer to the truth. But before you can begin this process of transformation you have to stop doing the things that have been holding you back.
---