Cmd
Windows Run commands you probably never knew - instant fundas. The Windows Run box is a very useful utility to launch programs and applications quickly.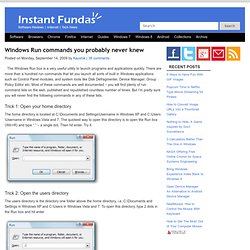 There are more than a hundred run commands that let you launch all sorts of built in Windows applications such as Control Panel modules, and system tools like Disk Defragmenter, Device Manager, Group Policy Editor etc. Most of these commands are well documented – you will find plenty of run command lists on the web, published and republished countless number of times. But I'm pretty sure you will never find the following commands in any of these lists. Trick 1: Open your home directory The home directory is located at C:\Documents and Settings\Username in Windows XP and C:\Users\Username in Windows Vista and 7.
Windows XP Commands. Unix Toolbox. Hardware | Statistics | Users | Limits | Runlevels | root password | Compile kernel | Repair grub | Misc Running kernel and system information # uname -a # Get the kernel version (and BSD version) # lsb_release -a # Full release info of any LSB distribution # cat /etc/SuSE-release # Get SuSE version # cat /etc/debian_version # Get Debian version Use /etc/DISTR-release with DISTR= lsb (Ubuntu), redhat, gentoo, mandrake, sun (Solaris), and so on.
See also /etc/issue. Linux/UNIX For DOS Users. Your One Stop Windows Vista Fix It Site. Windows XP Commands. DOS Command Index. Information about all current DOS commands From the bookDOS the Easy Way by Everett Murdock Ph.D.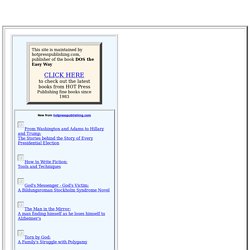 CLICK HERE for information about downloading the book DOS the Easy Way.
---