Uncensored History
Flavius Josephus
Christian History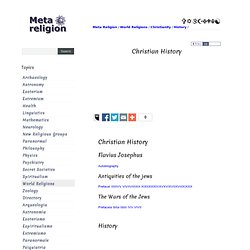 Internet Ancient History Sourcebook: Christian Origins
Halsall Home | Medieval Sourcebook | Modern History Sourcebook Other History Sourcebooks: African | East Asian | Indian | Islamic | Jewish | LGBT | Women's | Global | Science See Main Page for a guide to all contents of all sections. Paul of Tarsus (d.c.65 CE) and the Pauline Churches Challenge to Social and Political Norms of Antiquity See Internet Medieval Sourcebook for the later history of Christianity WEB Encyclopedia of New Testament Textual Cricticism [Website] A very useful resource.
This hypertext document contains pointers to Internet-accessible files relating to the early church, including canonical documents, creeds, the writings of the Apostolic Fathers and other historical texts relevant to church history. The latest version of this document is located at: http://www.iclnet.org/pub/resources/christian-history.html . Additional resources or corrections should be directed to the document maintainers at njb@iclnet.org . Include CHISTORY as the subject.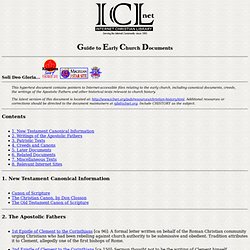 Guide to Early Church Documents
Early Church Modules | Christian History Institute
Glimpses of Christian History: Chronological Index B. C.
ChristianHistory.net | Learn the History of Christianity & the Church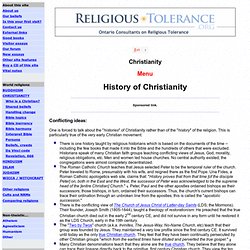 Sponsored link. One is forced to talk about the " histories " of Christianity rather than of the " history " of the religion. This is particularly true of the very early Christian movement:
Christian History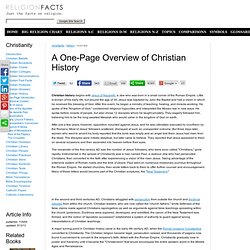 Christian history begins with Jesus of Nazareth , a Jew who was born in a small corner of the Roman Empire. Little is known of his early life, but around the age of 30, Jesus was baptized by John the Baptist and had a vision in which he received the blessing of God. After this event, he began a ministry of teaching, healing, and miracle-working. He spoke of the "kingdom of God," condemned religious hypocrites and interpreted the Mosaic law in new ways. He spoke before crowds of people, but also chose 12 disciples whom he taught privately. They eagerly followed him, believing him to be the long-awaited Messiah who would usher in the kingdom of God on earth.
Overview of Christian History
History Of Christianity
History of Christianity: The Beginning of the Faith History of Christianity -- how did it all start? Christianity started about 2000 years ago in Judea (present-day Israel) with Jesus Christ and His faithful group of disciples. During this period, Judea was a cross-cultural mecca of bustling cities and farms. The emperor of Rome was the ruler.