Shamanism
Shroomery - Magic Mushrooms (Shrooms) Demystified. Toltec Active Dreaming Technique, from Cry of the Eagle by Theun Mares. Reprinted by permission of Charles Mitchley Lionheart Publishing Email: charles@lionheartpublishing.com Web site: www.lionheartpublishing.com It is quite impossible to practise active dreaming when the physical body is tense and uncomfortable; therefore, the very first prerequisite in setting up dreaming is to cultivate the ability to achieve complete relaxation at will in the chosen moment.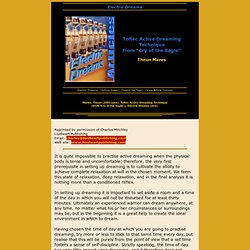 We term this state of relaxation, deep relaxation, and in the final analysis it is nothing more than a conditioned reflex. In setting up dreaming it is important to set aside a room and a time of the day in which you will not be disturbed for at least thirty minutes. Ultimately an experienced warrior can dream anywhere, at any time, no matter what his or her circumstances or surroundings may be, but in the beginning it is a great help to create the ideal environment in which to dream. Castaneda info. Onmyodo: Japan. Is a traditional Japan Japan is an island nation in East Asia.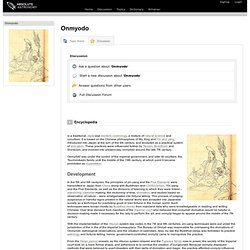 Located in the Pacific Ocean, it lies to the east of the Sea of Japan, China, North Korea, South Korea and Russia, stretching from the Sea of Okhotsk in the north to the East China Sea and Taiwan in the south... Erowid.
---