Sites, blogs et revues astro
RedOrbit - Science, Space, Technology, Health News and Information. Les mystères de l'Univers. Universe Today — Space and astronomy news. The Falcon 9 and Dragon capsule stand ready for launch prior to the detection of a helium leak in one of the engines forcing a scrub of the launch attempt on April 14. 2014 – now reset to April 18, 2014.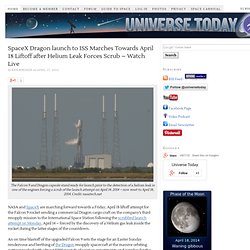 Credit: nasatech.net NASA and SpaceX are marching forward towards a Friday, April 18 liftoff attempt for the Falcon 9 rocket sending a commercial Dragon cargo craft on the company's third resupply mission to the International Space Station following the scrubbed launch attempt on Monday, April 14 – forced by the discovery of a Helium gas leak inside the rocket during the latter stages of the countdown. An on time blastoff of the upgraded Falcon 9 sets the stage for an Easter Sunday rendezvous and berthing of the Dragon resupply spacecraft at the massive orbiting outpost packed with almost 5000 pounds of science experiments and supplies for the six person crew.
However the weather prognosis is rather [click to continue…] Les mystères de l'Univers. Les merveilles du ciel d'été - Le Blog de Guillaumedu59. Date d'observation : Du 23 au 24 Juillet 2012Heure d'observation : 23h30 - 01h30Lieu d'observation : Cobrieux (campagne)Télescope : ORION XT8 (200/1200)Oculaire(s) :- ORION Q70 38 mm 70° (32 x / 2,21° / 133')- TELEVUE PANOPTIC 24 mm 68° (50 x / 1,36° / 82')- TELEVUE NAGLER 11 mm 82° (109 X / 0,75° / 45')Filtre(s) utilisé(s) : UHC et OIIIConditions d'observation : Ciel bien dégagé avec des températures correctes, mais avec une très forte humidité dans l'airObjet(s) observé(s) : M13, M92, M27, M57, NGC 6992, NGC 6960, M17, M20, M22, Voie Lactée, M56, NGC 869 et NGC 884 Préface !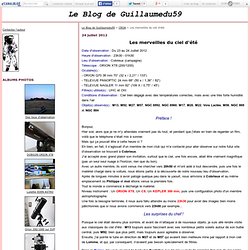 Bonjour,Hier soir, alors que je ne m'y attendais vraiment pas du tout, et pendant que j'étais en train de regarder un film, voilà que le téléphone s'était mis à sonner.Mais qui ça pouvait être à cette heure ci ? Les Petits Secrets - site d'astronomie amateur d'Alexandre CSUTOROS. Cosmosium.eu : L'élément manquant du web ! Macrocosme, L'Univers en images. Association Francaise d'Astronomie (AFA) Skypix, l'actualité du ciel. Ca se passe là haut... [Les Tribulations d'un Astronome] Astronomy Picture of the Day. L'astronomie - Ciel des Hommes. Le Cosmographe. Astronomie Amateur - AstroSurf.
---