Gaming
Video Games: An Industry in Flux [INFOGRAPHIC] Video games aren't going anywhere.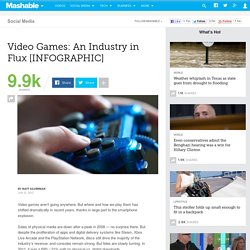 But where and how we play them has shifted dramatically in recent years, thanks in large part to the smartphone explosion. Sales of physical media are down after a peak in 2008 -- no surprise there. But despite the proliferation of apps and digital delivery systems like Steam, Xbox Live Arcade and the PlayStation Network, discs still drive the majority of the industry's revenue, and consoles remain strong.
But tides are slowly turning.
Console
Rickie Fowler on cover of Tiger Woods PGA Tour 13 | Video Games Guide. Rickie Fowler and Rory McIlroy will accompany Tiger Woods in Tiger Woods PGA Tour 13, in the American and European version, respectably.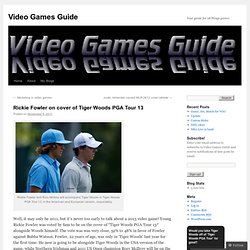 Well, it may only be 2011, but it's never too early to talk about a 2013 video game! Young Rickie Fowler was voted by fans to be on the cover of "Tiger Woods PGA Tour 13″ alongside Woods himself. The vote was was very close, 52% to 48% in favor of Fowler against Bubba Watson. MyndPlay - Mind controlled movies and video training platform. Emerging markets will spend billions on games this year. Gamers are expected to spend billions of dollars in emerging markets this year such as Brazil, Mexico and Russia, according to market researcher Newzoo, based in Amsterdam.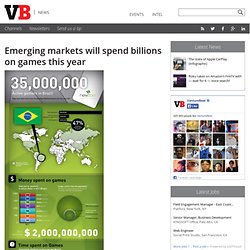 Newzoo's data shows that gaming is spreading rapidly around the globe, thanks to online play, mobile games, and new ways to pay for games such as free-to-play games with micro-transactions. In Brazil, gamers are expected to spend $2 billion on games in 2011. Online and mobile gaming accounts for 68 percent of time spent gaming and 51 percent of spending. "Brazil is leading Western countries when it comes to the popularity of new game platforms and business models," said Newzoo chief executive Peter Warman. Develop I Read the latest news in game development. Japanese Engineers Enter First Robot Into Ironman Triathlon. Blog.
Games in Google+: fun that fits your schedule. My family has a games closet.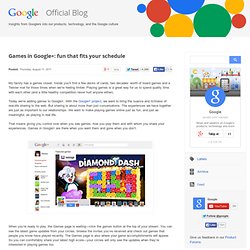 Inside you'll find a few decks of cards, two decades' worth of board games and a Twister mat for those times when we're feeling limber. Playing games is a great way for us to spend quality time with each other (and a little healthy competition never hurt anyone either). Today we're adding games to Google+. With the Google+ project, we want to bring the nuance and richness of real-life sharing to the web.
HopeLab. Zamzee. Game Developers Conference | February 28-March 4, 2011 | Moscone Convention Center | San Francisco, California.
Developers
No PS4, Xbox 720 before 2014, says Skyrim boss. Next-generation consoles won't arrive in 2012 "or the year after", reckons Elder Scrolls V: Skyrim director Todd Howard.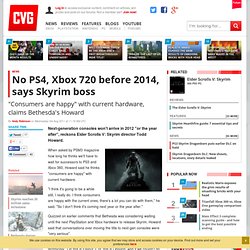 Zoom When asked by PSM3 magazine how long he thinks we'll have to wait for successors to PS3 and Xbox 360, Howard said he thinks "consumers are happy" with current hardware. Gameful | Home.
When did Microsoft lose its way? Marketwatch just ran an interesting article that quoted Eric Schmidt on the current winners and losers in the technology market.
Describing Google as one of a "gang of four" that also includes Apple, Amazon and Facebook, I believe he's accurately captured the core companies that are the driving force behind consumer technology. Microsoft, When they were the Rebels Why isn't Microsoft in the list? Jon Radoff's Internet Wonderland. Casual Connect Seattle: July 19 - 21, 2011. Mobile Gaming. ESPN Releases Social Game for Sports Fans on Facebook.
---