Psychology
Welcome to Essential Life Skills.net a website dedicated to contributing to your personal development and self-realization. What is personal development? Personal development is the pursuit of developing, honing and mastering the skills that help us become the best that we can, with all that we have. It is the reaching for and realizing of our full potential as human beings. We all want to live full, productive lives, but sometimes, we just don't know where to begin.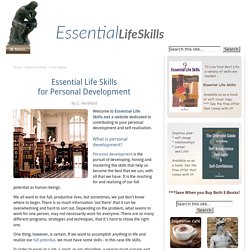 Creativity is a phenomenon whereby something new and valuable is created (such as an idea, a joke, an artistic or literary work, a painting or musical composition, a solution, an invention etc.). The range of scholarly interest in creativity includes a multitude of definitions and approaches involving several disciplines; psychology, cognitive science, education, philosophy (particularly philosophy of science), technology, theology, sociology, linguistics, business studies, and economics, taking in the relationship between creativity and general intelligence, mental and neurological processes associated with creativity, the relationships between personality type and creative ability and between creativity and mental health, the potential for fostering creativity through education and training, especially as augmented by technology, and the application of creative resources to improve the effectiveness of learning and teaching processes. Definition[edit]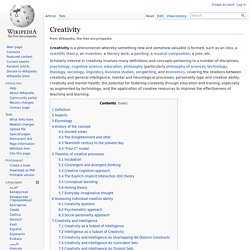 Interesting Info -> Lying Index -> How to Detect Lies Become a Human Lie Detector (Part 1) Warning: sometimes ignorance is bliss.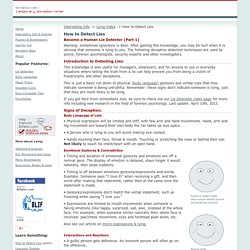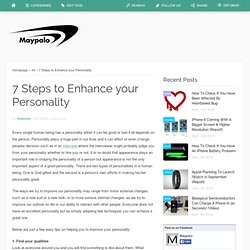 Every single human being has a personality either it can be good or bad it all depends on the person. Personality plays a huge part in our lives and it can effect or even change peoples decision such as in an interview where the interviewer might probably judge you from your personality whether to hire you or not. It is no doubt that appearance plays an important role in shaping the personality of a person but appearance is not the only important aspect of a good personality. There are two types of personalities in a human being. One is God gifted and the second is a person's own efforts in making his/her personality great.
7 Steps to Enhance you Personality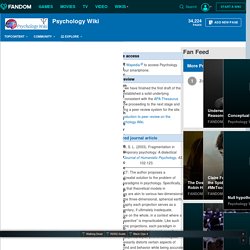 Welcome to this resource for psychologists Started on 21st January 2006 we have had almost four million visitors in 2010. We have over 90k visitors per week in term time and currently have 78,249 pages and 34,110 articles. See the To Do page to help. Contents (view all pages or main index) Foundations