Celtic
Welcome to Celtic-life.net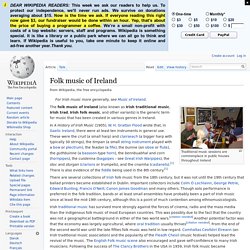 Folk music of Ireland
Traditional music sessions are commonplace in public houses throughout Ireland The folk music of Ireland (also known as Irish traditional music, Irish trad, Irish folk music, and other variants) is the generic term for music that has been created in various genres in Ireland. Irish traditional music has survived more strongly against the forces of cinema, radio and the mass media than the indigenous folk music of most European countries. This was possibly due to the fact that the country was not a geographical battleground in either of the two world wars.[citation needed] Another potential factor was that the economy was largely agricultural, where oral tradition usually thrives[citation needed]. From the end of the second world war until the late fifties folk music was held in low regard.
Celtic music is a broad grouping of musical genres that evolved out of the folk musical traditions of the Celtic people of Western Europe.[1][2] It refers to both orally-transmitted traditional music and recorded music and the styles vary considerably to include everything from "trad" (traditional) music to a wide range of hybrids. Often the melodic line moves up and down the primary chords in so many songs. There are a number of possible reasons for this: Melodic variation can be easily introduced.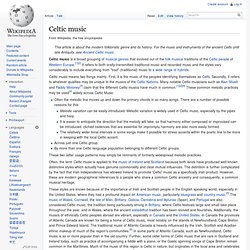 The Chieftains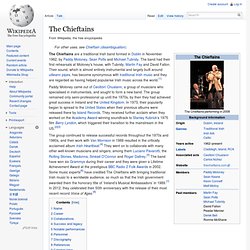 The Chieftains are a traditional Irish band formed in Dublin in November 1962, by Paddy Moloney, Sean Potts and Michael Tubridy. The band had their first rehearsals at Moloney's house, with Tubridy, Martin Fay and David Fallon. Their sound, which is almost entirely instrumental and largely built around uilleann pipes, has become synonymous with traditional Irish music and they are regarded as having helped popularise Irish music across the world.[1] Paddy Moloney came out of Ceoltóirí Chualann, a group of musicians who specialised in instrumentals, and sought to form a new band.
Moya Brennan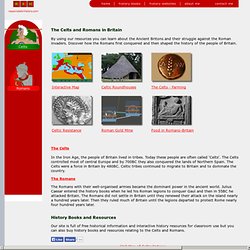 The Celts In the Iron Age, the people of Britain lived in tribes. Today these people are often called 'Celts'. The Celts controlled most of central Europe and by 700BC they also conquered the lands of Northern Spain. The Celts were a force in Britain by 480BC. Celtic tribes continued to migrate to Britain and to dominate the country.
The Celts and Romans - Interactive History Resources
Irish PlayographyIrish Writers OnlineStudy Ireland: Poetry - BBCIrish Women Writers - M. OckerbloomThe Irish and LiteratureLyra CelticaIreland Literature Guide2002 Irish Author RoundtablePoetry Ireland / Éigse ÉireannEarly Irish Lyric Poetry - Kuno Meyer Sonnets from Ireland - E. Blomquist Colum's Anthology of Irish Verse - Bartleby.com