Body
The Body Shop
body soul
Discovery Health "How Your Heart Works"
Ever­yone knows that the heart is a vital organ. We cannot live without our heart. However, when you get right down to it, the heart is just a pump. A complex and important one, yes, but still just a pump.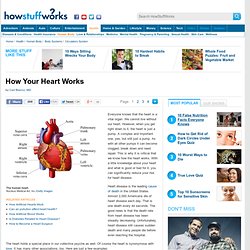 Skeletal muscle
Skeletal muscle is a form of striated muscle tissue which is under the control of the somatic nervous system ; that is to say, it is voluntarily controlled. It is one of three major muscle types, the others being cardiac and smooth muscle . As their name suggests, most skeletal muscles are attached to bones by bundles of collagen fibers known as tendons . Skeletal muscle is made up of individual components known as myocytes , or "muscle cells", sometimes colloquially called "muscle fibers". They are formed from the fusion of developmental myoblasts (a type of embryonic progenitor cell that gives rise to a muscle cell). These long, cylindrical , multinucleated cells are also called myofibers .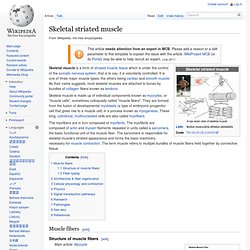 Biotele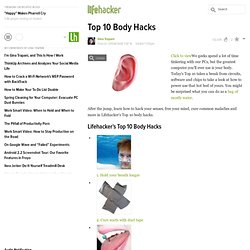 Top 10: Top 10 Body Hacks
Click to view We geeks spend a lot of time tinkering with our PCs, but the greatest computer you'll ever use is your body. Today's Top 10 takes a break from circuits, software and chips to take a look at how to power use that hot bod of yours. You might be surprised what you can do as a bag of mostly water . After the jump, learn how to hack your senses, free your mind, cure common maladies and more in Lifehacker's Top 10 body hacks. Lifehacker's Top 10 Body Hacks Got any good, clean body hacks you'd like to share?